'L is for Lincoln --
An Illinois Alphabet'

Send a link to a friend
[DEC. 17, 2003] "L is for Lincoln -- An Illinois Alphabet," by Kathy-jo Wargin, illustrated by Gijsbert van Frankenhuysen, Sleeping Bear Press, 37 pages, ages pre-K to 9.
Review by Marlene Perry
We all know that "A is for apple and Z is for zebra" -- but did you know that "A" is also for "arrowheads" and "Z" is for the "Lincoln Park Zoo"? These are the beginning and ending pages of this multifaceted alphabet book, with simple rhyming verse and many detailed facts in between. But how this book is presented is quite interesting: The text reinforces the standard alphabet identification between letter and word but with a "local" twist. Each letter of the alphabet has a verse explaining the lesson for the preschooler, along with a realistic illustration. The letters are all descriptive of Illinois locations, animals and historic people, which can spark recognition for a child living in the city of Chicago, in the southern tip of the state or somewhere in the farmlands in between.
Each letter also has a sidebar of more detailed information of dates and figures suitable for the young self-reader. This age child will also enjoy the colorful drawings of familiar sites, from the Chicago cityscape to the John Deere combine in a field to the nearby Springfield Capitol building. Most of these readers will identify something or someplace about Illinois so they can say "I've seen that!" An added point of interest for this age reader is the "Prairie Full of Facts" questions and answers on the last page.
The layout of this book enables parents to read only the simple verse to the very young child or to reveal the more detailed information for their older one. Even the adults who read this book to their children will discover some new and interesting facts about our great state of Illinois, possibly initiating a field trip with the young ones to discover more.
"L is for Lincoln" is not a standard beginning alphabet book with single-item illustrations but is a creative variation for those children ready to venture beyond apples and zebras.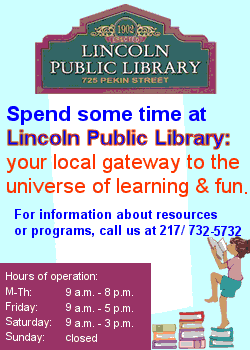 Wargin lives in Michigan, enjoys writing about all of the Great Lakes states, and has another children's book entitled "M is for Mitten." Sleeping Bear Press publishes other state alphabet books, as well as "A is for America -- An American Alphabet," for further reading.
For more information, please visit the library at 725 Pekin St. or call (217) 732-5732.
[Marlene Perry, Lincoln Public Library District]