Ella Wiseman, 84, died Wednesday (July 23, 2003) at 2:35 a.m. at St. Clara's Manor in Lincoln.
Visitation will be from 5 to 7 p.m. Thursday at Holland and Barry Funeral Home in Lincoln.
Her funeral will be at 10 a.m. Friday at Holland and Barry, with the Rev. Dymann L. Jirovec officiating.
Burial will be in Walnut Ridge Cemetery, Middletown.
Mrs. Wiseman was a homemaker for her family.
She was born June 18, 1919. She married Vearl Otto "Smiley" Wiseman on Nov. 18, 1947, in Lincoln. He died May 25, 1999.
Survivors are one son, Merle O. Wiseman of Pekin; two grandsons, Michael A. Wiseman of Norfolk, Va., and Mark A. Wiseman of Pekin; two great-granddaughters, Susie and Eve Wiseman, both of Norfolk, Va.; two sisters, Ruth Pharis of Lincoln and Florence Keith of Mason City; and two brothers, Wilbert Beccue of Casey and Paul Beccue, address unknown.
She was also preceded in death by her father, Rudolph Beccue; her mother; and one brother, Edwin Beccue.
She was a member of Zion Lutheran Church of New Holland.
Memorials may be made to St. Clara's Manor in Lincoln or Zion Lutheran Church in New Holland.
---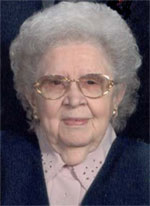 Grace E. Irvin, 90, of Broadwell died Sunday (July 20, 2003) at 5:45 a.m. at her home.
Visitation on Tuesday and her funeral Wednesday morning were at Gholson Funeral Home in McLeansboro.
Burial is in Hickory Hill Cemetery, Broughton.
Local arrangements were handled by Kerrigan-Peasley Funeral Home in Lincoln.
Mrs. Irvin is survived by one daughter, Evelyn Meyer of Lincoln; two granddaughters; two great-granddaughters; and one step-great-grandson.
Click here to send a note of condolence to the family of Grace Irvin.
Thomas A. Scroggin, 86, of Mount Pulaski died Tuesday (July 22, 2003) at 6:15 a.m. at Memorial Medical Center in Springfield.
There will be no visitation, and burial will be private. Bill Shanle will officiate.
Fricke-Calvert-Schrader Funeral Home of Mount Pulaski is in charge of arrangements.
He was born Aug. 27, 1916, at Mount Pulaski to Wilford K. and Lois Huck Scroggin Sr. He married Lois Ann Davis on Nov. 17, 1958.
Survivors are his wife, Lois, and a few very good friends.
He was a member of St. John's Lutheran Church of Mount Pulaski.
Click here to send a note of condolence on the death of Thomas Scroggin.