Gas prices soar to record highs today as Hurricane Katrina closes down oil production in the Gulf of Mexico and closes Mississippi port facilities.
Gov. Blagojevich has once again called on President Bush to release oil from the Strategic Petroleum Reserve to bring down gas prices.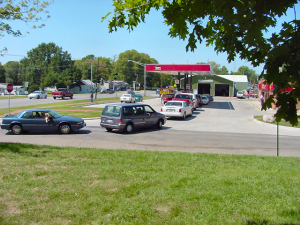 Casey's was the last to raise prices this morning. Cars lined up at the pumps for the last of $2.74.9-a-gallon gasoline.
[Pictures by Butch King] click on pictures for larger image