Lincoln Daily News publishes letters to the editor as they are received.
The letters are not edited in content and do not necessarily reflect
the views of Lincoln Daily News.
Lincoln Daily News requests that writers responding to controversial issues address the issue and refrain from personal attacks. Thank you!
.
You may also send your letters by e-mail to: ldneditor@lincolndailynews.com
or by U.S. postal mail to:
Letters to the Editor
Lincoln Daily News
601 Keokuk St.
Lincoln, IL 62656
Letters must include the writer's name, telephone number, and postal address or e-mail address (we will not publish address or phone number information). Lincoln Daily News reserves the right to edit letters to reduce their size or to correct obvious errors. Lincoln Daily News reserves the right to reject any letter for any reason. Lincoln Daily News will publish as many acceptable letters as space allows.
To the editor:

The Northern Logan County Water Authority Steering Committee would like to thank our elected officials in Logan County.

We recently petitioned the court to place on the April 5, 2005, ballot the question of whether to form a water authority consisting of the townships of Prairie Creek, Orvil, Eminence, Atlanta, Sheridan, Oran, and the portions of East Lincoln and West Lincoln outside the city limits of Lincoln. In the process of filing the petition, it was necessary to work with the circuit clerk's office, the county clerk's office, the state's attorney's office and Judge Coogan's office.

[to top of second column in this letter]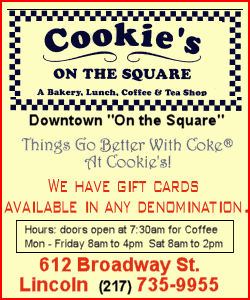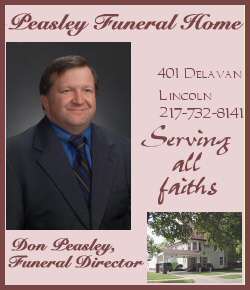 It was a wonderful experience for the steering committee and our attorney, Mark McGrath. To work within a system that is sometimes unfamiliar to us can seem a bit daunting, but our elected officials were helpful and made it much easier. We often hear people complain about the system, but for us it was interesting and a pleasure to see the system work.
We sincerely thank Circuit Clerk Carla Bender, County Clerk Sally Litterly, State's Attorney Tim Huyett and Circuit Judge David Coogan.
Blair Hoerbert
North Logan County Water Authority Steering Committee, Chairman
(Posted Feb. 15, 2005)
To the editor:

I am ashamed that I was another one of those people who thought that the state would take care of it since they are entrusted to do the right thing.

Some time ago, when a winter storm tore up the structure holding the pheasants bred at the James Helfrich wildlife hatchery near the prisons, I assumed they would be recaptured. This has not been the case. The Department of Conservation has not done a thing since its initial effort that captured less than half of the birds.

Much to my horror, since I rarely saw a pheasant before this incident, a lot of these creatures have some kind of hood, stapled (I heard) through their beak that only allows them to look down. They are flying (sort of) into vehicles, prison buses, signs, etc. since they can't turn their head left, right or up. There is considerable traffic along the road leading to the prisons since Logan is the weekly transfer site for the state and each prison has three eight-hour shifts. The pheasants stroll across the road in front of vehicles since they don't have a clue a vehicle is coming. These creatures can't see the danger and don't stand a chance.

A call (Monday) to the Helfrich hatchery revealed that they have no current plans to continue to try to capture the remaining birds, even those that have been rendered basically defenseless against the elements. Cited were lack of staff, funds and even a place to put the recaptured birds.

I guess we should say shame on us, all of us, for thinking the state bureaucracy would realize that this circumstance created by man (or department) should be rectified by man (or department.)

I guess there hasn't been enough social outcry. We need to be our own conscience.

[to top of second column in this letter]
Creative problem-solving makes one wonder if volunteers could help corral the birds for recapture. Local youth groups through church and school, civic organizations and Boy and/or Girl Scouts known to achieve status by service to the communities in which they are located may be able to offer assistance. A concerted effort by the leaders of these groups to assist in this process would be a welcome sight.
I had a terrible time locating either the name of the hatchery or phone number to find out what the long-term plans might be to assist in the recapture of the pheasants. Perhaps volunteers or groups could contact the office directly at 732-1552.
I realize it would take the expertise of people who have worked with pheasants to make any kind of assistance possible and the creativity and energy of our youth and the organizations to which they belong to take on such a rescue effort.
Although not as elegant-sounding as, perhaps, rescuing beached ocean creatures, we are facing the same kind of problems in the plains, in which animals sometimes need the assistance of mankind to survive.
Sincerely,
Mary Rousey
(Posted Feb. 15, 2005)
Related articles