A horse in LaSalle County tested positive for rabies at the Illinois Department of Agriculture laboratory in Galesburg on Dec.10. Eleven people received rabies preventative treatment following exposure to the horse.

On Dec. 27, the Department of Public Health received test results from the U.S. Centers for Disease Control and Prevention that identified the virus infecting the horse as a skunk strain of rabies, indicating the horse was probably bitten by a rabid skunk. The Department of Public Health is asking local animal control agencies and the Illinois Department of Natural Resources to increase skunk surveillance in a three-county area including LaSalle, Lee and DeKalb. This surveillance will be used to determine if the virus is circulating widely in skunks in this area of the state.

"This horse is the first mammal other than a bat to have developed rabies in the state since 1998," said Dr. Eric E. Whitaker, state public health director. "We encourage citizens to avoid contact with wild, unfamiliar or stray animals to avoid possible exposure to the rabies virus."

Rabies is an infectious viral disease that affects the nervous system of humans and other mammals. Rabies is most commonly transmitted to people through the bite of a rabid animal. Rabies is almost always a fatal disease once symptoms appear. Prompt rabies treatment after exposures can prevent the development of rabies.

"With proper vaccination, rabies is a preventable disease in the animal population," said Dr. Colleen O'Keefe, acting state veterinarian. "Therefore, I would recommend that pet owners, especially those in LaSalle, Lee and DeKalb counties, vaccinate their cats and dogs and that farmers and horse owners in the area consider vaccinating their animals."

[to top of second column in this article]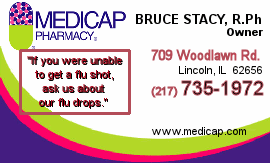 Any wild animal, like a raccoon, skunk, fox, coyote or bat, can have rabies and transmit it to people. Animals with rabies may not be foaming at the mouth or showing aggressive behavior. Changes in the animal's normal behavior, such as difficulty walking or just an overall appearance of illness, can be early signs of rabies. For example, skunks, which normally are nocturnal and avoid contact with people, may appear friendly or aggressive and may approach humans during daylight hours.
Currently, bats are the primary source of rabies in Illinois. Fifty bats have been identified with rabies so far this year, the highest number seen during a single calendar year.
Illinois residents, particularly in the area of LaSalle, Lee and DeKalb counties, should take the following precautions:
Vaccinate pets and valuable livestock or horses after consultation with a veterinarian.
Stay away from wild, unfamiliar or stray animals to avoid bites that may transmit rabies.
Report sightings of skunks that are acting abnormally, seen during daylight hours, having trouble walking, being aggressive or approaching humans.
Contact your physician and local health department if you or someone in your family is bitten by an animal or exposed to a bat.
Contact your local animal control and veterinarian if you believe your pet may have been bitten by a wild mammal (i.e. skunks, raccoons, fox, coyotes or bats).