It has been brought to the Lincoln Police Department's attention by one of our local banks that there is a telephone scam taking place in our area. The scam seems to be attempting to target the elderly.

A caller calls and says they are with American Consumer Benefits. They are requesting several hundred dollars from you along with your name, date of birth, address and Social Security number.

The Lincoln Police Department recommends that you do not supply your personal information over the telephone to anyone that you do not know. Ask them not to call you again.

[to top of second column in this article]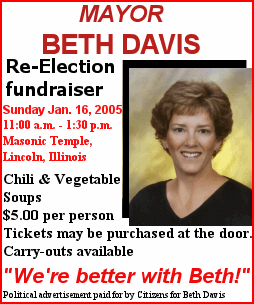 If you receive one of these telephone calls or have provided money to this company, we urge you to contact the attorney general's office at (217) 782-9030 and the Better Business Bureau in Peoria at (309) 688-3741 or the Lincoln Police Department at 732-2151.
[Robert Rawlins, chief of police, Lincoln Police Department]