"Illinois was once as balmy as Hawaii," said Richard Leary, Ph.D., curator emeritus of the Illinois State Museum. "We know because of fossils we have excavated in the Rock Island and Brown County areas."

Continents of the world were configured differently during that time period, estimated by scientists as approximately 320 million years ago, a time also known as the Coal Age. Illinois was located just south of the equator and was hot and humid.

"Year-round, temperatures were around 100 degrees, and it was very humid," said Dr. Leary. "Think of the hottest of summer days in Illinois. That's what every day was like when Illinois was in its tropical period."

Plant life of the time period included ferns that towered 50 feet into the air, with fronds 12 feet long. It was the very early reptile period. Dr. Leary says giant dragonflies buzzed through the air of what is now Illinois. The insects had a wingspan of 2 feet.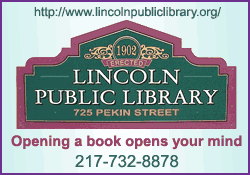 Illinoisans can learn more about the tropical time period Saturday from 1 to 4 p.m. at an event called "Celebrating Changes: Tropical Illinois." The fun-filled family event will feature touchable fossils from plants and animals that lived in Illinois in the past. Visitors will see fossils, have an opportunity to identify the mysterious Tully Monster (the state fossil) and take part in assembly of a giant dragonfly puzzle. The whole family can enjoy a variety of activities throughout the museum, including crafts and games.
[to top of second column in this article]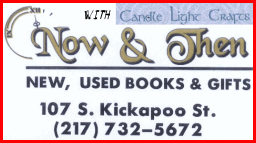 "This Saturday event is a chance for the museum visitor to step back in time 320 million years," said Bonnie Styles, Ph.D., associate museum director. "With these hands-on activities, children can begin to understand geology, archeology, climate and history."
At 2 p.m., Dr. Richard Leary, curator emeritus of geology, will present "Big Bugs and Towering Weeds," a dynamic program on life in the Coal Age. Following the program, he will be available for questions in the "Changes" exhibition. The exhibition's Coal Age diorama is based on a site originally excavated by Dr. Leary. The event is free and open to the public.
The multimedia Illinois State Museum "Changes" exhibition explores what scientists estimate to be 500 million years of environmental change. The exhibition opened to the public on June 12, 2004.
For more information call (217) 782-5993, TTY (217) 782-9175.
The museum is located at 502 S. Spring St., at the corner of Spring and Edwards in Springfield, and is open from 8:30 a.m. to 5 p.m. Monday through Saturday and noon to 5 p.m. Sunday. Admission is free. Parking is available nearby, and the building is accessible to individuals with disabilities.
For directions, see http://museum.state.il.us/
ismsites/main/directions.htm.
[Illinois Department of Natural Resources news release]