Railers win two
Lincoln's Railers went on the road and promptly won two in fine fashion. First they discarded Springfield, which is a team that has been through a coaching change, an appeal and who knows what all else. Butů ANY road win is a good win, and the Railers are happy to capture another one. Then Lincoln rode into Chatham to play the host school in their tournament. They knew they would see a better defensive effort from the Titans this time and they were not disappointed. Even though Glenwood kept coming at them all night, Lincoln was victorious again. If my stats are correct, that should make Lincoln 15-3 and 6-1.
Lady Railers
Again if stats and other info are correct, I have the Lady Railers preparing to go up against Jacksonville. Currently the Lady Railers are sporting a 10-7 and 5-2 mark.
Local colleges
The Lincoln College Lynx are having a great season -- witness their incredible 14-3 mark. However, they hit a bump in the road with a tough loss to Vincennes Monday 68-72.
LCC's Angels continue their mad dash back to .500 as Katie Giesler led LCC to a 79-59 win over St. Louis Pharmacy by recording a double-double. Giesler scored 29 points, hauled down 22 rebounds and blocked six shots (I don't think I had those kinds of totals for my career). The win brought the Angels to 7-8 on the year.
LCC's Preachers took a step up to the big time by going on the road to Lewis University. They came up a little short, falling 80-52, in a season with arguably the toughest and most challenging schedule they have ever attempted.
No report on the LC Lady Lynx.
NFL playoffs
The Rams and Colts died with an awful sound this weekend in the playoffs. The Rams got run over by Michael Vick and the Atlanta Falcons, who will now try their luck "outdoors" in Philly. The Colts, on the other hand, dealt their fans a debilitating blow by not even scoring a touchdown in a meltdown at New England. The Patriots will now invade Pittsburg for a game that promises to be a dandy. The winners of those two games will advance to the Super Bowl in Jacksonville, Fla.
[to top of second column in this article]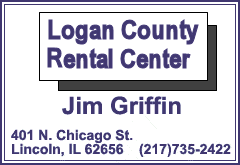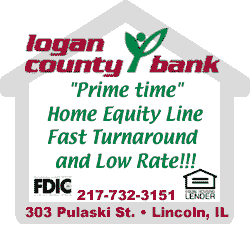 Thanks
My personal thanks to the Fighting Illini because, as they continue to win, I can continue to sport my new No. 1 wardrobe!
The Illini's Luther Head was named the Big Ten co-Player of the Week along with Wisconsin's Mike Wilkinson.
Illinois does in fact remain No. 1 for a seventh straight week!
Personal attacks
In light of the personal attacks that Northwestern students waged on Illini players and managers this past Saturday, I thought I would reflect on that just a bit. Fans do pay a lot to attend games, and a certain amount of cheering and support of your home squad is indeed expected and probably mandated. However, when the lampooning gets personal and becomes an attack of the player's family, heritage or physical characteristics, that is simply crossing the line. Fans were verbally assaulting an Illini manager, and that is never acceptable. I hope we have seen the last of that kind of behavior.
I hope that as fans of Lincoln High School, the area colleges and even our junior highs that none of "us" EVER stoop so low. If we do, I hope someone with integrity and character will usher us to the side and set us straight.
I am proud that the Illini players did not stoop lower by retaliating but simply let their games do their talking.
Not trying to preach -- just trying to use a teachable moment to raise our level of spectatorhood!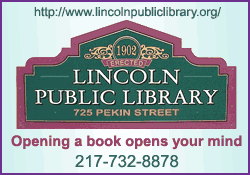 Great sledding
With a holiday in tow, my son and I headed for the slopes -- well, not really the slopes but the hills of the Lincoln area, the Elks and Forrest Hills. My son called them "awesome," though he is not currently a member of either the U.S. ski team or the U.S. luge team, so I'm not sure he is qualified to determine whether they are in fact "awesome"! I don't think he cares! Anyway, get your kids or grandkids out there and enjoy the fun!
That's it for me. Have a great week, everyone!