City sweetens development offer
Industry-specific enticements added to incentive package

Send a link to a friend
[MARCH 23, 2005] In a move to strengthen the community's invitation to industry that might want to locate here, city finance committee chairman Verl Prather announced additions to an incentive package already in place.
This is probably the most important thing we've done in a while, Prather said. The amount of $600,000 has already been approved for use in developing a property where a warehouse distribution center or like business can locate.

Prather said he has been in meetings on this, and the committee would like to improve on the incentive plan. He recommended adding the following:
Offer tax deferment on consumable goods sold the first 10 years. The city retains the first $90,000; anything above that the company keeps.
Rebate fuel sales tax for 10 years. This serves two purposes. Since this is an industry that potentially consumes a lot of fuel, this could help them. It would be an incentive for them to fuel up here, and that would help local businesses.
Commit to spend $110,000 per year on infrastructure locally for five years.
Commit $10,000 to other correlated purposes for the next 10 years. This could be toward any number of things that will be needed, such as financing land.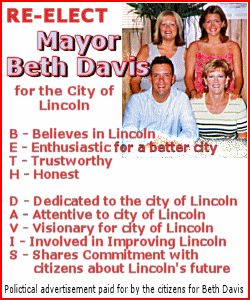 This would all be over and above the $600,000 already committed toward the project. Prather said he is proud of the council at this time. "Our council has always been pro-development," he said. "At this time we're really showing the community that's what we're doing here."
"I think it is imperative that we pass this," Alderman Crane said. "We have the potential here of 600-700 jobs in the next few years."
Lincoln/Logan County Economic Development Partnership director Rob Orr said he has hopes we can draw in the company that is interested right now. Those negotiations could get done in about 12 weeks. It is not a speculative company that is currently looking at coming here. "We're in a position right now to bring jobs to this community," he said.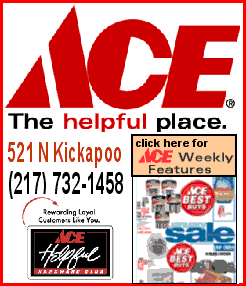 He said the infrastructure and other work that is done for this project would likely pull another company or businesses that could bring another couple hundred jobs. The multiplying effect with support services and ancillary services could bring up to 700 jobs to Logan County in the next five years.
These are good jobs that average of $46,000 per year and $11,000 in benefits, he said.
Orr concluded by saying that he appreciates the cooperation he has received when he has called on council members and city managers, like city engineer Mark Mathon, sewer manager Grant Eaton and others. There has been a lot to do, and he has needed information right away because this type of work wasn't done in the past. "I much appreciate your support of economic efforts," he said.
Mayor pro tem Patrick Madigan said he agreed that it is important that we make the right decision. "I think it is a good thing for the community of Lincoln," he said.
The additions were met with 100 percent approval from the council.
The county board has called a special meeting to discuss their part of supporting the development. The meeting will be at the Logan County Courthouse at 7 p.m.