Several shifts in the industry over the last 10-15 years have led to building larger plants and the need to combine companies in order to raise capital, Foster said. American Ethanol includes the merger of Illinois Valley Ethanol, from the Dwight area, and Pacific Ethanol of California.

American Ethanol plans to have 20 plants producing 100 million gallons of ethanol a year for a combined 2 billion gallons of ethanol by year 2011.

The natural-gas-operated plants will each take between 38 million and 40 million bushels of corn to produce 100 million gallons of ethanol per year. Illinois is probably the best place on earth to grow corn, and for that reason the company has decided to make Illinois its home.

What's needed for an ethanol plant? Corn, water, natural gas and infrastructure, and Allen Station at San Jose has all of these. Currently American Ethanol holds option to buy 105 acres adjacent to the Allen Station of Taloma Grain Co.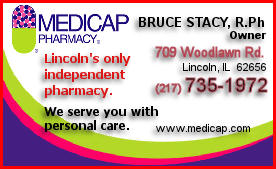 Allen Station, one of four sites of Toloma Grain Co. elevators, would be adding more grain storage, Reeves said.
Taloma takes its name from the combination of the first two letters of each of the three counties it represents: Tazewell, Logan and Mason. "This will be an asset for all three counties," Reeves said. "We think it's a good fit."
The property already has rail access that goes east or west. Where the ethanol would go would be determined by market rates and rail rates, which can change from day to day.
American Ethanol has an aggressive plan that begins with securing an option to buy land and proceeds to environmental feasibility studies, entering the permitting process with the Illinois Environmental Protection Agency, land acquisition and finally building. They anticipate promoting one plant every quarter into the permitting process. The representative said that they have the experienced production staff and financing to jump on buying the land and begin building as soon as the permit is received.
10 sites in Illinois:
Dwight -- entered permit process

Danville -- entered permit process on Monday

Allen Station and Gillman are in the environmental feasibility study process, soon to be in the permit process, and there are six other sites staked out.
Of the five sites in Nebraska, two sites are permitted and three are in the process.
What stands most in the way of their progress is getting timely issuance of environmental permits from the Illinois EPA. The process is estimated to take 18 months; however, with 20 permits currently on the IEPA tables, the agency has advised American Ethanol that they should add another three months to that expectation.
There's a strong climate of support at local and state level, easing the company's progress, Foster said. He said the company has had great support from the government and IEPA has been great to work with. Their staff is doing the best they can, but there is a lack of resources and they are short-staffed, he said.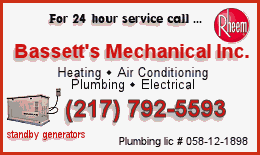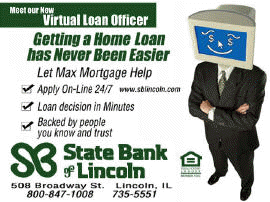 "If we can't get permits in a timely fashion, we're going to have to look at other states. Our preference is to be in Illinois," Foster said.
The company will also need to work with the Illinois Department of Transportation, as roads will be a factor to support the additional truck traffic to the plant.
Brady said, "I'm here to welcome you and compliment you on making the investment."
He acknowledged that Illinois has been behind in the permitting process as compared to other states and that this is a disadvantage to Illinois.
He observed that the plants would be a major impact for the state and local economies just in the property taxes and by increasing jobs.
Each plant, estimated to cost between $120 million to $140 million, represents an estimated $1 billion investment in Illinois.
The plants would boost local economy with an increase property tax revenues, bring 18 months of construction jobs for 150 to 300 workers and then 45 to 55 permanent jobs to operate the plant 24/7, 365 days a year.
It would also influence the grain market to benefit local farmers. If it raises corn 5 cents a bushel, at 40 million bushels there would be $2 million increase a year, or at 10 cents, $4 million. That's a direct influence every year for local farmers and the local economy, Jeschke said.
Plant sites have been chosen by available resources and spaced out so as not to overburden a given current market area. Extensive market studies have indicated that corn is abundant.
There are some sites that have other companies intending to build nearby, such as 10 miles east of the San Jose site, at Hartsburg, where Illini Bio-Energy has announced intentions to build.
"We've decided we have to put a stake in the ground," Foster said. That's what you do in business. Some of the other proposed sites by other companies may go forward or they may not. "We are going forward, and we're going to move forward aggressively," he said. "It is just good, sound business sense based on locations."
The U.S. currently uses between 140 billion and 150 billion gallons gasoline per year.
The company is asking the federal government to pass a 10 percent mix mandate. That would lead to an estimated need of 15 billion gallons of ethanol each year.
Although they did not elaborate on it, the representatives said that American Ethanol has also recently determined to diversify. They will be getting into the biodiesel industry as well. Announcements on biodiesel plans would be made by the end of the year. "We're thinking of not just being an ethanol company, but an energy company," Foster said.
See the American Ethanol website, http://www.americanethanol.us/management.php, for additional information.
Previous related article