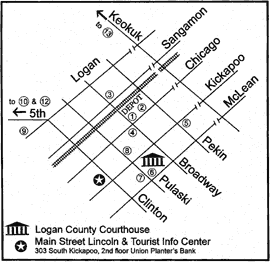 [Click here for larger map]
1. Town christening site
Broadway and Chicago streets
In August 1853 the first sale of lots in the new town of Lincoln took place near this spot. Abraham Lincoln, in whose honor the town was named, was in attendance. When asked on the day of the land sale to officially "christen the town," Lincoln obliged. Lifting the cover off a pile of watermelons stacked on the ground by a local farmer, Lincoln picked up a melon and conducted a brief ceremony using its juice. Lincoln, Ill., is the only town named for Lincoln before he became president.
2. Lincoln railroad depot
101 N. Chicago St.
Abraham Lincoln frequented this city by train after its founding. As president-elect, Lincoln came hereon Nov. 21, 1860. He stopped near this spot to make a few remarks from the rear of his train. This was his last speech in Logan County and the last time Lincoln would visit his namesake city. His funeral train stopped here on May 3, 1865. The current depot was built several decades later, in 1911.
3. State Bank of Lincoln
111 N. Sangamon St.
Abraham Lincoln met sculptor Leonard Volk for the first time on the boardwalk in front of the Lincoln House Hotel. Volk asked Lincoln to pose for a bust and life mask of his face and hands. Signed copies of the life masks by Volk, as well as original artwork by Lloyd Ostendorf of Lincoln in Logan County, are on display in this bank building's lobby.
4. Site of the Lincoln House Hotel
501 Broadway St.
The Lincoln House, one of the grandest hotels between St. Louis and Chicago, stood on this spot from 1854 to 1870. All the political luminaries of the day, including Abraham Lincoln, Stephen A. Douglas, David Davis and Richard Oglesby, crossed its threshold at one time or another The Lincoln House was a two-story frame structure that fronted the railroad tracks and featured a large veranda.
5. Robert Latham home site
400 N. Kickapoo St.
Robert B. Latham joined John D. Gillett and Virgil Hickox in founding the town of Lincoln in 1853. Abraham Lincoln, other lawyers and judges were often guests at his house.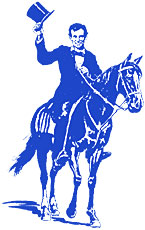 6. Logan County Courthouse
When Lincoln became the county seat in 1853, a courthouse was built on this spot. A second courthouse was built in 1858 and remained in use until the early 20th century, when it was replaced with the current building. Abraham Lincoln practiced law and attended political functions in the first two courthouses built on the square. A statue of Lincoln stands in this courthouse. A Civil War monument and cannon sit on the north side of the courthouse grounds.
7. Lincoln lot site
523 Pulaski St.
A plaque located on the right-hand side of this store identifies the location as a lot Lincoln once owned. James Primm, in need of money, approached former Illinois Gov. Joel Matteson for a $400 advance. Matteson directed him to have Lincoln sign a note as Primm's guarantor. Lincoln co-signed the note. Later Primm defaulted and Lincoln had to pay the note. Eventually Primm deeded Lincoln this property in recompense.
8. Rustic Inn
412 Pulaski St.
In 1876 members of a counterfeiting gang met here to hatch a plot to steal Lincoln's corpse from its burial vault in Springfield. The gang had planned to hide Lincoln's body in the Indiana sand dunes on the shore of Lake Michigan and negotiate with the governor of Illinois for $200,000 in cash and the release of Ben Boyd. The bartender at the Rustic Inn overheard the plot and reported it to the authorities. The Secret Service later apprehended the gang members. Robert Todd Lincoln had his father's coffin encased in several tons of cement to prevent future attempts to steal the body.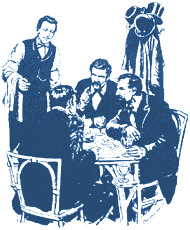 Other Lincoln sites in Lincoln
9. Stephen A. Douglas speech site
Comer of Fourth and Logan streets
Stephen Douglas visited this city during the famous 1858 Illinois senatorial campaign. Douglas paraded with all his supporters through the decorated streets to the tent that was pitched on this site. Lincoln, who was also in town, listened to his opponent from the back of the crowd. In the end, a majority of Logan County voters favored Lincoln, but Douglas won the 1858 election.
10. Postville Courthouse
914 Fifth St.
This state historic site is a replica of an 1840 courthouse where Lincoln argued, won and lost cases while he traveled the 8th Judicial Circuit.
11. Site of Deskins Tavern
915 Fifth St.
Lincoln often stayed at Deskins Tavern when he traveled to Postville. A well where he quenched his thirst is also at this site. ["'Crown jewel' found in Lincoln -- Lincoln's well at Postville"] ["Well restoration brings back local history"]
12. Postville Park
1300 Fifth St.
Abraham Lincoln was well-known for his athletic abilities, and he frequently joined in games of "town ball" at this village park.
13. Lincoln College and Museum
300 Keokuk St.
A nationally registered landmark, Lincoln College was founded and named for President Lincoln on Feb. 12, 1865. The museum houses an extensive collection of memorabilia on the life of Abraham Lincoln.
[See "LC Museum named one of 10 best Lincoln-related sites in Illinois"]
Other sites of interest in downtown Lincoln
Lincoln Public Library (a Carnegie building)
725 Pekin St.
["Lincoln Public Library keeps its history alive"]
Logan County Genealogical
& Historical Society
114 N. Chicago St.
Lincoln City Hall
700 Broadway St.
U.S. Post Office
102 S. McLean St.
Courthouse Square Historic District
including historic sites, restaurants and shops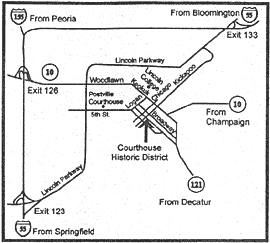 [Click here for larger map]