Court News | Marriage Licenses | Dissolutions
Police Reports | Community Policing Activities | Crime Stoppers
Law News Elsewhere (fresh daily from the Web)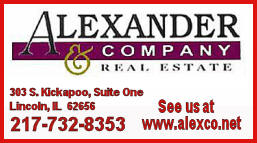 (Name, age, address; date, charge; sentence)
Reports available Feb. 16, 2006
Jennifer L. McCabe, 33, 210 E. Sharon, Atlanta; July to August 2005, deceptive practice; pleaded guilty, 12 months court supervision, $100 fine plus court costs, $197.82 restitution.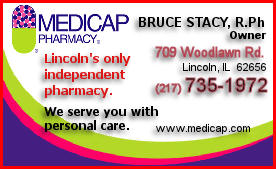 Reports available Feb. 16, 2006
Brett Robert Buchholz, Quincy
Cassandra Anne Duncan, Quincy

Terrance Ezekiel Guise, Lincoln
Michelle Rae Harlow, Lincoln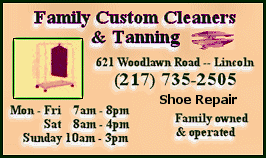 Reports available Feb. 16, 2006
Scott L. Turner, 39, Lincoln
Julie A. White Turner, 38, Lincoln
Married Feb. 16, 1991
Wife filed; irreconcilable differences
Second marriage for each; both ended in 1989 in dissolution.
Custody of two children goes to the wife.
Link to Illinois sex offender information provided by the Illinois State Police: http://www.isp.state.il.us/sor/
Searches available by name, ZIP code, city, county and compliance status.

---
News | Sports | Business | Rural Review | Teaching & Learning | Home and Family | Tourism | Obituaries
Community | Perspectives | Law & Courts | Leisure Time | Spiritual Life | Health & Fitness | Teen Scene
Calendar | Letters to the Editor