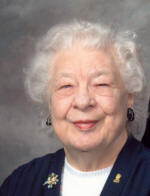 Anna Behrends

Send a link to a friend
[FEB. 14, 2007] Anna K. Behrends, 90, of Lincoln died Monday, Feb. 12, 2007, at 5:20 p.m. at the Christian Village Nursing Home.
Her funeral will be at 11 a.m. Friday at Immanuel Lutheran Church, with the Rev. Dan Wissmann officiating. Visitation will be one hour prior to the service.
Burial will be in Hartsburg Union Cemetery, Hartsburg.

Arrangements are by Fricke-Calvert-Schrader Funeral Home in Lincoln.

Miss Behrends was a retired teacher. She taught at Groveland, Rabbitt Flat, Pleasant View, and at Washington and Wilson schools in Pekin for a total of 42 years.

She was born Sept. 5, 1916, at Hartsburg to John and Winnie Harmsen Behrends.

She is survived by one brother, Bernard E. (and Anastasia) Behrends of Lincoln.

One sister, Janet Behrends, preceded her in death.

She was a member of Immanuel Lutheran Church, where she was confirmed by the Rev. Paul Brockhaus. She taught Sunday school there for 40 years and took part in other church functions for over 65 years.

She was also a member of American Legion Post 263 Auxiliary, Alpha Delta Kappa teachers' sorority, American Education Association and Logan County Farm Bureau.

She owned and managed farmlands and various financial investments.

She graduated from Lincoln College in 1936 and received a bachelor's degree in education from Bradley University in Peoria in 1952.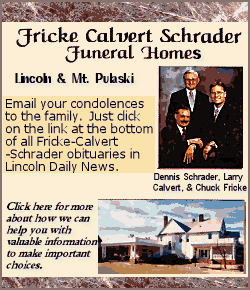 As a token of her gifts and interest in the field of education, the Anna K. and Bernard E. Admissions Building at Lincoln College was named in her honor.
She enjoyed painting and other artwork, reading and traveling throughout the world after her retirement.
She left a legacy with many people, especially the students she taught in the public schools and Sunday school.
Memorials may be made to Immanuel Lutheran Church or Lincoln College.
Click here to send a note of condolence to the Behrends family.