Stephen 'Bud' Sloan

Send a link to a friend
[JAN. 19, 2007] Stephen E. "Bud" Sloan, 92, of Lincoln, formerly of Hartsburg, died Thursday, Jan. 18, 2007, at 11:23 p.m. at Maple Ridge Care Centre.
His funeral will be at 10:30 a.m. Wednesday at St. John's Lutheran Church in Hartsburg, with the Rev. David Russell officiating. Visitation will be at the church an hour prior to the service.

Burial will be in Hartsburg Union Cemetery.

Arrangements are by Fricke-Calvert-Schrader Funeral Home in Lincoln

Mr. Sloan farmed in Fancy Creek Township until he retired in 1983.

He was born Dec. 29, 1914, in Springfield to Charles and Jessie DeFrates Sloan. He married Martha L. Klockenga on Oct. 15, 1939, in Lincoln. She preceded him in death on Sept. 3, 2005.

He is survived by one son, William Lee (and Barbara) Sloan of Sherman; one daughter, Frances "Fran" Petersen of Lincoln; a daughter-in-law, Carol Sloan; one brother, Charles (and Mary Ann) Sloan of Lincoln; three sisters, Gladys Aper, Evelyn (and Ed) Logan and Helen Singley, all of Lincoln; six grandchildren; 10 great-grandchildren; and several nieces and nephews.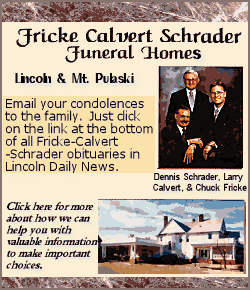 He was also preceded in death by two sons, James and Paul Sloan; one daughter, Joyce Seaman Detmers; and three sisters.
He was a member of St. John's Lutheran Church of Hartsburg and the Brotherhood of the church.
He was a member of the Production Credit Association until 1983.
Memorials may be made to the American Cancer Society.
Click here to send a note of condolence to the Sloan family.