Estil White

Send a link to a friend
[JAN. 19, 2007] Estil Stephen White, 83, of Lincoln died Thursday, Jan. 18, 2007, at 1:45 a.m. at the Christian Village Nursing Home.
His funeral will be at 11 a.m. Monday at Peasley Funeral Home, with the Rev. David Russell officiating. Visitation will be from 10 to 11 a.m. at the funeral home.

Burial will be at Camp Butler National Cemetery in Springfield.

Mr. White had worked for Caterpillar in East Peoria before he retired in 1980.

He was born Feb. 21, 1923, at Crownwell, Ky., to Eugene and Ola Cook White.

He is survived by three daughters, Faye Kirk of Springfield, Kaye Peters of San Diego, Calif., and Shirley Alberts of Lincoln; one son, John E. White, address unknown; one brother, Herbert White; four sisters, Della Shutts of Lincoln, Geraldine Stotler of Aurora, and Golda McGuire and Carme Hill, both of Missouri; five grandchildren; and five great-grandchildren.

Two sisters and one brother preceded him in death.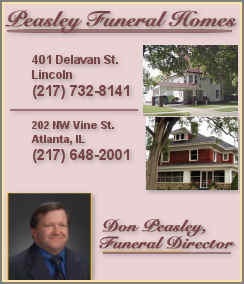 He was a member of the Zion Lutheran Church in Lincoln, UAW Local 974 and Veterans of Foreign Wars Post 1756.
Memorials may be made to Veterans of Foreign Wars Post 1756 or the Christian Village.
Click here to send a note of condolence to the White family.