M. Joyce Lessen

Send a link to a friend
[June 27, 2008] SPRINGFIELD -- Mildred Joyce Lessen, 71, of Springfield, formerly of Lincoln and Middletown, died Thursday, June 26, 2008, at 6:08 a.m. at Memorial Medical Center.
Visitation will be from 4 to 7 p.m. Monday at Fricke-Calvert-Schrader Funeral Home in Lincoln. Her funeral will be at 10:30 a.m. Tuesday at Fricke-Calvert-Schrader, with the Rev. Mark Peters officiating.

Burial will be in Hartsburg Union Cemetery.

Mrs. Lessen retired from Franklin Life Insurance Company.

She was born April 15, 1937, in Eddyville to Herbert Eric and Prudie Matilda Owens Wasson. She married Donal F. Winterbauer and was blessed with three children. In 1983, she married James B. Lessen, and he died Dec. 8, 1992.

She is survived by daughters Sondra (and Kevin) Lessen of Springfield, Karen (and Gail) Davison of Middletown, Karen (and Rick) Harris of Chestnut and Kim (and Mike) Florey of Beason; sons Don (and Greta) Winterbauer of Lincoln and Kent (and Sue) Lessen of Hoffman Estates; 15 grandchildren; 11 great-grandchildren; one sister, Barb (and Arland) Morrow of Clinton; many nieces, nephews and friends; as well as Spot and Tigger.

She was also preceded in death by her first husband; her parents; two brothers, Eugene Wasson and Robert Wasson; and one great-grandchild.

She graduated from Lincoln Community High School.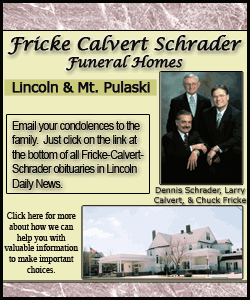 In addition to being an avid Illini basketball fan, Joyce enjoyed Cubs baseball games and visits with her family and friends.
She spent much time with Sondra, Kevin and Amber, with whom she made her home. Judy Ingram and Evelyn Armstrong, special friends of more than 50 years, provided support. The doctors and staff of Capitol Healthcare have been wonderful friends and professionals to Joyce and her family during her time in Springfield and especially when helping deal with her illness.
Memorials may be made to Bethesda Church for upkeep and care of the Wasson Family Church and grounds.
Click here to send a note of condolence to the Lessen family.