Send a link to a friend
October 2008
---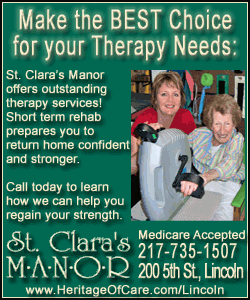 Saturday, Oct. 4
Farmers market
WHO: Public is invited
DETAILS: Fresh produce and baked goods for sale. For more information, call Doug Fink or Vicki Hum at 732-6962.
WHERE: Corner of Kickapoo and Pekin
WHEN: 7 am-noon
Food drive
SPONSOR: Good Sam Ministry
WHO: Everyone welcome
DETAILS: Help save Holy Family Food Pantry by bringing nonperishable food items. Help fill the Good Sam truck. Donations accepted at five drop-off locations.
WHERE: Wal-Mart, Kroger, IGA, Knight of Columbus Hall and Good Sam warehouse
WHEN: 10 am-3 pm
Rummage sale
SPONSOR: LCHS competitive cheer squad
WHO: Public
WHERE: Logan Lanes, 1700 Fifth St.
WHEN: 5-7:30 pm
Cruise-in and car show
SPONSOR: Good Sam Ministry
WHO: Everyone welcome
DETAILS: Nonperishable food item or items for entry fee. All food collected will be donated to the Holy Family Food Pantry. Dash plaques to the first 50 entries. Door prizes.
WHERE: Parking lot of Burger King and old Wal-Mart
WHEN: 5:30 pm-?
Monday, Oct. 6
Blood drive
SPONSOR: Lincoln Kiwanis
WHO: Public
DETAILS: To sign up, call 1-866-GIVE-BLD (1-866-448-3253), ext. 6814, or schedule an appointment online at www.cicbc.org.
(See article.)
WHERE: Lincoln Masonic Center, 2022 N. Kickapoo
WHEN: Noon-6 pm
DivorceCare seminar and support group
SPONSOR: Jefferson Street Christian Church
DETAILS: See article.
WHERE: 1700 N. Jefferson
WHEN: 7-9 pm
(Mondays through Nov. 24)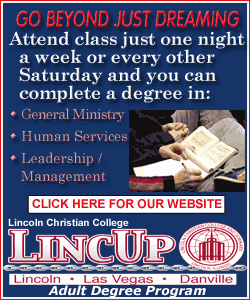 Wednesday, Oct. 8
Farmers market
WHO: Public is invited
DETAILS: Fresh produce and baked goods for sale. For more information, call Doug Fink or Vicki Hum at 732-6962.
WHERE: Corner of Kickapoo and Pekin
WHEN: 5-8 pm
Thursday, Oct. 9
Drive-up chicken dinner
SPONSOR: Lincoln Railer Band Boosters
WHO: Public
DETAILS: Tickets are available from band members or by calling 732-4131, ext. 232.
(See information in Close Up column.)
WHERE: Lincoln Community High School parking lot
WHEN: 4-6 pm
"Arsenic and Old Lace"
SPONSOR: Lincoln Christian College
WHO: Public
DETAILS: For more information, call 217-732-7788, ext. 224.
(See information in Close Up column.)
WHERE: Lincoln Christian College, Earl C Hargrove Chapel
WHEN: 7:30 pm
Friday, Oct. 10
Chili cook-off
SPONSOR: Little Lambs Day Care
WHO: Public
DETAILS: Fourth annual event. Take the night off from cooking. Bring the family to taste many varieties of chili and vote for your favorite. There will also be hayrack rides, face painting, pumpkin painting and fun for all. Tickets will be sold at the door.
WHERE: Little Lambs Day Care, 1500 N. McLean
WHEN: 5:30-7 pm
"Arsenic and Old Lace"
SPONSOR: Lincoln Christian College
WHO: Public
DETAILS: For more information, call 217-732-7788, ext. 224.
(See information in Close Up column.)
WHERE: Lincoln Christian College, Earl C Hargrove Chapel
WHEN: 7:30 pm
Saturday, Oct. 11
Farmers market
WHO: Public is invited
DETAILS: Fresh produce and baked goods for sale. For more information, call Doug Fink or Vicki Hum at 732-6962.
WHERE: Corner of Kickapoo and Pekin
WHEN: 7 am-noon
Glass recycling collection
SPONSORS: Logan County Joint Solid Waste Agency, Lincoln Junior Woman's Club, Saint-Gobain Containers and Lincoln Wal-Mart Supercenter
WHO: Open to public
DETAILS: Only container glass (food, beverage) will be accepted. Clear glass, as well as amber, green and blue will be accepted. Unacceptable items include ceramics, dishware, light bulbs, fluorescent lights, window glass and mirrors. For safety reasons, no broken glass will be accepted.
Glass preparation: Rinse containers thoroughly. Remove any metal or plastic lids and rings from the container. Labels may be left on containers.
Collection will be canceled in case of inclement weather. Glass will be accepted only on designated collection dates -- second Saturday of each month, April-October. The Logan County Joint Solid Waste Agency does not accept glass at any of its recycling sites.
WHERE: Lincoln Wal-Mart Supercenter parking lot
WHEN: 9 am-noon
Classic car show
SPONSORS: Railsplitter Antique Auto Club and Route 66 Heritage Foundation of Logan County
WHO: Public
DETAILS: Fundraising event for restoration of the historic Mill restaurant
(See article.) (Another article)
WHERE: The Mill, 738 S. Washington St.
WHEN: 11 am-4 pm
Habitat for Humanity of Logan County recognition dinner and dance
SPONSOR: Habitat for Humanity of Logan County
WHO: Public invited
DETAILS: Eighth annual event. Special recognition will be given to H & R Block, Harley Petri and Verdia Lee for their support of Habitat. Enjoy dinner and an evening of good music and dancing. Music is provided by The Turner Trio. Tickets may be purchased at Wachovia Securities (A.G. Edwards), MKS Jewelers or by calling 217-732-2861.
WHERE: American Legion Hall, Fifth Street
WHEN: 5:30 pm doors open, 6 pm dinner; 7 pm dance
"Arsenic and Old Lace"
SPONSOR: Lincoln Christian College
WHO: Public
DETAILS: For more information, call 217-732-7788, ext. 224.
(See information in Close Up column.)
WHERE: Lincoln Christian College, Earl C Hargrove Chapel
WHEN: 7:30 pm
Saturday-Sunday, Oct. 11-12
Lincoln Circuit Ride
SPONSOR: Lincoln Circuit Ride
WHO: Everyone
DETAILS: Join ABATE of Illinois on the 2008 Lincoln Circuit Ride, riding the same roads, visiting the county line markers where Abe crossed into each county and visiting the same courthouses where he practiced law on the Old 8ith Judicial Circuit around 1850. A bus tour will accompany the motorcycles and other vehicles. Presentations will be made along the way by local historians at the markers and historic sites. The ride is in two parts: April 26-27 and Oct. 11-12.
The first weekend starts in Springfield, with registration beginning at 8 am April 26. After a tour of Lincoln's Home, the group will leave at 9 am from Eighth and Capitol, just north of the home. The tour will stop at each county line marker on the way from Sangamon County to the Metamora Historic Courthouse for presentations and lunch. The afternoon will be spent traveling to Postville Courthouse, visiting the county line markers along the way, and the day will end at Lincoln's Holiday Inn Express after several presentations. On Sunday the group will travel to Mount Pulaski Courthouse, Clinton Courthouse, DeWitt for lunch and Monticello Courthouse, stopping at each county line marker along the way and ending at the marker on Piatt-Champaign County line.
The second half of the circuit will begin Oct. 11 in Champaign, at Carle Park. Travel will be along the Lincoln Road toward Danville and then on to Paris Courthouse, Charleston Courthouse and lunch, and Shelbyville, where the group will spend the night at The Shelby Inn. The route will follow many old roads and visit the county line markers along the way. On Sunday the group will head to Sullivan, Decatur and Taylorville, ending at the Christian-Sangamon County line marker.
The cost is $10 per person per weekend. There will be an additional cost for the bus accompanying the tour. Visit www.lincolncircuitride.com for more details. For further information, contact Rose Connolly at 217-891-8719.
WHERE: Starts in Springfield
WHEN: 8 am-6 pm
Sunday, Oct. 12
Fundraiser lunch buffet
SPONSOR: Kiwanis Club of Lincoln
WHO: Public
DETAILS: Join the Kiwanis for a lunch buffet. Proceeds go to projects and agencies serving children in Lincoln. Tickets sold at door or through Kiwanis members.
WHERE: Lincoln College, Meyer-Evans Student Center
WHEN: 11 am-2 pm
Monday, Oct. 13
DivorceCare seminar and support group
SPONSOR: Jefferson Street Christian Church
Watch for more information in Lincoln Daily News.
WHERE: 1700 N. Jefferson
WHEN: 7-9 pm
(Mondays through Nov. 24)
Wednesday, Oct. 15
Farmers market
WHO: Public is invited
DETAILS: Fresh produce and baked goods for sale. For more information, call Doug Fink or Vicki Hum at 732-6962.
WHERE: Corner of Kickapoo and Pekin
WHEN: 5-8 pm
Saturday, Oct. 18
Farmers market
WHO: Public is invited
DETAILS: Fresh produce and baked goods for sale. For more information, call Doug Fink or Vicki Hum at 732-6962.
WHERE: Corner of Kickapoo and Pekin
WHEN: 7 am-noon
Quarter midget "arrive and drive"
SPONSOR: Abraham Lincoln Quarter Midget Association
WHO: Ages 5-16
DETAILS: This is a chance for children ages 5-16 to drive a real quarter midget race car. All safety equipment will be provided, and cars are modified to slow the actual speed. If your child is interested in racing, this is a great opportunity to take a test drive. Fee. Visit www.alqma.com for additional information and directions.
WHERE: Abraham Lincoln Quarter Midget Association racetrack at Broadwell (behind Rocking Horse Campground)
WHEN: 10 am-3 pm
Germanfest
SPONSOR: St. John United Church of Christ
WHO: Public
(See publicity.)
WHERE: 204 Seventh St.
WHEN: 11 am-4 pm
Humane Society adopt-a-thon
SPONSOR: Humane Society of Logan County
DETAILS: Dogs and a few cats will be shown. Applications for adoption can be obtained at the event.
WHERE: Pet Connection, 523 Woodlawn
WHEN: Noon-1:30 pm
Monday, Oct. 20
DivorceCare seminar and support group
SPONSOR: Jefferson Street Christian Church
Watch for more information in Lincoln Daily News.
WHERE: 1700 N. Jefferson
WHEN: 7-9 pm
(Mondays through Nov. 24)
Wednesday, Oct. 22
Farmers market
WHO: Public is invited
DETAILS: Fresh produce and baked goods for sale. For more information, call Doug Fink or Vicki Hum at 732-6962.
WHERE: Corner of Kickapoo and Pekin
WHEN: 5-8 pm
Saturday, Oct. 25
Harvest of Talents for World Hunger
SPONSOR: Harvest of Talents for World Hunger
WHO: Public invited, all ages
DETAILS: 25th anniversary Harvest Day. Food, handcrafted items for sale, music, indoor dining, outdoor snacks, entertainment, live auction, something for everyone, with ALL proceeds going to world hunger relief. Handicapped-accessible. No admission fee; free parking. For more information, call 217-732-7618 or e-mail harvest@lincolnil.us.
WHERE: Lincoln Christian Church, 204 N. McLean St.
WHEN: Doors open at 7 am; auction at 2 pm
Farmers market
WHO: Public is invited
DETAILS: Fresh produce and baked goods for sale. For more information, call Doug Fink or Vicki Hum at 732-6962.
WHERE: Corner of Kickapoo and Pekin
WHEN: 7 am-noon
Holy Family Parish Fall Festival
SPONSORS: Holy Family Parish, Lincoln Knights of Columbus, Carroll Catholic School, Peasley Funeral Home
WHO: Open to the public
DETAILS: Third annual event. Ethnic food, inflatable rides, bocce tournament, bags tournaments, family games, silent auction, raffle items, pumpkin carving items, face painting and much more. For more information, contact Carroll Catholic School between 8 am and 3 pm weekdays at 217-732-7518.
WHERE: Knights of Columbus Hall, 217 N. Limit
WHEN: 3-9 pm
Wednesday, Oct. 29
Farmers market
WHO: Public is invited
DETAILS: Fresh produce and baked goods for sale. For more information, call Doug Fink or Vicki Hum at 732-6962.
WHERE: Corner of Kickapoo and Pekin
WHEN: 5-8 pm