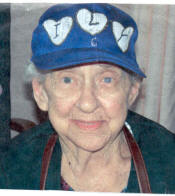 Etta Alzada Benedict

Send a link to a friend
[August 05, 2009] Etta Alzada Benedict, 95, of Lincoln, died Tuesday, Aug. 4, 2009, at 2:55 a.m. at Abraham Lincoln Memorial Hospital.
Visitation will be 6-8 p.m. Friday at Peasley Funeral Home in Lincoln. Her funeral will be at 10 a.m. Saturday at the funeral home, with Pastor Robert Henderson officiating.
Burial will be in New Union Cemetery.

She was born Oct. 18, 1913, in Greensburg, Ky., to Everett and Laura Golf Davenport. She married Elliott "Buck" Robertson on June 21, 1929. She later married Clarence "Fred" Benedict on June 6, 1970, in Lincoln.

She is survived by her husband; two sons, Darrell Robertson of Mason City and Johnny Robertson of Santa Fe, N.M.; two daughters, Hazel Settles of Kentucky and Marjorie Gardner of Florida; six stepsons, Gordon Robertson and Kenneth Robertson, both of Mason City, Gene Benedict of Wheeling, Dean Benedict of California, and Carl Benedict and Robert Benedict, both of Lincoln; and several grandchildren, great-grandchildren and great-great-grandchildren.

Alzada was preceded in death by one daughter, Waneta Schleder; one son, Cecil Robertson; four sisters; and three stepsons.

Memorials may be made to any charity of the donor's choice.

Click here to send a note of condolence to the Benedict family.