Lincoln Daily News
welcomes letters of appreciation, information and opinion on matters pertaining to the community.
As a community we need to be able to talk openly about matters that affect the quality of our lives. The most effective and least offensive manner to get your point across is to stick to the issue and refrain from commenting on another person's opinion. Letters that deviate from focusing on the issue may be rejected or edited and marked as such.
.
You may also send your letters by e-mail to ldneditor@lincolndailynews.com
or by U.S. postal mail:
Letters to the Editor
Lincoln Daily News
601 Keokuk St.
Lincoln, IL 62656
Letters must include the writer's name, telephone number, and postal address or e-mail address (we will not publish address or phone number information). Lincoln Daily News reserves the right to edit letters to reduce their size or to correct obvious errors. Lincoln Daily News reserves the right to reject any letter for any reason. Lincoln Daily News will publish as many acceptable letters as space allows.
Lincoln Daily News contacted Abraham Lincoln Memorial Hospital to better understand their position and how this family and others in need might get help.

ALMH staff responded kindly and were appreciative of the situation being brought to their attention. A representative said that when needed, case managers have called the state Medicaid office and advocated on behalf of the patient. ALMH would be contacting this family to see how they can help.

The hospital provided the following statement about their care, uninsured options and further contacts:

"It is the policy of the ALMH emergency room to provide our patients who need medications with a prescription to be filled at a local pharmacy of their choice and enough meds to help them meet their dosage requirements until the pharmacy opens the next day.

"The ALMH case management team is available to work with all emergency room patients to ease their transition home. This includes identifying various sources of pharmaceutical assistance if patients do not have a payment source for those medications that will improve their health."

For those who are uninsured, the Uninsured Ombudsman Program was established by Public Act 92-331 on Jan.1, 2002. The purpose of the program is to provide assistance and education to Illinois consumers who:
Have no health insurance.

Are about to lose health insurance.

Cannot afford to purchase health insurance.
[to top of second column in this article]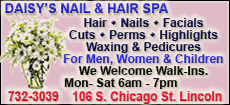 The Uninsured Ombudsman Program may be able to assist by:
Providing information on state and federal programs that may be available.

Explaining continuation rights under an existing health plan.

Providing help on how to shop for health insurance.
The ombudsman staff can answer questions about obtaining health insurance and supply information on resources available throughout the state that might be able to provide health care options for individuals seeking treatment.
The Uninsured Ombudsman Program is located within the Office of Consumer Health Insurance. You may contact the program by calling that office toll-free at 877-527-9431.
State phone numbers that might be of help:
Office of Consumer Health Insurance, 877-527-9431

Comprehensive Health Insurance Plan, CHIP, 866-851-2751

Attorney general's toll-free line, 877-305-5145

KidCare, 800-226-0768

Medicare toll-free line, 800-638-6833
[LDN and ALMH staff]
[Posted August 19, 2009]