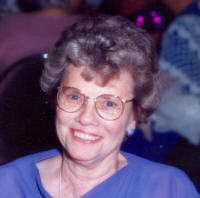 Agnes Reichle

Send a link to a friend
[August 20, 2010] LINCOLN -- Agnes F. Reichle, 85, of Lincoln, died Thursday, Aug. 19, 2010, at 8:45 p.m. at Abraham Lincoln Memorial Hospital.
Visitation will be 2-5 p.m. Sunday at Holy Family Church in Lincoln, with the rosary recited at 5 p.m.
Her funeral will be at 2 p.m. Monday at the church. The Rev. Jeffrey Laible and Monsignor David S. Lantz will concelebrate.

Burial will be in St. Mary's Cemetery.

Fricke-Calvert-Schrader Funeral Home in Lincoln is in charge of arrangements.

Mrs. Reiche worked in the catalog department of JCPenney's in Lincoln, as an emergency room receptionist at Abraham Lincoln Memorial Hospital and at Holy Family Religious Education Center.

She was born May 26, 1925, in Elkhart. Her parents were James Edward and Frances Theresa Hassenstab Willard. She married Vernon C. Reichle on June 25, 1949, at St. Patrick's Church in Elkhart.

She is survived by her husband, of Lincoln; four sons, Joe (and Polly) Reichle of Lincoln, Jim (and Mary Beth) Reichle of Littleton, Colo., Jack Reichle and Ann Reichle of Lincoln, and Jerry Reichle of Lincoln; three daughters, Lou Ann (and Dr. David) Mack of Springfield, Mary (and Luther) Leesman of Hartsburg and Kate (and Dave) Becker of Littleton, Colo.; 11 grandchildren, Rebecca Reichle, Alex Reichle, Kevin (and Amanda) Reichle, Dave Reichle, Tyler Reichle, Steph Reichle, Beth (and Jason) Stephens, John (and Sarah) Leesman, Mark (and Kailey) Leesman, Drew Becker and Jack Becker; and four great-grandchildren, Luke and Quinn Stephens, Beya Leesman, and Addison Reichle.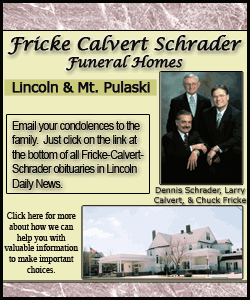 She was preceded in death by one granddaughter, Megan Katherine Becker; one brother, James Edward Willard; and one sister, Helen J. Tierney. She was the last of her immediate family.
Agnes was a member of Holy Family Church, Holy Family Choir, Altar and Rosary Society, on the board of Carroll Catholic School, was a Eucharistic minister, a Third Order Carmelite and a member of Birthright of Logan County.
She was a graduate of Elkhart High School and Brown's Business College.
Memorials may be made to Carroll Catholic School.
Click here to send a note of condolence to the Reichle family.