Send a link to a friend
[December 14, 2010] LINCOLN -- Victor C. Cope Jr., 89, of Lincoln, formerly of Rio Rancho, N.M., died Thursday, Dec. 9, 2010, at 9:15 a.m. at Abraham Lincoln Memorial Hospital.
A memorial service will be at 1:30 p.m. Saturday, Dec. 18, at Christian Village.
Fricke-Calvert-Schrader Funeral Home in Lincoln is handling arrangements.
Mr. Cope was a retired geologist with Phillips Petroleum Co. in Bartlesville, Okla.
He served in the U.S. Maritime Service during World War II, from 1942-1947, stationed in Florida.
He was born Feb. 14, 1921, at Wagon Mound, N.M. His parents were Victor C. and Pearl Elizabeth Matthews Cope Sr. He married Georgie May on July 22, 1943, in Kansas City, Mo.
He is survived by his wife, in Lincoln; one daughter, Caroline Miller of Greenview; one son, Richard A. (and wife Judy) Cope of Liberty, Mo.; five nephews; and one niece.
One sister, Mary Ellen Nolting, preceded him in death. He was the last of his immediate family.
He was a member of the First United Methodist Church of Lincoln and attended church services at Christian Village.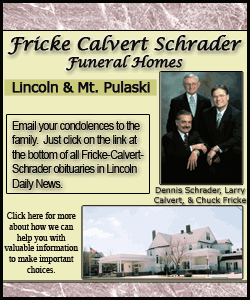 He lived abroad in Singapore for 8 1/2 years.
He received his bachelor's degree from Kansas University in Lawrence, Kan.
Memorials may be made to Christian Village.