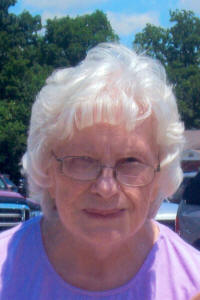 G. Louise Jones

Send a link to a friend
[February 22, 2010] LINCOLN -- G. Louise Jones, 83, of Lincoln, died Sunday, Feb. 21, 2010, at 2:55 p.m. at her daughter's home.
Visitation will be 4-7 p.m. Thursday at Fricke-Calvert-Schrader Funeral Home in Lincoln. Her funeral will be at 10:30 a.m. Friday at the funeral home, with the Rev. John Nelson officiating.
Burial will be in New Union Cemetery.
Mrs. Jones was a retired school cook. She had worked for District 27 at Northwest, Jefferson and Lincoln Junior High.
She was born Nov. 8, 1926, in Crawford County, Ind. Her parents were James "Alfred" and Lillian Webster Murphy. She married Arthur Reese Jones on April 7, 1946, in Lincoln.
She is survived by her husband, of Lincoln; three daughters, Cathy (and Edward) Jacobs of Lincoln, Janet (and Larry) Scheid of Springfield and Brenda Jones of Lincoln; one son, Gary Jones of Lincoln; one brother, George Murphy of Colorado Springs, Colo.; four sisters, Agnes Salyers of South Bend, Ind., Esther (and Jerry) Neuendorf of Evansville, Ind., Mary Adkins of Tazewell, Ind., and Betty (and Eugene) Satterfield of Indiana; and three grandchildren, Tyler Reese Jones, Nickolas Dane Scheid and Stephanie Jean Scheid.
She was preceded in death her parents; one daughter, Barbara Jean Jones, in 1959; and three brothers, John, Doug and Bob Murphy.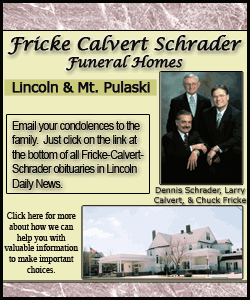 She was of the Protestant faith.
Memorials may be made to the American Cancer Society or Autism Speaks.
Click here to send a note of condolence to the Jones family.