Send a link to a friend
April 2011
---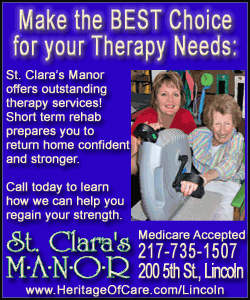 Saturday, April 2
"Hot Soup for Cold Nights"
SPONSOR: Immanuel Lutheran Church
WHO: Open to anyone
DETAILS: Immanuel Lutheran Church is hosting a free soup supper for all. Preceding the supper, there will be a relaxed worship service for those interested.
WHERE: 1409 Pulaski St.
WHEN: 5 pm worship, 6-7 pm supper
Wednesday, April 6
Fellowship meal and adult Bible study
SPONSOR: First Baptist Church
WHO: Everyone welcome
DETAILS: Every Wednesday evening until April 13. The meal is free or by donation. Children's activities available.
WHERE: 101 Broadway
WHEN: 5:30-7:15 pm
Wednesday, April 13
Seminary lectureship
SPONSOR: Lincoln Christian University
DETAILS: Guest speaker: Dr. Peter Kuzmic
WHERE: Lincoln Christian University
WHEN: Three sessions: 9:30 am, noon and 2:30 pm. The noon session will be a brown-bag lunch with Q-and-A.
Fellowship meal and adult Bible study
SPONSOR: First Baptist Church
WHO: Everyone welcome
DETAILS: Final session in series. The meal is free or by donation. Children's activities available.
WHERE: 101 Broadway
WHEN: 5:30-7:15 pm
Friday, April 15
Elkhart Historical Society dinner-lecture
SPONSOR: Elkhart Historical Society
WHO: Public, by reservation
DETAILS: Topic: "The Spring Wildflowers of Elkhart Hill"
(See article.)
WHERE: Wild Hare Cafe, 104 Gov. Oglesby St., downtown Elkhart
WHEN: Dinner at 5:30 pm, lecture 7-8 pm
Wednesday, April 27
Christian Women's Conference
DETAILS: "Look Up! Timeless Truths for Trying Times," featuring Ellie Lofaro and Kathy Troccoli. Enjoy a day of solid biblical teaching with practical life application, heartfelt songs, inspiring stories and heaps of healing laughter. Discount on registration up to April 1. Registration fee includes lunch.
WHERE: Lincoln Christian University, Earl C Hargrove Chapel auditorium
WHEN: 9 am-4 pm
Saturday, April 30
Spring for Tea
SPONSOR: Harvest of Talents for World Hunger, Lincoln Christian Church
WHO: Open to women from this and other communities
DETAILS: Spring tea featuring tasty sweet and savory delicacies served from tastefully appointed tables. Guest program and door prizes donated by local individuals and businesses. Tickets may be purchased at the office of Lincoln Christian Church. For details call 732-7618.
(See article.)
WHERE: Fellowship Center, Lincoln Christian Church, 204 N. McLean
WHEN: Doors open at 10:45 am. Tea served at 11:30 am.
Barbecue judging class
WHO: Interested individuals, by registration
DETAILS: Certified by Kansas City Barbeque Society.
http://www.lincolnbbq.com/judges.html
(See article.)
WHERE: Knights of Columbus Hall, 217 Limit St.
WHEN: 9 am registration. Class begins at 9:30 am.