Accidents
May 19, 8:47 p.m.
Location: South Sangamon at Decatur Street
Drivers and vehicles:
Lowman, Connie L., 53; 2009 Toyota RAV4

Wood, Caroline G., 18; 1997 Dodge Stratus
Contributory causes: failure to reduce speed to avoid an accident
Citations issued to: Lowman
Lincoln Police Department
No reports.
Logan County Sheriff's Department
Dupree, Gary E., 64, Bloomington, arrested May 15 at the McLean County Jail on a Logan County warrant for failure to appear in answer to charge of driving with a suspended license.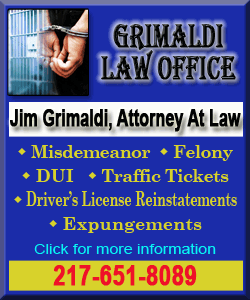 Atlanta, Mount Pulaski, San Jose, Illinois State Police
No reports.
___
The public is reminded that anyone is presumed innocent until charges are proven in a court of law.
[LDN]
Other recent police reports