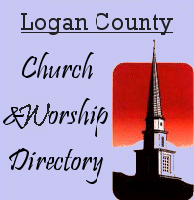 Lincoln Christian Church
204 N. McLean
217-732-7618
Preaching minister:
Tom Gerdts
Worship:
8:30AM & 11:00AM
Website: www.lincolnchristianchurch.org
Trinity Episcopal Church
402 Pekin St., Lincoln
217-732-7609
Pastor: James Cravens
Worship:
7:30 & 9:45AM Sunday
9:00AM Tuesday-Friday

Kingdom Life Ministries
620 Pulaski St., Lincoln
217-732-1466
Pastor: Joe Bennett
Worship:
10AM & 6:30PM Sunday
7PM Wednesday
Immanuel Lutheran Church ELCA
1409 Pulaski St., Lincoln
217-732-6777
Pastor Dan Wissman
Worship:
9:00AM Sunday

Zion Lutheran Church
Lutheran Church-Missouri Synod
205 Pulaski St., Lincoln
217-732-3946
Pastor Mark Carnahan
Pastor Kirk Cunningham
Worship:
8:00 & 10:30AM Sunday
7:00PM Wednesday
Radio, WLLM-AM 1370:
8AM Sunday
TV, Cable Channel 15:
10:00AM Sunday
5:00PM Monday
First United Methodist Church
302 Broadway St., Lincoln
217-732-2204
Pastor: Larry Maffett
Sept.-May:
Worship:
8:30AM Traditional
11AM Contemporary
Sunday School:
9:45 AM
June-Aug.:
Worship: 9 AM
Sunday School: 10:15AM
website: www.gbgm-umc.org/
lincoln1stumc/index.html
To inquire about listing your congregation's worship information, please e-mail us at ldn@lincolndailynews.com or call us at 217-732-7443.
---
Jolly Seniors to hear musical program
[SEPT. 22, 2001] The Jolly Seniors group from Lincoln Christian Church will have their monthly meeting at 10 a.m. on Tuesday, Sept. 25, at the church Fellowship Center, 205 N. Hamilton. People 55-plus are invited to attend.
This month's musical program will feature Robert Clemens of Rochester. Scott Shaw of Lincoln Christian Church will lead the devotion. A baked chicken dinner will be catered by Guzzardo's. Suggested cost for the meal is $4.
For free transportation, please contact the church office at 732-7618.
The Jolly Seniors invite you to "experience a warm fellowship with people who care for one another, an enjoyable time filled with great food, fun, interesting programs and a spiritual lift to encourage you in your life."