LCC fall play, 'A Company of Wayward Saints,' Oct. 5-6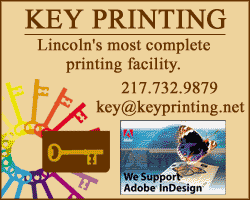 Lincoln Christian College will present "A Company of Wayward Saints," by George Herman, a play in which a group of people wander by mistake into the eye of an allegory. This company of wayward saints, far from home, seeks a means to return.
The play will begin at 7:30 p.m. Friday and Saturday, Oct. 5 and 6, in the Earl C Hargrove Chapel.
The director is Tim Searby, worship minister for Lincoln Christian Church.
For ticket prices, call the Earl C Hargrove Chapel office, (217) 732-3168, Ext. 2254.
---
Illinois Supreme Court justice to speak to Rotary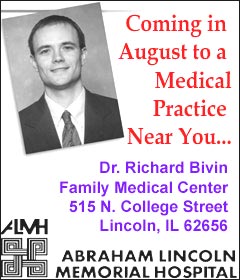 The Lincoln Rotary Club will host Illinois Supreme Court Justice Rita B. Garman at their Wednesday, Oct. 3, noon meeting at the Restaurant at the Depot. Justice Garman, a Rotarian and Paul Harris Fellow from Danville, will speak on the importance of community involvement on one's path to career excellence.
With a 27-year career as a judge in Illinois, Rita Garman was sworn into office as an Illinois Supreme Court justice on Feb. 6. The Supreme Court voted unanimously to appoint Garman to the court to replace retiring Justice Ben Miller, representing the 4th Judicial District. The 4th District includes 30 central Illinois counties from Indiana to Missouri.
Born in Oswego, Justice Garman graduated from Oswego High School in 1961 as class valedictorian. She went on to earn a degree in economics from the University of Illinois, where she also named to Bronze Tablet, the university's highest academic honor.
Justice Garman earned a juris doctorate degree with distinction from the University of Iowa Law School in 1968. She began her law practice with the Vermillion County Legal Aid Society and was named an assistant state's attorney for Vermillion County in 1969. Four years later she entered private practice with the law firm of Sebat, Swanson, Banks, Lessen and Garman in Danville.
After serving 12 years as associate circuit judge, Justice Garman was elected as circuit judge for the 5th Judicial Circuit. She served as the presiding judge for Vermillion County for eight years before being assigned to the 4th District Appellate Court in 1996. Justice Garman served on the Appellate Court up until her recent appointment to the Illinois Supreme Court.
Justice Garman is a member of the Vermillion County Bar Association, Illinois State Bar Association and the Illinois Judges Association. She has also served on a number of judicial committees and judicial conference assignments during her distinguished career.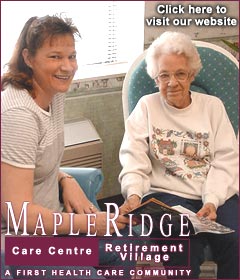 In 1988 and again in 1995, Justice Garman was named the Business and Professional Women's "Woman of the Year." She has also been named as the Green Meadow Girl Scout Council Woman of Distinction, the AAUW Woman of Distinction and received the Athena Award in 1995.
Justice Garman currently serves on the board of directors for the 708 Mental Health District and is an active member of the Danville Rotary Club.
The Lincoln Rotary Club meets every Wednesday at noon at the Restaurant at the Depot. Membership is open to all local professionals and business owners of good standing. For more information about becoming a member, contact Marty Ahrends, president, at 732-3378; Robert Jeckel, vice president at 735-5372; or Phil Gillen, secretary, at 735-1752.
---
Cars, crafts bring big crowds to Postville Courthouse
From Richard Schachtsiek, site manager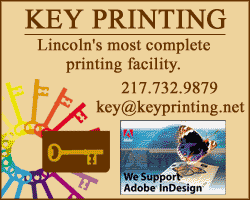 The weekend of the Lincoln Art & Balloon Festival, Aug. 25 and 26, was the busiest period for the year at the Postville Courthouse. This year the crowd was good: over 1,200 people for the weekend. It was down a bit on Saturday because of the threat of storms.
What drew people to the courthouse on Saturday, Aug. 25, was the opportunity to see over a dozen Porsche cars, from a 1950s 356 to a couple of current Boxsters. The cars were displayed by members of the Lincoln Trail Porsche Club. Inside the courthouse was a display of scale model Porsche street and race cars. This helped draw people into the historic building.
Lincoln Mayor Beth Davis stopped by to present three award plaques to club members for their special Porsches. The plaques were donated by Neal Tire & Auto Service, Lincoln NAPA store and Burwell Oil.
This was the third time the Porsche club has had a charity car show at the courthouse. Money raised by registration and donations for the day is used to purchase new trees to be planted around the yard. The previous two car shows have raised enough money to plant five trees, oaks and maples, in the yard.
My thanks to all the Lincoln Trail Porsche Club members who brought their cars for the charity car show. I also thank Keith Leesman and Jack Bartelmay, who served as volunteer interpreters during the day. Their help was appreciated.
Sunday was a busier day with the annual 1800s Craft Fair. This event is always very popular, for there is something of interest for every member of a family.
This year we had several new artisans including a new flax-to-linen demonstrator from near St. Louis and a Windsor chair maker from Petersburg. Other crafts demonstrated were bobbin-lace making, working the "Great Wheel" wood lathe, blacksmithing and an herbalist.
In addition to the craftspeople, several music groups performed, including the local Prairie Aires. They provided music for a group of local dancers who did Civil War-era dances.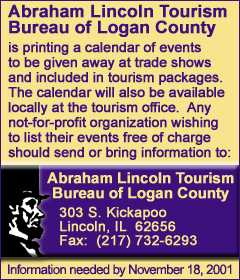 They also asked the public to join in dancing.
New this year was a special display by "Phineas Fairhead, practical phrenologist," presented by Lee Slider of Decatur. Phrenology was a popular "science" in the mid-1800s. It consisted of reading the bumps on a person's head to tell his or her personality.
In August the following Postville Courthouse volunteers gave 130 hours to greet visitors to the historic courthouse: J. Bartelmay, B. Behrends, J. Curtis, B. DePuy, D. Freeman, R. Hoppin, C. Kelley,
C. Klink, N. Kleinman, K. Leesman, B. Marvel, R. Meyer, M. Ott, W. Post, S. Schumaker, G. and J. Semple, M. Smith, L. Snyder, G. Wibben.
[Richard Schachtsiek, site manager]
---
Lincoln Public Library adult program schedule
The Lincoln Public Library has five adult programs remaining on the schedule for this year. The presentations are in the Pegram Community Room at the library, 725 Pekin St., and begin at 7 p.m. Admission is free. Seating is on a first-come basis.
Schedule:
Oct. 4 — "The Life of Lincoln," presented by Tim Townsend, historian at the Lincoln Home in Springfield
Oct. 22 — "On the Road with Antiques," featuring Rob and Joy Luke of Luke Auctions. Learn the latest in antique collecting. Six lucky attendees will receive a free appraisal of an antique.
Nov. 5 — "Archaeology and Primitive Technology Roadshow," with Larry Kinsella, president of the Illinois Association for the Advancement of Archaeology. Larry will do artifact identification for several lucky participants.
Nov. 20 — "Herbal Seasons," with Tracy Kirby. How to grow, harvest and store herbs.
Dec. 11 — "Herbal Holidays," with Tracy Kirby. Holiday cooking, decorating and making gifts with herbs.
---
Heritage in Flight open house Oct. 7
Heritage in Flight Museum, at the Logan County Airport, 1315 Airport Road, will have its fall open house from 1 to 4 p.m. on Sunday, Oct. 7. Heritage in Flight Museum members will be on hand to explain the displays and educational programs. This is an event that grandparents, parents and children can enjoy together.
The museum's static aircraft collection includes a Bell TH-13T Sioux helicopter, Bell UH-1 Huey helicopter, Beech 18 (C45), Lockheed T-33 Shooting Star, McDonnell F-4E Phantom II and a Vought A-7C Corsair II. The Huey and Corsair II cockpits will be open.
The museum has various examples of military vehicles, including a pair of Jeeps painted in military police schemes, one Army and the other Navy; a Desert Command car; a six-wheel-drive Army Gamma Goat that floats; a red firetruck; and a Korean-era Army ambulance. Children often enjoy vicarious rides in these vehicles as much as those involving aircraft.
After 11 years of operating the Logan County Airport with most of the member volunteer hours devoted to mowing grass near the runways, volunteers now spend the majority of their hours preparing and presenting exhibits for the enjoyment and education of citizens of the surrounding communities. Weekday tours by school groups, by reservation, are receiving special attention, and weekend visits by families are encouraged.
The outside of the museum's display building has recently been painted, new display cases have been installed, and the gift shop has been expanded.
Refreshments will be served at Sunday's open house. Admission is free, but donations are appreciated.
The Logan County Airport is just off Kickapoo Street (Business US 55) in northeast Lincoln. The Logan County Airport sign is just north of the Illinois driver's license branch office.
For more information, call the HIF museum at (217) 732-7126.
[News release]
---
Insurance company will match relief donations
Aid Association for Lutherans of Appleton, Wis., has released $1 million in fraternal funds to help those in need after the terrorist attack on the United States. All donations (from private individuals) will be matched with a like amount until $1 million has been reached.
Checks made payable to AAL Branch 483 should be mailed to Treasurer Shirley Aukamp, 1578 700th Ave., Lincoln, IL 62656. Other area AAL branches in the county are also participating in the effort.
Send checks no later than Friday, Oct. 5, and designate the relief organization on the memo line. The AAL home office will send the branch money and AAL's supplemental funds to the relief organization designated. All donations will be acknowledged with a receipt.
Relief organizations are as follows:
• ELCA (Evangelical Lutheran Church in America) Domestic Disaster Response-Sept. 11
• LCMS (Lutheran Church-Missouri Synod) World Relief
• American Red Cross
• Benevolent Fund to benefit families of fallen rescue workers
Call Linda Aper, local AAL representative, at (217) 732-2253 if there are questions.
---
Historian Tom Townsend presents 'The Life of Lincoln'
Tim Townsend, historian at the Lincoln Home Historical Site in Springfield, will present a program at the Lincoln Public Library on Thursday, Oct. 4, at 7 p.m. His program is entitled "The Life of Lincoln."
Seating at the library, 725 Pekin St., is on a first-come basis.
Light refreshments will be served following the presentation.
For more information about this program and future programming, you may call the library at 732-8878 or 732-5732.
---
CEFCU accepts contributions to
Red Cross Disaster Relief Fund
Donations to the American Red Cross Disaster Relief Fund can be made at the CEFCU Member Center, 341 Fifth St. in Lincoln. CEFCU is proud to help support the Red Cross in efforts to cope with the Sept. 11 national tragedy.
---
Ed Madigan exhibit featured at Lincoln College Museum
The Lincoln College Museum is presenting a temporary exhibit called "Edward R. Madigan: From the Halls of Lincoln College to the Halls of the White House." The exhibit, which is currently on display, pays honor to one of Lincoln College's most successful alumni, the late Edward Madigan.
Madigan graduated from Lincoln College in 1955, entered the Illinois Legislature in 1966, was elected to Congress in 1972, and was appointed by President Bush in 1991 to be secretary of agriculture. In 1974, the Lincoln College Alumni Association presented Madigan with its award for Outstanding Achievement in the field of Public Services. In 1975 he was awarded an Honorary Doctor of Humane Letters degree by Lincoln College. He died in 1994.
Lincoln College Museum curator Ron Keller says the display tells the story of Madigan's career in public service. "The display reflects his experiences and service through many photographs, and letters from every president from Carter to Clinton. There are also various artifacts from his works in Congress and in the White House." The exhibit will run through November of 2001. The public is invited to stop by the Lincoln College Museum to view this exhibit and tour the rest of the historic exhibits.
The Lincoln College Museum is located in the McKinstry Library on the campus of Lincoln College. Hours are 9 a.m. to 4 p.m. Monday through Friday and 1 to 4 p.m. Saturday and Sunday.

[Evelyn and Agriculture Secretary Ed Madigan at the White House with President and Mrs. Bush in 1991.]