Lincoln church hosts Germanfest on Saturday
Germanfest 2001 gets under way this weekend, Saturday, Oct. 20, at St. John United Church of Christ parking lot on Eighth Street in Lincoln.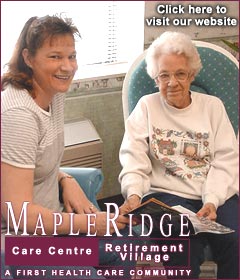 From 9 a.m. until 4 p.m. there will be a craft show and sale and a display of German artifacts in the church's fellowship hall.
The meal will be served from 11 a.m. until 5 p.m. There will be a German menu of bratwurst, red cabbage, German potato salad, applesauce, German chocolate and angel food cake, and drinks.
The Charles Ushman Polka Band will play from noon until 4 p.m.
This is a family-oriented festival to which the public is invited. No alcohol will be served. All activities will be under tents on the parking lot.
Price of the meal is $6 for adults; children under 6 years of age will eat free. Carryouts will be available. Tickets may be purchased from church members or, on Saturday, at the door.
Proceeds from this event will be directed to World Church Service, "Hope from the Rubble," for disaster relief to victims of New York and Washington.
To obtain further information, call the church office, (217) 732-6957, or the festival chairman, Wayne Mara, (217) 732-6746.
---
The Lincoln Junior Woman's Club, in conjunction with Abraham Lincoln Memorial Hospital, is hosting a Special Deliveries sibling class on Sunday, Oct. 28, from 1 to 3 p.m. in the Education Room on the third floor at Abraham Lincoln Memorial Hospital, 315 Eighth St., Lincoln. These classes, which are offered quarterly, are designed to help children become more comfortable with a new baby brother or sister. The afternoon will consist of safety tips for children, a tour of the hospital's new Family Maternity Suites, craft time and refreshments.
All ages are invited to attend. There is no fee for the class, but reservations are required. For more information or to register for the class, please call the ALMH Family Maternity Suites at (217) 732-2161, Ext. 235.
---
The 18th annual Harvest of Talents will be at Lincoln Christian Church on Saturday, Oct. 27. All proceeds go to International Disaster Emergency Service to aid hunger victims around the world.
Doors open at two locations at 7 a.m.
At the Fellowship Center, 311 N. Hamilton St., you will enjoy:
• 7-10:30 a.m. — Breakfast: fresh caramel-pecan and cinnamon rolls, juice, coffee.
• 11 a.m.-1 p.m. — Luncheon: H.O.T. vegetable soup, barbecue sandwiches, homemade pie.
• 2 p.m. — Auction: Cherry secretary, small walnut table, oak deacon's bench, furnished doll house, quilts, comforters, cross-stitch, much more.
• Twelve specialty shops include Four Season (new), Angel Shoppe, Gifts from around the World, calligraphy table, sports and hobbies.
At the Harvest Annex, 230 N. McLean St. (Woman's Club Building), you will discover:
• Yesteryear's Kitchen, featuring jams, jellies, pickles, salsa herbs, dog biscuits, black walnuts, gift baskets, pies, cakes, rolls, cookies, specialty breads and mixes.
• Muffin Mania, offering many varieties of fresh-baked muffins, fresh-brewed flavored coffees and cappuccino.
There will be special areas for kindergarten through fourth-graders and for fifth- and sixth-graders.
A 5K run at 8 a.m. is co-sponsored by YMCA and Harvest of Talents.
---
United Way of Logan County is sponsoring a pancake and sausage breakfast from 7 a.m. to 1 p.m. on Sunday, Oct. 21. The breakfast will be at the American Legion Hall, 1740 Fifth St. in Lincoln.
Tickets can be purchased at the door or by calling Lois Leonard, 735-4499, or Mary Elston, 732-2159. Ticket prices are $4 for adults and $2 for children 12 and under.
---
K/C/B Historical Society serves annual turkey supper
The annual "all-you-can-eat" turkey supper sponsored by the Knapp/Chesnut/Becker Historical Society will be served from 4 to 7 p.m. Saturday, Oct. 20, at the Middle School in Middletown.
The menu includes turkey and dressing, mashed potatoes and gravy, green beans, choices of salads, rolls, pie or cake, and beverage.
Donations for the benefit are $6 for 10 years and older, $3 for children ages 4 to 9, and free for those younger. Donations will be accepted for a 50-50 drawing.
Historical displays will include a preview of "Yesterday's Tomorrows" Smithsonian exhibits, which will be sponsored by the Illinois Humanities Council and the Smithsonian of Washington, D.C. at the K/C/B Library-Museum from June 23 to July 28, 2002; the "Friendship" quilt by Helen Staats; "Flowers of America" by Janice Jockisch; Michael Finch's (Delas and Jean Johnson's grandson) Illinois History Fair entry, rated "superior," of the farm northwest of Middletown, a military training camp; Pat Cooper's memorabilia; Indian arrowheads from Bill Bryson of Mount Pulaski; and a display provided by Paul Gleason.
Eddie and Dorothy Jane Dirks of Athens will have the "Menard County Schools" books for sale. Eddie will answer queries concerning genealogy and family history.
Of especial interest will be two dried pieces of wood from the "Big Tree" (grew to a 61-foot diameter and was cut down in 1959) at the K/C/B Library-Museum. The wood was given by Margaret Lufkin of Springfield, a descendant of Ben and Myrtle Chesnut of Middletown.
With green shutters scheduled to be installed this month and work on the interior to proceed this fall and winter, the dream of a public library-museum for Middletown is coming closer to reality.
Proceeds from the turkey supper benefit will be used for interior renovation, learning materials and equipment.
---
'On the Road with Antiques' program at library
Rob and Joy Luke of Luke Auctions in Bloomington will present a program entitled "On the Road with Antiques" on at 7 on Thursday evening, Oct. 22, at the Lincoln Public Library.
Learn what is hot and what is not in antique collecting. Six lucky attendees will receive an appraisal of their antique. Light refreshments will be served following the program. The seating is on first-come, first-served basis.
It's not too late to register for the weekly story times and craft times in the children's department.
The library is located at 725 Pekin St. For more information about the auction program and future adult programming or the children's programs, call the library at 732-8878 or 732-5732.
---
Logan County Airport, a gateway to Logan County, was a busy place on Sunday Oct. 7. The reason for much of the activity was Heritage in Flight Museum's fall open house. While the 72 members and visitors enjoyed the fall weather and the cold cider or hot cider punch, the open house had much more to offer.
Two eye-catchers were a display of radio-controlled model airplanes that fly and a Heritage in Flight Museum logo patch that was carried into space on a space shuttle flight. Rick Naugel of Lawndale said, "I sent my cousin astronaut Scott Altman a Heritage in Flight patch and some time later received an official document stating that the patch had been into space on a shuttle flight." Naugle also displayed a number of model kits that he had purchased in Russia through a Russian e-mail friend.
Model builder Frank Musick of Warrensburg was overheard telling his friend and museum co-worker, Tom Hunter of Lincoln, "We can use these models to help the museum's aviation career cadets get the feeling of controlling an aircraft." Musick's adult son, of Lincoln, built several of the models and joined his father in receiving a number of awards for the accuracy of their models.
The most popular of the static displays was the F4 Phantom II. Retired Air Force Lt. Col. John J. Harty made the trip from Brighton, Mo., to present an award to Lincoln High School sophomore Ryan Wells for his restoration work on the Phantom II. Harty also brought a number of related items for display in the museum and for sale in the gift shop.
Each of the other static displays had its admirers. As Betty Underkoffler of Bloomington was helped out of the museum's A-7E Corsair II, she said, "I can't believe that I have been sitting in the cockpit of the plane flown by Cmdr. Patrick Driscoll, the present lead pilot of the Blue Angles, in the Operation Desert Storm." The Corsair II has been replaced by the F/A-18 Hornet.
Grace King of Mason City exclaimed, "Heritage in Flight Museum has one of the most interesting collections of aviation and military memorabilia in the Midwest!"
Pam and Russell Warren flew in from Bloomington to find out more about the museum and its airport companion, the newly formed Experimental Aviation Association War Bird Chapter 25. Pam, a professional photographer, said, "I want to support the War Bird chapter with my membership." Pam left as a member of Chapter 25 and also supported the Heritage in Flight Museum by providing a series of photographs for a planned museum brochure.
The purpose of the open house was to show Heritage in Flight Museum facilities and to explain its educational programs, which have been expanded through a grant received from the Illinois Department of Natural Resources and administered by the Illinois State Museum. The first two students are now enrolled as aviation career cadets. The first formal meeting will be from 2 to 4 p.m. Nov. 4 at the museum.
After the crowd left, HIF Vice President John R. Holmes of Mount Pulaski finished the day by returning the museum's aircraft that fly, a Cessna T-165 and the L-16 Champ, to their place in the museum's hangar.
[Milt Underkoffler, educational coordinator for Heritage in Flight Museum]
---
Display honors Korean War veterans
From Richard Schachtsiek, site manager, Mount Pulaski Courthouse
September at Mount Pulaski Courthouse always means fall festival time. This year was different from the past 10-plus years because there were no quilts on display during the fall festival. The Mount Pulaski Woman's Club moved their quilt show to June from the traditional September date.
Instead of a quilt show, the historic courtroom had a display on the 50th anniversary of the Korean War. On display were about 18 laminated posters dealing with the chronology and various elements of the Korean War. In addition there was a small display of Korean War memorabilia. Thanks to Richard Tieke for providing the posters and helping to organize the event.
Visitors who came into the courthouse to see the Korean War display also had the chance to speak with a veteran. Several local Korean War-era veterans gave their time to answer questions and tell of their own wartime experiences. Thanks to the following men who gave their time 50 years ago and a few hours during the fall festival: Ed Morris, Earl Maxheimer, Bob Maske, Dean Cates and Charles Aylesworth.
A special flag-raising ceremony that Saturday morning was part of the Korean War anniversary event. Members of the local Veterans of Foreign Wars and American Legion took part in the simple ceremony. A 48-star flag, as used during the war, and a 50th anniversary commemorative flag were flown during the day. Thanks to all the veterans who participated in the flag ceremony.
Inside the courthouse on Saturday, a local re-enactor, Deron Miller of Springfield, was dressed as an army soldier would have looked in the early 1950s. He also had the equipment and several of the weapons carried during the Korean War.
Thanks, as always, to Wally Kautz, who helped prepare for the event and take down the display.
Plans are for a similar event in 2003 to mark the 50th anniversary of the "end" of the Korean War. The courthouse management looks forward to working again with Richard Teike and other veterans on that event.
For September the following Mount Pulaski Courthouse volunteers gave 120 hours: D. Aper, D. and M. Baker, D. Brooker, J. Cavestani, J. and K. Connolley, A. Davis, M. Downing, H. Fine, V. Harbarger, P. Hawk, M. Johnson,
W. Kautz, J. Martin, J. Maske, J. Richner, C. and L. Schahl, B. Stahl, E. Stahl, T. and W. Stephens, and C. Van Rheedan.
Polish army officers visit the courthouse
Foreign visitors come to tour Mount Pulaski Courthouse with some frequency. On Aug. 27, Wally Kautz, the volunteer working that day, had some special foreign visitors: three Polish army officers.
The three Polish army officers were in Illinois as part of an exchange program with the Illinois Army National Guard. The officers were from the Tadeus Kosciusko Military Academy. The officers were brought to town to tour the historic courthouse by Mount Pulaski's own Capt. Stan Manes.
Wally Kautz had another interesting experience while working at the courthouse in August. He received a phone call from an irate lady. She was upset about not having her driver's license returned after paying her fine. Wally made several attempts to explain he was at a historic courthouse, not the present Logan County Courthouse. He finally convinced her and gave her the correct phone number for the current courthouse in Lincoln. This was the first irate phone call but not the first time people have called or even come into the historic courthouse wanting to do county business. Working at a historic site can be interesting.
The courthouse volunteers listed below hosted more than 60 visitors and worked 130 hours in August: D. Aper, D. and M. Baker, M. Borgerson, K. Boyd, D. Brooker, J. Cavestani,
A. Davis, M. Downing, H. Fine, V. Harbarger, P. Hawk,
M. Johnson, W. Kautz, J. Martin, J. Maske, J. Richner, C. and L. Schahl, D. Smith, B. Stahl, E. Stahl, C. Van Rheedan.
[Richard Schachtsiek, site manager, Mount Pulaski Courthouse]
---
Mount Pulaski Courthouse open house
Period music will be featured at the 1850s open house scheduled for Saturday, Oct. 20, from noon to 8 p.m. at Mount Pulaski Courthouse State Historic Site. This family event is free and open to the public.
Cambric Garden will present period music at 2 and 6 p.m. Group members Marilyn Walters and Cathy Lane blend their voices with a unique array of instruments to perform traditional and folk music that will enchant young and old. Some of the instruments that may be used during the performance include guitar, hammered and mountain dulcimer, Celtic harp, flute, recorder, bowed psaltery, pennywhistle, ocarina and Native American cedar flute.
The courthouse will be decorated with patriotic bunting, and staff will be dressed in 1850s attire. More than 100 candles will illuminate the courthouse at dusk. Hot coffee and cider will be served during the event. The 1850s open house is partially funded by the Abraham Lincoln Tourism Bureau of Logan County.
Mount Pulaski Courthouse State Historic Site, administered by the Illinois Historic Preservation Agency, is one of only two remaining 8th Judicial Circuit courthouses in Illinois where Abraham Lincoln served as an attorney. Staffed by local volunteers, the courthouse is open for tours Tuesday through Saturday from noon to 5 p.m.
---
Festival of Trees looks for sponsors
Organizers of the Festival of Trees are seeking businesses, organizations and individuals interested in sponsoring trees, wreaths and swags for this year's dazzling display at the Logan County Courthouse. The festival will be Nov. 23 - Dec. 2.
Items are sponsored to provide visibility for businesses and organizations or in memory of someone. Sponsors are responsible for decorating their items or arranging for someone else to decorate them.
Sponsorship fees are $200 for 7½-foot trees, $100 for 4½-foot trees and $50 for wreaths or swags.
Trees, wreaths and swags will be auctioned at the Festival of Trees Gala on Nov. 24. Proceeds will be used by the Abraham Lincoln Healthcare Foundation in improving the quality of health care in Logan County and Main Street Lincoln in revitalizing downtown Lincoln.
For more information or a sponsorship form, contact Jan Schumacher, festival chairman, at 732-7101 or the Main Street Lincoln office at 732-2929.
Lincoln Land Communications, a Cingular wireless authorized agent, is premier sponsor for the festival.
---
U of I Extension offers candy-making class
Get a head start on your holiday preparations with Dick and Betty Applegate. This Atlanta couple will offer a class on candy making Thursday, Oct. 25, from 1 to 3 p.m. The session will be at the University of Illinois Extension building. There will be no charge, but reservations are requested. Make reservations by calling 732-8289.
If you need a reasonable accommodation to participate in the program, please contact John Fulton, unit leader for the Logan County Extension.
---
Lincoln Public Library adult program schedule
The Lincoln Public Library has four adult programs remaining on the schedule for this year. The presentations are in the Pegram Community Room at the library, 725 Pekin St., and begin at 7 p.m. Admission is free. Seating is on a first-come basis.
Schedule
Oct. 22 — "On the Road with Antiques," featuring Rob and Joy Luke of Luke Auctions. Learn the latest in antique collecting. Six lucky attendees will receive a free appraisal of an antique.
Nov. 5 — "Archaeology and Primitive Technology Roadshow," with Larry Kinsella, president of the Illinois Association for the Advancement of Archaeology. Larry will do artifact identification for several lucky participants.
Nov. 20 — "Herbal Seasons," with Tracy Kirby. How to grow, harvest and store herbs.
Dec. 11 — "Herbal Holidays," with Tracy Kirby. Holiday cooking, decorating and making gifts with herbs.
---
CEFCU accepts contributions to
Red Cross Disaster Relief Fund
Donations to the American Red Cross Disaster Relief Fund can be made at the CEFCU Member Center, 341 Fifth St. in Lincoln. CEFCU is proud to help support the Red Cross in efforts to cope with the Sept. 11 national tragedy.
---
Ed Madigan exhibit featured at Lincoln College Museum
The Lincoln College Museum is presenting a temporary exhibit called "Edward R. Madigan: From the Halls of Lincoln College to the Halls of the White House." The exhibit, which is currently on display, pays honor to one of Lincoln College's most successful alumni, the late Edward Madigan.
Madigan graduated from Lincoln College in 1955, entered the Illinois Legislature in 1966, was elected to Congress in 1972, and was appointed by President Bush in 1991 to be secretary of agriculture. In 1974, the Lincoln College Alumni Association presented Madigan with its award for Outstanding Achievement in the field of Public Services. In 1975 he was awarded an Honorary Doctor of Humane Letters degree by Lincoln College. He died in 1994.
Lincoln College Museum curator Ron Keller says the display tells the story of Madigan's career in public service. "The display reflects his experiences and service through many photographs, and letters from every president from Carter to Clinton. There are also various artifacts from his works in Congress and in the White House." The exhibit will run through November of 2001. The public is invited to stop by the Lincoln College Museum to view this exhibit and tour the rest of the historic exhibits.
The Lincoln College Museum is located in the McKinstry Library on the campus of Lincoln College. Hours are 9 a.m. to 4 p.m. Monday through Friday and 1 to 4 p.m. Saturday and Sunday.

[Evelyn and Agriculture Secretary Ed Madigan at the White House with President and Mrs. Bush in 1991.]