---
At the Depot this weekend
[OCT. 18, 2001] Karaoke with Lynn Acuff is scheduled at the Depot, 101 N. Chicago, every Thursday from 9 p.m. until midnight.
Friday
Musical entertainment on Friday, Oct. 19, will be by pianist Jason Yarcho and vocalist Kim Quinn.
The Friday menu features include walleye, catfish and prime rib.
Saturday
Jason Yarcho and Kim Quinn will present piano and vocal music again on Saturday, Oct. 13.
The Saturday menu features prime rib.
There is no cover charge for entertainment.
Barbecued ribs are now on the menu at the Depot, and Tuesday is "BBQ Night." Texas Jack's smoked brisket is already winning rave reviews, and the ribs have frequently been described as "awesome." Other new selections include Spanish beef tips, fettuccine with whole baby clams, and pecan-crusted chicken, a feature that was so popular when it was offered a couple of times that guests wanted it on the menu.
The Restaurant is open from 11 a.m. to 9 p.m. Tuesday through Saturday, and on Sunday from 11 a.m. to 2 p.m.
Call 735-3311 or 735-3314 for reservations.
---
'On the Road with Antiques' program at library
[OCT. 15, 2001] Rob and Joy Luke of Luke Auctions in Bloomington will present a program entitled "On the Road with Antiques" on at 7 on Thursday evening, Oct. 22, at the Lincoln Public Library.
Learn what is hot and what is not in antique collecting. Six lucky attendees will receive an appraisal of their antique. Light refreshments will be served following the program. The seating is on first-come, first-served basis.
Also, it's not too late to register for the weekly story times and craft times in the children's department.
The library is located at 725 Pekin St. For more information about the auction program and future adult programming or the children's programs, call the library at 732-8878 or 732-5732.
---

'Fair Weather'
[OCT. 17, 2001] "Fair Weather." Richard Peck. Dial Books, 2001. 139 pages. Grades 5-8.
Richard Peck, the Newbery-winning author of "A Year Down Yonder," has written another winner. In "Fair Weather" he takes us back to 1893 and a visit to the World's Columbian Exposition.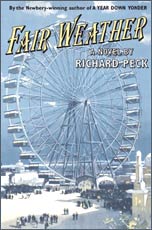 The Beckett family travels from their farm in central Illinois to Chicago for the exposition. Aunt Euterpe had sent a letter of invitation telling them they could stay with her, and she included four train tickets. Rosie (who's 13), Lottie (who's 17), Buster (who's 7 and always has something jumpy in his pocket), Grandad (who's full of surprises) and Tip (Grandad's dog who "pines and gets off his feed if left behind") will make the trip. The story is full of humor and surprises from the time they board the train until they return home. But this is really 13-year-old Rosie's story, as she gives her interpretation of all the events in the narrative.
When Rosie's mama decides the trip to Chicago would be a good experience for the children, she takes them all to town for new clothes to wear. Buster is less than thrilled with the idea of wearing his new outfit, complete with high-top shoes and a sailor hat.
As they're shopping, Rosie realizes they are actually going but not with Mama. How Grandad ends up on the train is an unforgettable chapter.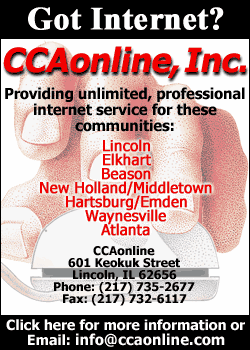 Aunt Euterpe's life would never be the same after attending the exposition with Grandad and the children. They made their first visit the night of their arrival in Chicago, against the wishes of Euterpe. "Awful, rough types come out after dark," she said. Rosie tells us that upon arrival it looked like "white electricity had lit the world and erased the stars."
Rosie also narrates "The Worst Day in Aunt Euterpe's Life (Parts One and Two)" and "The Greatest Day in Grandad's Life (Parts One and Two)." She tells about the first Ferris wheel, hamburgers, Buffalo Bill Cody, Susan B. Anthony and all of the family's rollicking adventures.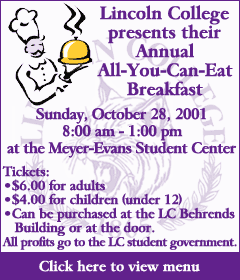 This story is wonderful fun for all who read it — as for me, I only wish I could have been there when Aunt Euterpe's hired help got ahold of the snapping turtle, or it got ahold of her, and Grandad introduced himself to Buffalo Bill.
Richard Peck also includes some 1893 photos, used by permission of the Chicago Historical Society.
For more information, visit the library at 725 Pekin St. or call (217) 732-8878.
[Pat Schlough, Lincoln Public Library]
---

---

---
[OCT. 18, 2001] "Rimers of Eldritch" opens this weekend at the Johnston Center for Performing Arts on the campus of Lincoln College. Show time is at 8 p.m. Thursday, Oct. 18; Friday, Oct. 19; and Saturday, Oct. 20. A matinee performance will be at 2 p.m. Sunday, Oct. 21.
To reserve tickets call (217) 732-3155, Ext. 280, Monday through Friday, 8 a.m. to 5 p.m.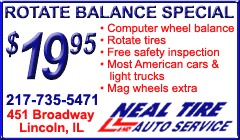 ---
Arts group sets classical guitar event, begins to plan theater restoration
[OCT. 18, 2001] On the heels of a sellout of its first classic film offering, on Oct. 11, the Logan County Arts Association laid plans Monday night for its next event, a classical Spanish guitar performance by Chris Culleton at Trinity Episcopal Church on Dec. 16.
Culleton is a Lincoln native. A reception will follow his 2 p.m. classical guitar performance. Tickets will be sold in advance, with a maximum of 200 seats available for $5 each. Proceeds will go to the association for future arts programming.
Association President Marshall Jacobs reported a meeting with Kerasotes Theatres officers, Lincoln Mayor Beth Davis and Bobbi Abbott, executive director of the Lincoln/Logan County Chamber of Commerce, at which a "workable framework" for transfer of the Lincoln Cinema's theater to the chamber was devised. He said plans are for the arts association to restore the interior of the building with office space on the second floor. Work would start after GKC has completed a new theater complex, probably in the fall of 2002.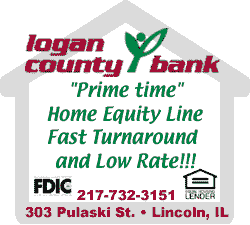 The architectural firm of Kenyon & Associates, which oversaw restoration work on Lincoln Public Library, will examine the theater building soon, and other firms have also expressed interest in the project, expected to cost more than $1 million. Jacobs said that $5,000 to $10,000 seed money is needed, and at least two grants have been applied for.
Completion of the theater restoration in 2003 would make it available for use in relation to Lincoln's sesquicentennial that year. Jacobs said plans are for the chamber of commerce to hold the theater as part of the downtown historic district. Details of how the building would be used have been discussed but not finalized.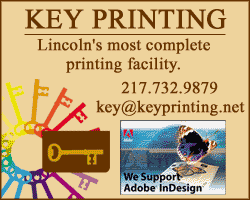 The classic film showing of "Casablanca" on Oct. 11 was a sellout, netting the arts association about $650. "I was very pleased with the turnout, and the demographics were great," Jacobs said, adding that all age groups were represented. The community is asking, "What's next?" according to board secretary Louella Moreland, and a list of preferred choices is being drawn up.
In contrast to the success of the classic film viewing, the association's other recent presentation attracted only a small audience. "Music, Magic and More," a Sept. 29 performance by Mr. Tone, a Ringling Bros. and Barnum & Bailey-trained clown, was described as an "excellent show" which "the kids loved." However, only about 30 people attended.
About half a dozen logo designs have been submitted in the association's contest. The board decided to keep the contest open.
A membership committee consisting of Jean Gossett, Dan Bailey and Jeanie Xamis was formed. The committee is charged with writing policies for what benefits come with a membership in the association and with planning a membership drive.
The Logan County Arts Association is seeking corporate sponsors for coming events, including the classical Spanish guitarist and future classic film nights.
Tell a friend about

Lincoln Daily News.com

Our staff offers more than 25 years of experience in the automotive industry.

Greyhound Lube

At the corner of Woodlawn and Business 55

No Appointments Necessary

Advertise your

Garage Sale in

Lincolndailynews.com

-- It's FREE! --
---
Lincoln hears Pasadena Roof Orchestra
[OCT. 13, 2001] Thursday night, the second of this year's community concert series brought what seemed like most of Lincoln to the LCC chapel. The Pasadena Roof Orchestra from London, England, filled the hall with its blend of '20s and '30s jazz, big band and swing music.
The band, which got its name from Warren's "(Home in) Pasadena," had the style and appearance of the 1920s lounge bands, from their suit-and-tie apparel to their music stands with the PRO logo on the front. They delighted the audience with old-time favorites such as "Jeepers Creepers," "My Melancholy Baby" and "Forty-Second Street."
Each band member got his turn in the spotlight. Pianist Simon Townley "tickled the ivories" in "Kitten on the Keys"; Andy Kuc, the baby of the group, shone on the rhythm guitar in "Play that Hot Guitar"; and Dan Hammerton stole the show with his dynamic trumpet solos in almost every song.
Lead vocalist James Langton had amazing stage presence. His white tie and tails complemented his loose and interactive style. When he wasn't caressing the microphone with his smooth voice, he was dancing around the stage and mingling with the band members. There was only one time when he seemed to lose touch with his audience.
"Sugarfoot Stomp" contained around seven minutes of instrumental solos. The lack of vocals was almost too long. The band was saved, however, when they did their "rousing conclusion" two songs later. "Minnie the Moocher" by Calloway and Mills brought the audience to life with its wailing trumpet and echoed scat. Blues Brothers fans kept up nicely with the energizing refrain.
The Pasadena Roof Orchestra members are:
James Langton — orchestra leader, vocalist
David Ford — trumpet
Dan Hammerton — trumpet
Steve Shaw — trombone and vocal trio
Nick Payton — alto and baritone sax, clarinet
Paul Jones — alto sax and clarinet
James Scannell — alto sax and clarinet
Simon Townley — piano and vocal trio
Andy Kuc — guitar and banjo
John Sutton — drums
Dave Berry — bass and sousaphone
Thorsten Merriott — sound engineer
To learn more about the Pasadena Roof Orchestra, visit http://www.pasadena.co.uk/.
---
Lincoln Community Theatre website
Lincoln Community Theatre's website serves a number of functions, from providing information on becoming a season ticket holder to showing what new productions are being planned. Pictures from past productions are also posted.
Visit LCT's website at www.geocities.com/lincolncommunitytheatre/index.html, e-mail LCT at lincolncommunitytheatre@yahoo.com, or write to Lincoln Community Theatre, P.O. Box 374, Lincoln, IL 62656.
---
News | Sports | Business | Rural Review | Teaching & Learning | Home and Family | Tourism | Obituaries
Community | Perspectives | Law & Courts | Leisure Time | Spiritual Life | Health & Fitness | Letters to the Editor