Red Cross blood drives in September
Pete's Hardware is sponsoring two blood drives in September at the Lincoln Sports Complex. The drive on Sept. 5 was from noon until 6 p.m. On Sept. 19, the hours will be noon until 5 p.m.
People who reached goals recently in their blood donations were Karl "Fig" Newton, 11 gallons; Ken Robison, five; Arlene DeWilde, four; Lisa Fuller, four; Pat Mueller, four; Carol Mills, three; Sue Benedict, three; Larry J. Brandt, two; Stacie Treakle, two; Dean Benedict, one; Nancy Haak, one; Margaret Chrisman, one; and Wayne Ebelherr, one gallon.
---
Girl Scouts announcements
---
Websites with lots of ideas that Girl Scout leaders, families or kids can use:
See the website for Girl Scouts, Land of Lincoln Council, at http://www.girlscoutsllc.org/.
You can send questions and suggestions to the council by clicking here: gsllc@girlscoutsllc.org.
Also, see the national Girl Scouts site at http://www.girlscouts.org/.
---
Lincoln Area YMCA announces newest board members
The Lincoln Area YMCA added three new board members this summer. These board members are volunteers who give direction and leadership to the YMCA. They have each joined for three-year terms.
Lauri Bates joined the board in June. She is the wife of attorney William B. Bates and mother of Blinn, 18, and Sarah, 17. She is a member of the Trinity Episcopal Church, is currently the president of the Abraham Lincoln Memorial Hospital board and is also part of the Philanthropic Education Organization. Lauri wants to become more involved with the youth in this community.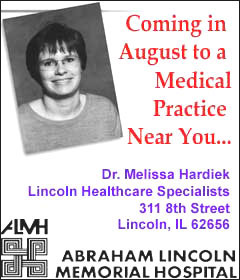 Tracy Thomas joined the board in July. He is the youth minister at the Lincoln Christian Church. He is the spouse of Lori and father of Katie, 7 and Hannah, 4. Tracy graduated magna cum laude from ISU in Normal in 1991 with a bachelor's degree in English and graduated from Lincoln Christian College in 1991 with a bachelor's degree in Bible. Tracy is the cabinet vice president of the Lincoln Christian College Alumni, is on the School/Community Council for Central and Adams schools, is coordinator for the Junior High Experience at LCCS, and is coordinator for Lincolnland Bible Bowl Classics at LCCS. Tracy wants to help raise community awareness and initiative toward reaching out to all youth in our area.
Tom Kissel joined the board in August. He is a financial consultant with A.G. Edwards and Sons. He is the spouse of Darla and father of T.J., 8, Megan 10 months, and Kristy, 23. He is also grandfather of Billy. Tom has over 23 years of experience in banking, including two years as a bank president, CEO and director before moving to A.G. Edwards. Tom's community service includes being past president of Main Street Lincoln, Lincoln/Logan County Chamber of Commerce and Lincoln Kiwanis. Currently he serves on the Abraham Lincoln Memorial Hospital board and is a Junior Achievement consultant. Tom graduated from the University of Illinois at Springfield with a bachelor's degree in management.
The YMCA is pleased and proud to have these pillars in the community as part of the board of directors. The organization welcomes them and looks forward to a long and fruitful relationship building strong kids, strong families and a strong community.
Tell a friend about

Lincoln Daily News.com

Our staff offers more than 25 years of experience in the automotive industry.

Greyhound Lube

At the corner of Woodlawn and Business 55

No Appointments Necessary

Advertise your

Garage Sale in

Lincolndailynews.com

-- It's FREE! --
---
The Oasis, Logan County's senior citizen center, at 501 Pulaski St. in Lincoln, is open weekdays (except holidays) from 9 a.m. to 4 p.m. The center also is open on Friday and Sunday nights for table games. Dominic Dalpoas is the executive director. Activities are open to all Logan County senior citizens, regardless of membership.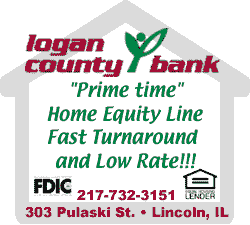 Ceramics class
We invite you to attend the ceramics classes that meet from 9 a.m. to noon each Thursday. Whether you are a novice or an expert, please join us.
Potluck luncheon
The monthly luncheon is Thursday, Sept. 13. Join us from 11:30 a.m. to 1 p.m. If you cannot bring a dish to pass, a $3 donation will be accepted. We will also have a raffle drawing for a gift certificate from Closet Classics. Bingo games will follow at 1 p.m., with surprise prizes sponsored by the Oasis.
Intergenerational gardening
We still need a few more "Roots" (mentors) to sign up for the training this Friday, Sept. 14, at 4 p.m. at the Oasis. Your help is needed to support the "Shoots" (students from Jefferson School).
Speakers bureau
Monday, Sept. 17, at 10 a.m., Logan County Mental Health will provide a program on "Grieving." Please join us for this topic.
Computer classes
Classes in beginning computer and word processing are offered on Mondays at 1:30 and 2:30 p.m. respectively. There are still a few spaces available. Cost is $3 for each class.
The Garden Club will meet Tuesday, Sept. 18, at 9 a.m. at the Oasis. Please join us. Game winners
Game winners
Winners of daytime pinochle games were Easter Behrends on Friday, Aug. 31, and Mable Hoagland on Tuesday, Sept. 4. Winners on Friday evening were Joan Morgan for pinochle and Ken McCray, Tom Garrison and Betty Burger for 5-in-1. Rummy winner on Sunday night was Ann Gerger, and Harley Heath won the pool game.
Newsletter
Friends of the Oasis members receive bimonthly newsletters by mail. For more information, people can call the Oasis at 732-6132 or 732-5844.
---
Happenings at the U of I Extension office
The local office of the University of Illinois Extension will host a series of educational presentations from September through May. Anyone and everyone is welcome. Programs will be at the Extension office at the northwest corner of the fairgrounds, 980 N. Postville Drive.
Reservations will be requested; programs will be cancelled if fewer than 10 people are registered. An exception will be in November with the holiday program, for which a minimum of 25 will be required.
Call 732-8289 to make reservations. There will be no charge for any of the programs
Planned programs for the upcoming year through University of Illinois Extension:
• Tuesday, Sept. 18, from 10 a.m. to noon — "Selection, Planting and Care of Hardy Bulbs," presented by David Robson, horticulture educator at the Springfield center
• Thursday, Oct. 25, at 1 p.m. — "Candy Making," Dick and Betty Applegate, Atlanta
• Tuesday, Nov. 6, from 6:30 to 9 p.m. — "Holiday Happenings" program: "Holiday Gifts," Ellen Burton; "Holiday Foods and Safety," Jannanne Finck; "Holiday Plants," David Robson
• Thursday, Jan. 17, 2002, at 10 a.m. — "Grains in the Diet," Jananne Finck, nutrition and wellness educator, Springfield
• Thursday, Feb. 7, 2002, at 10 a.m. — "What to Do With Stuff," Ellen Burton, consumer and environment educator, East Peoria
• Tuesday, March 12, 2002, over noon hour 12-1 p.m. — "Salads," Jananne Finck, nutrition and wellness educator, Springfield
• Thursday, April 11, 2002, at 10 a.m. — "New Friends, But Keep the Old," Patti Faughn, youth and family educator, Springfield
• Tuesday, May 15, 2002, at 10 a.m. — "Air Quality," John Fulton, Lincoln
---
Vineyard Cafe to feature WalkingLimbs folk duo
The Vineyard Cafe will feature the alternative folk duo WalkingLimbs on Saturday, Sept. 15. WalkingLimbs presents thought-provoking songs of life, love, hope and faith, using acoustic guitar and violin. Doors open at 7 p.m. There is an admission fee for ages 13 and up. The Vineyard Cafe is at Vineyard Christian Fellowship, located on Route 51, one-half mile south of Interstate 74 at Bloomington. For further information call (309) 663-4943, or visit the website at communities.msn.com/TheVineyardCafe.