Lincoln Daily News.com
601 Keokuk St.
Lincoln, IL 62656

TEL: (217) 732-7443
FAX: (217) 732-9630
Lincoln Daily News publishes daily news about the Lincoln/Logan County area on the Internet at www.lincolndailynews.com. (We are not a print publication.) All subscriptions are free!
Our mission:
The mission of Lincoln Daily News is to tell the stories of Logan County in a contemporaneous manner, with lively writing and a predilection for simple truth fairly told. Lincoln Daily News seeks a relationship with the good people of Logan County that is honest, neighborly and never patronizing. Lincoln Daily News presents news within a full context that contributes to understanding. Lincoln Daily News is more interested in the marketplace of ideas than the competition of personalities. Without shrinking from the bold delivery of unvarnished fact, Lincoln Daily News operates from the premise that God's creatures deserve the presumption of right motive. Lincoln Daily News eschews malice and cynicism; it approaches every person with dignity and every subject with equanimity. In short, Lincoln Daily News informs, stimulates and entertains.
Content:
The articles published in Lincoln Daily News are the result of research, interviews and news releases. Any opinions expressed are those of the writers.
Corrections:
Please contact us by phone, fax, mail or e-mail with any information about mistakes, typos or erroneous information. If the error is in an item which is still in the paper, we will correct it online immediately.
Our services:
Lincoln Daily News provides daily news, sports, features and commentary on Lincoln, Logan County and the surrounding area.
To promote local businesses, we offer display advertisements at very reasonable rates, and links to business websites. Call (217) 732-7443 or e-mail ads@lincolndailynews.com.
"Happy ads" are a special feature to enable our readers to celebrate birthdays, graduations, anniversaries and other good news. Call us for details.
For employment information, contact Lincoln Daily News at their offices.


Our staff:
In the office
Managing editor: Jan Youngquist
ldneditor@lincolndailynews.com
Technology assistant: Don Buckner donbldn@lincolndailynews.com
Graphics editor, office assistant: Gina Sennett
Copy editor, writer: Mary Krallmann
Advertising sales and promotion staff
Lucky Eichner: ldn@lincolndailynews.com
Mike Fak: mfldn@lincolndailynews.com
---
Grandchildren enjoyed firemenís open house
9-6-01
To the editor:
Would like to say "thanks" to the fire chief and his crew for doing a great job on their first open house at the Lincoln Fire Department. My five grandchildren enjoyed it so much, I took a whole roll of film in trying to catch all their excitement...and expressions.
Keep up the yearly open house. It was a good learning experience for them and helped to fill the boot for MDA...Jerryís kids.
Jo Marlin
[Click here for Sept. 4 LDN article "Not just for kids!" with link to pictures from the open house.]
---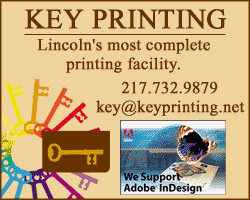 ---
Response to economic growth editorial
9-5-01
To the editor:
I read your commentary ["Economic pie," by Mike Fak] with interest today. I have to say, it made sense.
My husband and I moved to Lincoln in March, and in driving around to see what spaces are available, we were heartbroken to see a building complex like the Stage-Staples building sitting empty. When we asked why those businesses couldn't make it in Lincoln, we were told it was a corporate decision and not because of lack of local support.
So, in brainstorming, we thought, "Wouldn't it be nice to turn that area into a beautiful little mini-mall with various shops?" It would be economically wonderful to get big manufacturing plants into Lincoln, but the average Joe canít do that. We can, however, start up a variety of small business (shoe store, pretzel place, jewelry store, big-tall manís shop, candle place, nail salon, fresh meat store, dog bakery, pet photo shop, just to name a few).
Tom and I came from Racine, Wis., which started just such a place downtown. It had a showroom for antique cars, a wonderful ice cream shop, a nail salon, a craft store, a hot dog shop, etc. It was growing when we left, so we have to think it will continue to be successful.
I don't know what the first step would be to getting something like this for our town, but I would be willing to be part of any discussions. Love to hear what you and others might think.
Linda L. Marini
Executive Director
Lincoln Area YMCA
---
.
Please send your letters by e-mail to ldneditor@lincolndailynews.com or by U.S. postal mail to:
Letters to the Editor
Lincoln Daily News
601 Keokuk St.
Lincoln, IL 62656
Letters must include the writer's name, telephone number, mailing address and/or e-mail address (we will not publish address or phone number information). Lincoln Daily News reserves the right to edit letters to reduce their size or to correct obvious errors. Lincoln Daily News reserves the right to reject any letter for any reason. Lincoln Daily News will publish as many acceptable letters as space allows.