Addresses of city and county officials
(Title, first name, last name, city or job title, address, city, state, postal code; phone)
Lincoln City Council members
Hon. Elizabeth Davis, Mayor, P.O. Box 353, Lincoln, IL 62656; 735-3912
Mr. David Armbrust, Alderman 3rd Ward, 700 Broadway St., Lincoln, IL 62656; 732-4261
Mr. Steve Fuhrer, Alderman 2nd Ward, 1203 Eighth St., Lincoln, IL 62656; 732-6679
Mr. Benny Huskins, Alderman 1st Ward, 412 N. Madison St., Lincoln, IL 62656; 732-3894
Mr. William Melton, Alderman 4th Ward, 1112 E. Burlington St., Lincoln, IL 62656; 735-2658
Mr. George Mitchell, Alderman 3rd Ward, 427 Wyatt Ave., Lincoln, IL 62656; 735-2151
Mr. Michael Montcalm, Alderman 5th Ward, 700 Broadway St., Lincoln, IL 62656; 732-6606
Mr. Verl Prather, Alderman 2nd Ward, 700 Broadway St., Lincoln, IL 62656; 732-4778
Rev. Glenn Shelton, Alderman 4th Ward, 920 Pekin St., Lincoln, IL 62656; 732-8749
Mr. Joseph Stone, Alderman 5th Ward, 270 Southgate, Lincoln, IL 62656; 732-1600
Mr. Pat Madigan, Alderman 1st Ward, 110 Park Place, Lincoln, IL 62656; 735-3724
Logan County Board members
Mr. Richard Logan, Chairman, Logan County Board, 1211 Fifth St., Lincoln, IL 62656; 732-8114
Mr. Lloyd Hellman, Vice Chairman, Logan County Board, 104 Prairie Lane, Emden, IL 62635; 376-3827
Mr. Roger Bock, Logan County Board, 450 450th Ave., Williamsville, IL 62693; 566-3867
Mr. Thomas Cash, Logan County Board, 230 S. Main St., Latham, IL 62543; 674-3423
Mr. Doug Dutz, Logan County Board, 119 Portland Place, Lincoln, IL 62656; 735-1478
Mr. Paul Gleason, Logan County Board, 1621 Rutledge, Lincoln, IL 62656; 735-9111
Mr. Jim Griffin, Logan County Board, P.O. Box 222, Lincoln, IL 62656; 732-7191
Mr. David Hepler, Logan County Board, 119 Lincoln Ave., Lincoln, IL 62656; 732-8586
Ms. Gloria Luster, Logan County Board, 106 N. Marion St., Mount Pulaski, IL 62548; 792-5275
Mr. Clifford Sullivan, Logan County Board, 519 Eighth St., Lincoln, IL 62656; 732-2539
Mr. Dale Voyles, Logan County Board, 543 11th St., Lincoln, IL 62656; 732-7901
Mr. Terry ("T.W.") Werth, Logan County Board, 123 Lincoln Ave., Lincoln, IL 62656; 732-9314
Mr. Rod White, Logan County Board, 477 1700th St., New Holland, IL 62671; 732-4793
---
Girl Scout announcements
Girl Scout leader meetings: the first Thursday of each month, at the usual time and place.
---
Websites with lots of ideas that Girl Scout leaders, families or kids can use:
See the website for Girl Scouts, Land of Lincoln Council, at http://www.girlscoutsllc.org/.
You can send questions and suggestions to the council by clicking here: gsllc@girlscoutsllc.org.
Also, see the national Girl Scouts site at http://www.girlscouts.org/.
---
• For those of you who don't enjoy working out in the summer heat, we encourage you to join us for aerobics. All of our classes are in a private, air-conditioned room. We will even let you use our showers so you can leave after your workout as fresh and clean as when you came in. Aerobics schedules with class descriptions on the back are available at the front and back desks. If you have any questions, call us at 732-8770 between 8 a.m. and 10 p.m. Monday through Saturday. On Sunday our office staff is available from 10 a.m. to 10 p.m.
---
Two Logan County teens recognized
for exceptional vocational efforts
Two young men from Logan County were honored by the Lincoln Rotary Club recently for the skills and attitudes they've demonstrated, indicative of success in the "real world."
Hans Bishop and Daniel Coers were honored as recipients of the Ready for the Real World Award. This is the fourth year for the award created by members of the Lincoln Rotary Club to honor those youth who have started their own businesses or demonstrated maturity above and beyond the expectations for a teen employee.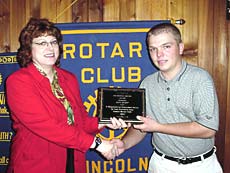 [Hans Bishop]
Olympia graduate Hans Bishop was recognized by the Lincoln Rotary for his entrepreneurial skills. As part of his 4-H woodworking project, Hans has built and sold birdhouses. He even has a website to market his goods and has successfully dealt with "real world" business challenges like dealing with the changes presented by the corporate merger of his website host. Hans was nominated by Patty Huffer of the University of Illinois Extension office.
Hans will begin a job at State Farm Insurance as he also pursues studies at Heartland College.

[Daniel Coers]
Hartburg-Emden graduate Daniel Coers was also recognized as an exceptional young employee through the Lincoln Rotary Ready for the Real World program. He was nominated by Jim Klokkenga of Emden. Coers has been employed by Klokkenga's swine and crop enterprise for more than two years. Klokkenga noted that Daniel takes extra-special care of all equipment, both old and new. And, that level of care and consideration is hard to find in any farm employee.
Coers plans to continue working for Klokkenga Enterprises as he begins studies at Illinois Central College this fall.
Each of the two young men was presented with a plaque and check for $250 from the Rotary Club.
---
The Oasis, Logan County's senior citizen center, at 501 Pulaski St. in Lincoln, is open weekdays (except holidays) from 9 a.m. to 4 p.m. The center also is open on Friday and Sunday nights for table games. Dominic Dalpoas is the executive director. Activities are open to all Logan County senior citizens, regardless of membership.
Potluck! Hitch a ride! Bingo
Join us Thursday, June 13, at 11:30 a.m. for the monthly luncheon with grilled hamburger and hot dogs. Bring a dish to pass or a $3 donation. If you need a ride from Hartsburg, Emden or the Friendship Manor in Lincoln, there are still a few seats available on the van. Call by 9:30 a.m. For $5 you can ride and have lunch. Stay for bingo (only 50 cents), sponsored by The Oasis, from 1 to 3 p.m. or shop until 2:45 p.m., with a return ride home starting at 3 p.m.
Weekend games
Join the fun with pinochle, 5 in 1, billiards and a potluck dinner this Friday, June 14, starting at 6 p.m. Bring a dish to pass and stay for the games.
Winners for the past weekend games were Esther Will for pinochle, Bernie DePuy and Louise Wiebers for 5 in 1, and Alice Thornton for pool. Sunday night Ann Greger won rummy honors.
Daytime pinochle winners were Madeline Moore and Henry Warnisher.
June birthday celebration
Monday, June 17, starting at 1:30 p.m., join us to celebrate June birthdays — yours or your friends'. We will have games, lots of fun and birthday cake. No reservation is needed.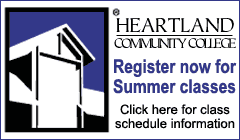 Alzheimer group
Join us from 1 to 2 p.m. Tuesday, June 18, for the resumption of this support group. A certified Alzheimer caregiver, Georgina Tisdale of Maple Ridge Care Centre, will facilitate the group. Whether you are the primary caregiver or know someone who needs more information about Alzheimer's disease, please join us. No reservation required.
Newsletter
Friends of The Oasis members receive bimonthly newsletters by mail. For more information, call The Oasis at 732-6132 or 732-5844.
---
University of Illinois Extension news
BE A SAFE CANNER! It is once again time to get your canners out and have your dial gauges tested so you know they are safe and accurate in time for canning green beans, etc. Weighted gauges do not need testing each year. University of Illinois Extension has reserved June 13 for you. You may bring your canner to the Extension office on the northwest corner of the Logan County Fairgrounds on or before the 13th. Tested gauges will be ready for pickup by 4 p.m. that day. If you have questions, call 732-8289.
---