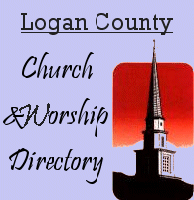 Lincoln Christian Church
204 N. McLean
217-732-7618
Preaching minister:
John Castelein
Worship:
8:30AM & 11:00AM
Website: www.lincolnchristianchurch.org
Trinity Episcopal Church
402 Pekin St., Lincoln
217-732-7609
Pastor: James Cravens
Worship:
7:30 & 9:45AM Sunday
9:00AM Tuesday-Friday

Kingdom Life Ministries
620 Pulaski St., Lincoln
217-732-1466
Pastor: Joe Bennett
Worship:
10AM & 6:30PM Sunday
7PM Wednesday
Lincoln Bible Church
2316 N. Kickapoo St., Lincoln 217-735-5959
Pastor: Don Hoover, phone 217-735-4641
Worship: 10AM Sunday
Sunday School: 9AM
Home Bible class: 6:30PM
Overcomers in Christ:
7PM Tuesday
Teen Club (7th-12th grade); Kids in Christ's Service (1st-6th)
7PM Wednesday
Lincoln Church of Christ
800 Pulaski St., Lincoln
217-735-1130
Minister: Harold Driskell
Worship:
11AM & 6PM Sunday
Bible study:
10AM Sunday
7PM Wednesday
TV program, "In Search of the Lord's Way," Channel 19 WHOI
7:30AM Sunday
Good Shepherd Lutheran Church Association of Free Lutheran Congregations
1140 N. State St., Lincoln
217-735-9320
Pastor Roger David
Worship:
10:00AM Sunday
Sunday School:
9:00AM
E-mail: gslc@ccaonline.com
Immanuel Lutheran Church ELCA
1409 Pulaski St., Lincoln
217-732-6777
Pastor Dan Wissman
Worship:
9:00AM Sunday
Zion Lutheran Church
Lutheran Church-Missouri Synod
205 Pulaski St., Lincoln
217-732-3946
Pastor Mark Carnahan
Worship:
8:00 & 10:30AM Sunday
Radio, WLLM-AM 1370:
8AM Sunday
TV, Cable Channel 15:
10:00AM Sunday
5:00PM Monday
First United Methodist Church
302 Broadway St., Lincoln
217-732-2204
Pastor: Larry Maffett
Sept.-May:
Worship:
8:30AM Traditional
11AM Contemporary
Sunday School:
9:45 AM
June-Aug.:
Worship: 9 AM
Sunday School: 10:15AM
website: www.gbgm-umc.org/
lincoln1stumc/index.html
To inquire about listing your congregation's worship information, please e-mail us at ldn@lincolndailynews.com or call us at 217-732-7443.
---
National Day of Prayer
A proclamation by the U.S. president
[MAY 2, 2002]
NATIONAL DAY OF PRAYER, 2002
A PROCLAMATION BY THE PRESIDENT OF THE UNITED STATES OF AMERICA
Since our Nationís founding, Americans have turned to prayer for inspiration, strength and guidance. In times of trial, we ask God for wisdom, courage, direction and comfort. We offer thanks for the countless blessings God has provided. And we thank God for sanctifying every human life by creating each of us in His image. As we observe this National Day of Prayer, we call upon the Almighty to continue to bless America and her people.
Especially since September 11, millions of Americans have been led to prayer. They have prayed for comfort in a time of grief, for understanding in a time of anger and for protection in a time of uncertainty. We have all seen Godís great faithfulness to our country. Americaís enemies sought to weaken and destroy us through acts of terror. None of us would ever wish on anyone what happened on September 11th. Yet tragedy and sorrow none of us would choose have brought forth wisdom, courage and generosity. In the face of terrorist attacks, prayer provided Americans with hope and strength for the journey ahead.
God has blessed our Nation beyond measure. We give thanks for our families and loved ones, for the abundance of our land and the fruits of labor, for our inalienable rights and liberties and for a great Nation that leads the world in efforts to preserve those rights and liberties. We give thanks for all those across the world who have joined with America in the fight against terrorism. We give thanks for the men and women of our military, who are fighting to defend our Nation and the future of civilization.
We continue to remember those who are suffering and face hardships. We pray for peace throughout the world.
On this National Day of Prayer, I encourage Americans to remember the words of St. Paul: "Do not be anxious about anything, but in everything, by prayer and petition, with thanksgiving, present your requests to God." The Congress, by Public Law 100-307, as amended, has called on our citizens to reaffirm the role of prayer in our society and to honor the religious diversity our freedom permits by recognizing annually a "National Day of Prayer."
NOW, THEREFORE, I, GEORGE W. BUSH, President of the United States of America, by virtue of the authority vested in me by the Constitution and laws of the United States, do hereby proclaim May 2, 2002, as a National Day of Prayer. I ask Americans to pray for Godís protection, to express gratitude for our blessings and to seek moral and spiritual renewal. I urge all our citizens to join in observing this day with appropriate programs, ceremonies and activities.
IN WITNESS WHEREOF, I have hereunto set my hand this twenty-sixth day of April, in the year of our Lord two thousand two, and of the Independence of the United States of America the two hundred and twenty-sixth."
GEORGE W. BUSH
For more information on the National Day of Prayer, please go to www.nationaldayofprayer.org.
"Now, more than ever, itís imperative to pray for our leaders," said Shirley Dobson, chairman of the National Day of Prayer Task Force.
In preparation for the National Day of Prayer, the Presidential Prayer Team prepared a guide, which may be downloaded and printed without charge at www.presidentialprayerteam.org. This guide provides an outline of suggested scriptures, leaders to pray for, prayer songs, ideas for prayer in your church and information about the rich history of The National Day of Prayer. It also includes the prayer read nationally in unison at noon Eastern time on May 2. The prayer was written by Dr. Lloyd Ogilvie, chaplain of the United States Senate and member of the Honorary Committee of the Presidential Prayer Team.
Other Internet resources
Americaís National Prayer Committee: www.gospelcom.net/npc
Concerts of Prayer: www.concertofprayer.org
---
LCC professor named VP
of theological society
[APRIL 6, 2002] Dr. Robert C. Kurka, professor of Bible and theology at Lincoln Christian College, is the newly elected vice president of The Midwest Regional Evangelical Theological Society. His selection took place at the organizationís 47th annual meeting, which was March 22-23 in Wheaton.
In his new role, Kurkaís duties will include administrating the student paper competition, securing publisher participation and assisting the new society president, Dr. Ardel Caneday of Northwestern College in Minnesota, for the 2003 regional meeting in St. Paul, Minn. Following next yearís meeting, Kurka will become president of the regional organization and host the 2004 meeting on the campus of Lincoln Christian College and Seminary.
The Evangelical Theological Society was founded in 1949 "to foster conservative Biblical scholarship by providing a medium for the oral exchange and written expression of thought and research in the general field of the theological disciplines as centered in Scripture" (ETS Constitution, Article II). More than 3,100 scholars and students are members of the national Evangelical Theological Society. The national society president is the well-known theologian Dr. Millard Erickson of Baylor University.
[LCC press release]
---
Two LCS professors publish writings
[MARCH 30, 2002] LCCS professors Dr. Gary Hall and Dr. James Sennett will be seeing their individual works in print. Both professors have written articles for publication in the Stone-Campbell Journal.
Dr. Hall, professor of Old Testament at Lincoln Christian Seminary, has authored a paper titled "A Critique of the Place of the Old Testament in the Early History of the Stone-Campbell Movement," which appears in the spring issue of the Stone-Campbell Journal. His critique looks at the attitude toward the Old Testament in the writings of the Stone-Campbell movement leaders in the 19th century.
This is the second time Hallís writings have appeared in the journal. His previous article for the journal appeared in the spring 1998 issue and was on the rhetorical use of chiasms in Deuteronomy. He is also the author of "Deuteronomy," a commentary published by College Press in 2000. He is currently co-authoring his second book, which is an introduction to the Old Testament.
Dr. Sennett, professor of philosophy and interdisciplinary studies for Lincoln Christian College and Seminary, was selected to read a paper at the Stone-Campbell Journal Conference in St. Louis in March.
Additionally, his article "Stopping Humeís Stopper: A Rejection of a Traditional Attack on Natural Theology" will be published in the fall 2002 issue of the Stone-Campbell Journal. The article is available right now at http://www.lccs.edu/~jsennett/stopper.htm.
Sennett will chair a session at the American Philosophical Association meeting in Chicago in May.
[LCCS press release]