Even though medical professionals have spoken up publicly about the hazards of using it, ephedra is still out there.
Even though it can kill, ephedra is still out there and can be purchased by anyone -- a 12-year-old kid who wants a cheap high, an athlete who wants the extra edge, a girl who wants to lose weight or a 50-year-old truck driver who wants to stay awake.
Kevin and Debbie Riggins, Sean's parents, and Logan County Coroner Chuck Fricke are trying to change that.
They are getting the word out about the risks of taking the herbal supplement, and they are asking state and federal legislators to change the laws that allow this and other products to be sold over the counter, especially to young people, without any regulation from the federal Food and Drug Administration.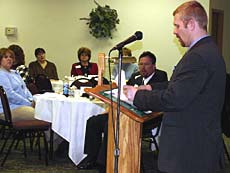 On Thursday they took their message to the hundred or so members of the Logan County community who met to hear the semiannual report to the community from the Healthy Communities Partnership.
Fricke explained to the audience why a potentially life-threatening substance like ephedra can be sold over the counter today.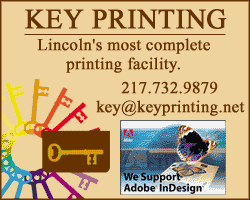 "To assure safety, the FDA used to regulate dietary supplements. We used to assume that if it is sold over the counter, it is safe," he said.
Then came 1994 and the Dietary Supplement and Health Education Act, or DSHEA. That act stripped the FDA of its power to regulate dietary supplements by classifying them as food, not drugs. So Stackers, Yellow Jackets, Black Beauties and dozens of other pills containing multiple stimulants can now be sold without any regulation.
"Medical organizations such as the board of trustees of the American Medical Association warn against it, saying there is no benefit in using the drug. Doctors don't prescribe it because of the severe side effects. The Department of Health and Human Services gave a scathing criticism of it. Health Canada calls it a Class I health risk and a toxic drug, but our government hasn't been able to take action to ban ephedra," Fricke said.
"I believe a strong lobby is part of the reason DSHEA was passed," he added. "The supplement business is a $2 billion industry. Right now, the dietary supplement industry gets to decide if the pills it produces are safe.
"The fox is not only guarding the henhouse, it gets to determine what constitutes a healthy hen."
Unless some changes are made, ephedra may not be the only dangerous plant derivative to be sold in attractively packaged pills to anyone young or old. Riggins told the audience that the supplement industry is scouring the jungles and forests of Africa and South America, looking for more plants that can give people a psychotropic experience, a rush or a buzz, so they can be marketed as dietary supplements to an unsuspecting public.
One of these new plants is salvia divinorum, a Mexican herb that can produce hallucinogenic effects like LSD does.
Even though selling these plant substances is legal, Riggins considers it de facto drug pushing. "We are not fighting the war on drugs hard enough," he said.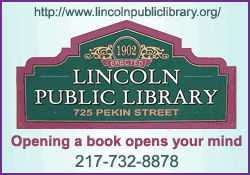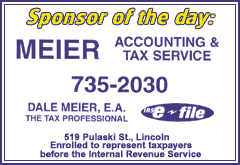 There is no logic in government agencies' thinking about ephedra, Riggins said. For example, under the Illinois Controlled Substances Act, ephedrine is considered a controlled substance. But this only applies to synthetic forms of the drug, not to natural products, even though the chemical properties are the same.
"They are saying the herb is safe but the synthetic form is not," Riggins said.
Riggins and Fricke are working with one Illinois legislator, U.S. Sen. Dick Durbin, to try to tighten up the regulation of ephedra. After Sean's death, they went with him to Washington to testify to a Senate subcommittee about the dangers of the drug.
Riggins also talked recently to U.S. Rep. Ray LaHood, who was appalled when he heard about ephedra and the new herb, salvia. LaHood told Riggins he is going to talk to Durbin about the situation.
Riggins said state Rep. Dan Brady, R-Bloomington, is going to propose legislation in the Illinois House to make it illegal to sell ephedra to those under 18. Rep. Rich Brauer, R-Petersburg, is interested in sponsoring similar legislation. Riggins is also working with state Sens. Larry Bomke, R-Springfield, and Dan Brady, R-Bloomington.
"We seem to be getting through at some levels, but it's not fast enough. We're going to lose another young man, and we have probably already lost an athlete," Riggins said. He was referring to Baltimore Orioles pitching prospect Steve Bechler, who died recently after having taken a weight-loss drug containing ephedra.
Riggins and Fricke are getting the word out locally, talking to Lincoln Community High School students, but they still see the need for more information and better regulation.
Fricke told of a nurse who had been taking cold medicines and took her own blood pressure while showing a patient how to do it. The nurse was shocked to see her own pressure soaring; she didn't realize the cold medicines contained ephedrine, which can cause a sudden rise in blood pressure.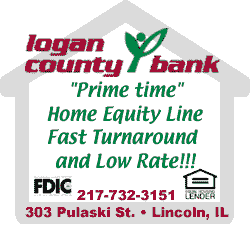 Riggins said he had talked to high school students, some of them friends of his son's, who still haven't understood the dangers of ephedra. One young girl was using it to lose weight so she could wear the same clothes as her friend.
On the positive side, Fricke said local stores who sell the drug have seen sales to young people dropping off. The main purchasers now, he said, are people ages 30 to 50 who work second shift. They are using the drug to stay awake.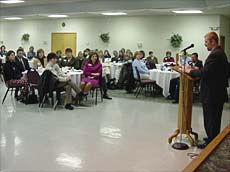 He said some stores in Lincoln have chosen to stop selling the pills, some have put the pills behind the counter so customers have to ask for them, but some still "just don't care" and are selling them up front as they always did.
Riggins, who has founded the nonprofit Sean Riggins Foundation for Substance Free Schools, said he and his group want to work with HCP and other groups to keep young people from using these dangerous drugs.
"There is way too much in Logan County. There is way too much in our country. I just can't see another death; I just don't want to see it happen."
[Click here for more information on the meeting and HCP awards.]