Features, Animals for Adoption, Out and About, Calendar
Travel News Elsewhere (fresh daily from the Web)
Home and Garden News Elsewhere (fresh daily from the Web)
Good food, good times celebrated
in keepsake cookbook
Local woman's recipe included in collection
[DEC. 17, 2002] Good food and good times go together like baked bread and sweet, creamy butter. Whether you're taking a special covered dish to a church potluck supper, welcoming a new family to the neighborhood with a plate of warm cookies or preparing your special crowd-pleasing casserole for Sunday dinner with your family, special times and good food go hand in hand. That's why thousands of Wal-Mart associates across the country submitted recipes to be considered for a new keepsake cookbook. Among the selections was a recipe created by Vickie Coleman of Lincoln.
Vickie's daughter loves raisins and peanut butter, so one day Vickie mixed those two ingredients together with honey and spread it on crackers. Her daughter loved it and has since asked for it often. Vickie's glad to give her daughter this treat instead of candy.
The recipe for "Peanut Butter-Raisin Spread" is part of the new "Wal-Mart Family Cookbook," which features 80 winning associates with their original recipes selected by a panel of independent food experts.
The easy-to-use cookbook is in full color and spiral bound. Its 96 pages are full of delectable appetizer, salad, side dish, entree and dessert recipes. Additionally, there is a handy and useful nutritional analysis. It's a community cookbook to treasure and to share -- a great gift for a friend who's just starting out in the kitchen or for the seasoned cook looking for new, delicious recipes.
The "Wal-Mart Family Cookbook" sells for $4.96 and has been available in Wal-Mart stores nationwide since Dec. 1, just in time for holiday gift-giving. Additionally, the cookbook is offered in six regional special editions featuring associate recipes from those regions.
To order the complete set or a single book from another part of the country, log onto http://www.walmart.com.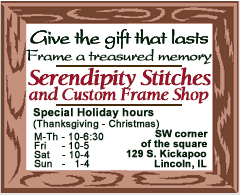 Peanut Butter-Raisin Spread
From the kitchen of Vickie Coleman
Store 199, Lincoln
Ingredients
1 cup Skippy creamy peanut butter
¼ to ½ cup raisins, chopped
¼ cup honey
Assorted crackers or bread
Directions
Stir together peanut butter, raisins and honey. Serve immediately on crackers or cover and store at room temperature for up to four days.
Makes 1½ cups.
Nutrition analysis
Nutrient analysis per serving: 156 calories, 10 g fat (2 g saturated fat), 0 mg cholesterol, 100 mg sodium, 13 g carbohydrate, 1 g fiber, 5 g protein.
Daily values: 0% vitamin A, 0% vitamin C, 1% calcium, 2% iron.
[News release from Try-Foods]
Heartland Community College
Your pathway to lifelong learning!

**Lincoln's classes are finished for this semester. Check online for classes available in Normal or online.**

For more information, call 735-1731, stop by HCC at 620 Broadway,
or go online at hcc.cc.il.us/CCE

Do you have any suggestions for non-credit Community Education classes in Lincoln?

Would you be interested in teaching a Community Education class in Lincoln?

Please email kristi.powell@heartland.edu
with your suggestions or contact information.

We are here for YOU!!

Lincolndailynews.com

is the place to advertise


Call (217) 732-7443
or e-mail
ads@lincolndailynews.com
---
'Magnificent' gift enhances
Family Resiliency Program
[DEC. 11, 2002] URBANA — Chancellor Nancy Cantor has announced an $11.5 million gift from Doris and Jay Christopher and The Pampered Chef Ltd. to support the Family Resiliency Program at the University of Illinois at Urbana-Champaign. The gift provides funds for a new building, a maintenance endowment and an endowed chair.
"This magnificent gift reflects the Christophers' extraordinary vision and generosity in supporting a program of research and teaching directed so immediately at a critical societal need," said Cantor. "Healthy families are the basis for a healthy society."
The building constructed with the Christophers' gift, expected to be completed in early 2005, will be the culmination of a lifelong interest by Doris Christopher in family resiliency. It will become the base for innovative research, education and outreach initiatives designed to enrich the well-being of children, individuals and families.
"Today's families are challenged in so many ways," Doris Christopher said. "The goal of the new facility is to focus on learning more about what makes families strong and able to meet the challenges of the 21st century."
The Family Resiliency Program is located in the department of human and community development, part of the university's College of Agricultural, Consumer and Environmental Sciences. The department focuses specifically on research and education programs directed at the lives of individuals, families and communities.
"We currently have the most talented group of emerging scholars in human development and family studies ever in the college's history," said Robert Easter, dean of the College of ACES. "And the Christophers' and The Pampered Chef gift is particularly timely, because it addresses a societal need in ways that will directly benefit our state and nation."
To further enhance the Family Resiliency Program, The Pampered Chef has established an endowed chair in human and community development. The chair holder will be an expert in some aspect of family resiliency, such as balancing work and life, family stress and coping, or community-family linkages.
"The recipient of the first endowed chair will have a wonderful opportunity to pursue scholarship in family resiliency, as well as to enhance the national and international visibility of the Family Resiliency Program," said Constance Shapiro, the head of the department of human and community development. "At a time in our nation's history when families face unique challenges and communities strive to marshal critical resources, the professor holding the endowed chair will be uniquely positioned to address these concerns with rigorous scholarship."
Doris Christopher and The Pampered Chef
Doris Christopher graduated from the University of Illinois in 1967 with a degree in home economics. Her first job was teaching high school home economics. She went on to work for the University of Illinois Cooperative Extension Service, teaching adults. That experience became the foundation for her business. One of The Pampered Chef's goals is to educate adults in the kitchen and make their time there efficient and enjoyable.
In 1980, Christopher started a home-based business because she wanted to keep a presence in the business world while maximizing time to raise her two daughters and make a home for her family. The business grew into The Pampered Chef, a direct-selling company that offers high-quality kitchen tools through home demonstrations.
The Pampered Chef is now a multimillion-dollar business occupying 780,000 square feet, employing more than 1,100 staff in the home office and supporting more than 71,000 Kitchen Consultants across Canada, Germany, the United Kingdom and the United States.
The author of "Come to the Table" (Warner Books, 1999), Christopher consistently has been recognized by Working Woman magazine as one of the "Top 500 Women Business Owners." She has served as the chair of the board of directors of the Direct Selling Association in Washington, D.C. Her additional board memberships include America's Second Harvest, Dominican University School of Business Advisory Council, the Better Business Bureau serving Chicago and Northern Illinois, and the University of Illinois Foundation.
Christopher also is a member of Chicago Network, the Direct Selling Association and the Committee of 200.
For resources on family resiliency, visit http://www.familyresiliency.uiuc.edu/.
[U of I news release]
---
Tips for a bright, safe
holiday lighting season
[NOV. 27, 2002] URBANA — Holiday lighting has always been an enjoyable way to celebrate the season and beautify your home. If you're planning a holiday lighting display, the Safe Electricity public awareness program reminds you to avoid potential safety hazards as you place holiday lights.
"Lights on a tree or other places add so much to the festivity of the season, but they need to be checked and used properly," says Molly Hall, director of the Safe Electricity program. "We encourage everyone to take a few extra minutes to avoid the risk of electric shock or fire."
Keep these tips in mind when decorating with lights:
• Use only lights that have been safety tested and approved by Underwriters Laboratory. Look for the UL label on the box and on each string.
• If you use a fresh-cut tree, frequently water it and place it away from heat sources, such as heat registers, fireplaces, radiators and televisions.
• Before plugging in the lights, check each string for broken sockets, frayed cords or faulty plugs. Replace damaged strings.
•Make sure extension cords are in good condition. Use only UL-approved cords that are rated to carry the electrical load you will connect to them.
•Keep electric cords away of high-traffic areas. Don't stretch them across a room where people can trip over them; likewise, don't hide them under rugs or carpets.
•Always unplug lights before going to bed or leaving your home.
•When decorating outdoors, use only lights and cords rated for outdoor use. Do not lay cords across sidewalks, decks or other walkways. Cords should be plugged into outlets equipped with ground fault circuit interrupters — GFCIs. Use a portable GFCI if your outdoor outlets don't have them.
•Do not attach cords or lights to metal objects.
"Checking the condition of electrical cords is very important. A frayed or cracked cord could cause a shock or fire," said Hall. "Likewise, an overloaded extension cord poses a fire hazard."
Whether decorating for the holidays or using extension cords in general, read the label on both the cord and the appliances that are plugged into it to make sure the cord can handle the load. If it can't, change to a higher-rated cord or unplug some appliances.
While some people may use an extension cord to free outlet space over the holidays, remember that extension cords are meant for temporary, not permanent, use.
Safe Electricity is a statewide electrical safety public awareness program. The program was created by a coalition of nearly three dozen organizations, including the University of Illinois, rural electric cooperatives, and investor-owned electric utilities from throughout the state. All are members of the Illinois Electric Council, a not-for-profit organization dedicated to promoting electric safety and efficiency.
Everyone is urged to heed the safety tips presented in Safe Electricity public service announcements and to visit www.SafeElectricity.org to learn more about being safe around electricity and related equipment.
[U of I news release]
---
At Logan County Animal Control —
(Updated 12/21/02)
DOGS
Big to little, most of these dogs will make wonderful lifelong companions when you take them home and provide solid, steady training, grooming and general care. Get educated about what you choose. If you give them the time and care they need, you will be rewarded with much more than you gave them. They are entertaining, fun, comforting, and will lift you up for days on end.

Be prepared to take the necessary time when you bring home a puppy, kitten, dog, cat or any other pet, and you will be blessed.

[Logan County Animal Control is thankful for pet supplies donated by individuals and Wal-Mart.]

Ten reasons to adopt a shelter dog

1. I'll bring out your playful side!

2. I'll lend an ear to your troubles.

3. I'll keep you fit and trim.

4. We'll look out for each other.

5. We'll sniff out fun together!

6. I'll keep you right on schedule.

7. I'll love you with all my heart.

8. We'll have a tail-waggin' good time!

9. We'll snuggle on a quiet evening.

10. We'll be best friends always.

---

CATS

[Logan County Animal Control is thankful for pet supplies donated by individuals and Wal-Mart.]

Warden Sheila Farmer and her assistant, Polly Farmer, look forward to assisting you.

In the cat section there are a number of wonderful cats to choose from
in a variety of colors and sizes.

Farm cats available for free!


[This 1½-year-old Siamese mix is ready to be the prince of your house.]

[Meow! I may be only a year and a half, but I'm full-grown and ready for anything. I'll purr in your lap or chase mice off your farm. Just give me a chance!]

[This beautiful female is full-grown, 2 to 3 years old and longing to purr her way into your heart.]

---

These animals and more are available to good homes from the Logan County Animal Control at 1515 N. Kickapoo, phone 735-3232.

Fees for animal adoption: dogs, $60/male, $65/female; cats, $35/male, $44/female. The fees include neutering and spaying.

Logan County Animal Control's hours of operation:

Sunday – closed

Monday – 8 a.m. - 5 p.m.

Tuesday – 8 a.m. - 5 p.m.

Wednesday – 8 a.m. - 5 p.m.

Thursday – 8 a.m. - 5 p.m.

Friday – 8 a.m. - 3 p.m.

Saturday – closed

Warden: Sheila Farmer
Assistant: Polly Farmer
In-house veterinarian: Dr. Lester Thomson
---

Illinois-Indiana Sea Grant news
Fish profiling may help prevent
future Great Lakes invasions
[DEC. 14, 2002] URBANA — Suspect profiling is a commonly used technique in the fight against crime. Now scientists are using species profiling to help prevent further introductions of invasive fish into the Great Lakes and other waterways.
"Once an invasive species becomes established in a new environment, its impact often is irreversible," said David Lodge, biologist at University of Notre Dame. But not all exotic species present a threat to the balance of an ecosystem. Many introduced species simply do not survive or do not become a nuisance.
"If we knew which ones would be likely to present problems in the future, we could focus our efforts on preventing those particular species from taking hold," said Lodge, who is a member of the Federal Invasive Species Advisory Committee.
To provide some answers, Lodge and fellow researcher Cindy Kolar developed a risk-assessment "decision tree" that environmental agencies and managers can use to predict possible culprits of tomorrow. This computer model has correctly identified nuisance fish with a high degree of accuracy.
"Ideally, environmental managers might choose to prevent all species from being introduced into an ecosystem under the credo that exotics are guilty until proven innocent, but from an economic point of view, that's not practical. Some industries, such as horticulture, depend on importing new species. We need to achieve a reasonable balance between commerce and the environment."
Lodge and Kolar studied the history of exotic species to find a common thread in those that succeed in their new environments. Funded by Illinois-Indiana Sea Grant, they focused their efforts on fishes in the Great Lakes and the Illinois River. These results have been published recently in the journal Science.
Using data from as far back as the glacial age, the researchers gathered information on a range of species characteristics in order to identify those that are likely to be adaptive in new environments. They looked to examples from as early as the 1600s and found 24 non-indigenous fish species that have firmly established themselves in the Great Lakes. How were they able to thrive so well with native fish?
"Introduced species that are successful have several traits in common," said Lodge. "More so than unsuccessful invaders, they tolerate a wide range in temperature and salinity. These fishes are also smaller at maturity and have higher reproduction rates."
By applying the profile to fishes that have not yet been introduced to the Great Lakes, Lodge and Kolar have identified 22 species that one day may pose problems. One example is the monkey goby, which is native to the Caspian Sea. Monkey gobies are in the same family as round gobies, which have proven to be quite successful after their introduction into the Great Lakes. On the other hand, tubenose gobies have not.
With this sort of information, prevention efforts can be targeted. "The first line of defense in preventing these potential nuisance species from making their way into our waterways is to work with aquaculture, bait, aquarium and other industries to stop any intentional introductions of these fishes," explained Lodge.
"Unintentional introductions, such as in the ballast of ships, can be difficult to completely prevent, but by carefully selecting when and where ballast water is taken in, we can lower the probability of these fishes being transported. The use of toxins and other eradication technologies in ballast water can also prove effective. And, with increased monitoring we can take strong action to eliminate these species if they are discovered," added Lodge.
"An immediate rapid response to a species that is a likely threat — even if it is fairly expensive — might save a great deal of money and effort, and reduce environmental effects, down the road," said Lodge.
If you would like more information about invasive species, visit the Sea Grant site, www.sgnis.org.
The Illinois-Indiana Sea Grant College Program is one of 30 National Sea Grant College Programs. Created by Congress in 1966, Sea Grant combines university, government, business and industry expertise to address coastal and Great Lakes needs. Funding is provided by the National Oceanic Atmospheric Administration, U.S. Department of Commerce, the University of Illinois at Urbana-Champaign and Purdue University at West Lafayette, Ind.
[News release]
---
News | Sports | Business | Rural Review | Teaching & Learning | Home and Family | Tourism | Obituaries
Community | Perspectives | Law & Courts | Leisure Time | Spiritual Life | Health & Fitness | Calendar