---
Preaching for a lifetime
[JAN. 11, 2003] He has devoted his life to the art and craft of preaching. This past Dec. 5, the Academy of Homiletics recognized that lifelong love by presenting their first-ever Lifetime Achievement Award to Dr. Wayne Shaw.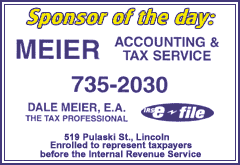 Dr. Shaw is well-known at Lincoln Christian College and Seminary as a longtime professor of preaching, as well as seminary dean emeritus. What many may not know is that Shaw has distinguished himself in circles well beyond Lincoln. One such circle is the Academy of Homiletics, a professional organization of professors of preaching that includes such prestigious schools as Princeton and Harvard. Shaw has attended the annual meetings of the academy for many years, serving as treasurer much of that time. He also served as president of the Academy of Homiletics during their silver anniversary year a few years ago.
In presenting the award, a special commemorative plate engraved with his name, the academy commended Shaw for his loving spirit that often carried the olive branch between those who sometimes disagreed.
Three others were also so honored by the academy this year, including Dr. Eugene Lowry, who spoke for the annual Webb Lectureship on Preaching last fall in Lincoln.
In accepting the award, Shaw said, "I feel there are many who have made far greater contributions than I, but I am not going to give back the plate. It pleases me that a person with a deep commitment to the Bible as the written word of God can have an impact in a theologically diverse group of homileticians who want to continue learning how to preach and how to teach it the best they can."
We thank God that when the call to preach came, Dr. Shaw responded with a lifetime commitment: "Here am I. Send me."
[LCCS news release]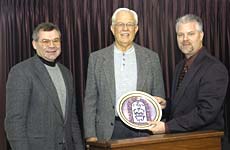 [President Ray and Dean Tanner of
Lincoln Christian College and Seminary
re-present the Academy of Homiletics'
Lifetime Achievement Award to
Dr. Wayne Shaw. ]
---
Church members lament --
minister is leaving too soon
[JAN. 4, 2003] The last Sunday in December, members bid farewell to smiling Mike Drake, minister of Elkhart Christian Church. Drake, who is officially retiring after some 25 years of ministry, has been at Elkhart 20½ of those years.
One of the church's elders, Ron Davis, was overheard to say, "You can't retire. You haven't buried me yet!" Davis was expressing his expectation that since Pastor Mike had been with them for more than half his lifetime, they expected he would be with them even until their deaths.
The congregation was taken by surprise in late November when he announced his upcoming retirement. One little 10-year-old girl asked if the church was going to close since Mike Drake was retiring.
A large crowd packed the little church building to hear Drake's last sermon and last lesson. He preached on the supremacy of Christ, emphasizing that it is Christ, not "Mike," who had brought them to this point in their spiritual lives.
Many members of the congregation, as well as the elders, asked him to reconsider his decision and continue his ministry there. Drake was reminded that he could even reconsider this last Sunday, and they would gladly take him back.
Lincoln Christian Seminary professor Dr. Robert Kurka has accepted the call to be interim minister for the Elkhart flock while they begin the arduous task of finding a new preacher. Dr. Kurka has been to Elkhart many times, and the congregation enjoys his energetic style. Dan White continues to do an outstanding job with the youth of the congregation and preaches each fifth Sunday.
Seth Hall, a lifelong member of Elkhart Christian Church, said what was going through the minds of most of the congregation: "It's going to take someone really special to take Mike's place."
Drake, 53, is retiring to spend more time on the family business. He and his wife, Connie, are both looking forward to spending more time visiting with their grandchildren. They will continue to live and work in Elkhart and will worship there when they are in town.
---
Lincoln Christian Church
to offer Alpha Course
[DEC. 7, 2002] Lincoln Christian Church will introduce the Alpha Course on Tuesday, Jan. 14, at the church's Fellowship Center, at the corner of Pekin and Hamilton streets. This 10-week practical introduction to the Christian faith offers answers to some key questions.
Each weekly session begins with an informal dinner followed by a large-group learning time and ends with small-group discussion. Attending the Jan. 14 introductory evening does not obligate individuals to continue the course.
Alpha began in London, England, and is now offered in thousands of communities around the world. Join the millions who have found answers about life and God. To learn more about the course, call 732-7618 or visit the church's website, lincolnchristianchurch.org.