Depot reopens Friday
under new ownership
[JUNE 12, 2003] A new restaurant called McCarty's at the Depot will open for business Friday, June 13, in the Lincoln Depot, located at 101 N. Chicago St. in downtown Lincoln. Bill and Penny McCarty of Williamsville have purchased the operation formerly known as The Restaurant at the Depot from the Orr family.
"We are excited about this opportunity and look forward to serving diners from Lincoln, Logan County and all of central Illinois," said Bill McCarty, owner and manager of McCarty's. "We want to become a premier restaurant in central Illinois. Combining my 14 years of restaurant experience with the solid foundation provided by the Orr family, we feel we can do just that."
The McCartys plan to make some changes to the operation in the near future but will complete a thorough review before finalizing future plans. "With the sesquicentennial coming up and several events already reserved, we will be very busy the next few months. We want to take our time and do what's best for the long term without making any sudden changes," said McCarty.
"We definitely want to expand our banquet business and become more visible throughout Illinois as a place for business meetings, seminars and conferences. Lincoln is a convenient location for regional businesses, associations and private groups."
Harold and Carol Carter, also of Williamsville, have purchased the site and will lease the premises to the McCartys.
[News release]
Maybe you noticed it on the lot at J&S Auto Centre over on Logan Street.
No doors, no exhaust pipe, and
that curious smile on its face.
I was curious, so I went there and asked Shelley Horn what's up with that?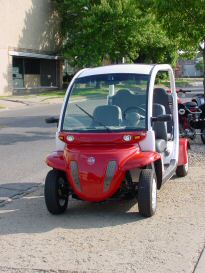 She said it was a new 2000 GEM made by Global Electric MotorCars.
Horsepower is 3.5 and it weighs 1300 lbs roughly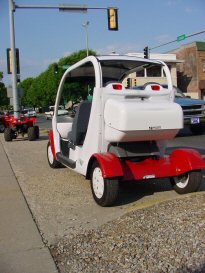 Top speed is about 30MPH. It can go about 65 miles on a single charge.
She climbed in the driver seat and said "Let's go for a ride!" She flipped on the ignition, and for a moment we were both stunned... there was no sound.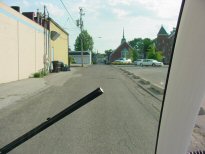 Seat-belted in, we drove around the block. The Gem car got great pickup, and fantastic gas mileage (cause its electric!).

It usually retails for $8995, but you can buy it for $7595 at J&S Auto Centre.