New 150 year mementos available
[JUNE 12, 2003] Lincoln continues to gear up for its grand celebration of 150 years. Ten days of activities, Aug. 21-31, surround the Aug. 27 founding date. However, for those who want to get an early start on the commemoration, mementos and collectors' items are available for purchase now.
Sesquicentennial souvenir chair Sharon Awe has introduced two new items in a growing selection of sesquicentennial mementos. The Lloyd Ostendorf painting of Abraham Lincoln christening the city of Lincoln appears on two top-end souvenirs -- a throw or afghan priced at $50 and an 8-inch ceramic plate at $22. Few other cities can boast a painting of their founding, and these articles capitalize on Lincoln's distinction.
Another new item is an elongated or "squished" penny selling for $1. The coin features the words "150th Anniversary City of Lincoln" rolled onto a 1953 penny. James Dundon of Florida engraved the memento, and Bobby Olson of Springfield designed and rolled it by hand.
[to top of second column in this article]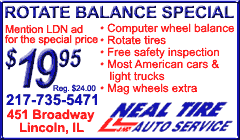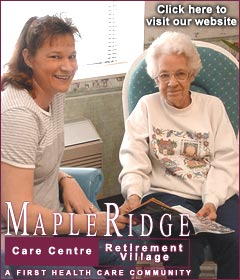 Many other souvenirs sport the sesquicentennial logo. They include -- in ascending price order -- lapel pins, mugs, tote bags, candles in quart jars, baseball caps, ceramic ornaments, T-shirts, sweat shirts and polos. Prices range from $5 to $29.
The complete line of souvenirs is available at Lincoln/Logan County Chamber of Commerce, Illini Bank and State Bank of Lincoln. Sites that stock some items include The Mustard Moon, Sports Plus, Beans & Such, MKS Jewelers, Coffee with Einstein/Franz Express, Lincoln College Museum, Lincoln City Hall and Logan County Courthouse.
[Lynn Spellman / LDN]