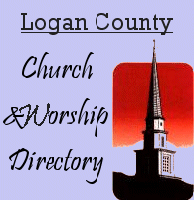 Holy Family Parish
316 S. Logan
217-732-4019
Priest:
Msgr. E. Edward Higgins
Associate:
Rev. Thomas Taylor
Mass:
Sat. 5:00PM
Sun. 7:30AM, 9:00 AM
& 10:30AM
Lincoln Christian Church
204 N. McLean
217-732-7618
Preaching minister:
John Castelein
Worship:
8:30AM & 11:00AM
Website: www.lincolnchristianchurch.org
Trinity Episcopal Church
402 Pekin St., Lincoln
217-732-7609
Pastor: James Cravens
Worship:
7:30 & 9:45AM Sunday
9:00AM Tuesday-Friday

Kingdom Life Ministries
620 Pulaski St., Lincoln
217-732-1466
Pastor: Joe Bennett
Worship:
10AM & 6:30PM Sunday
7PM Wednesday
Lincoln Bible Church
2316 N. Kickapoo St., Lincoln 217-735-5959
Pastor: Don Hoover, phone 217-735-4641
Worship: 10AM Sunday
Sunday School: 9AM
Home Bible class: 6:30PM
Overcomers in Christ:
7PM Tuesday
Teen Club (7th-12th grade); Kids in Christ's Service (1st-6th)
7PM Wednesday
Lincoln Church of Christ
800 Pulaski St., Lincoln
217-735-1130
Minister: Harold Driskell
Worship:
11AM & 6PM Sunday
Bible study:
10AM Sunday
7PM Wednesday
TV program, "In Search of the Lord's Way," Channel 19 WHOI
7:30AM Sunday
Good Shepherd Lutheran Church Association of Free Lutheran Congregations
1140 N. State St., Lincoln
217-735-9320
Pastor Roger David
Worship:
10:00AM Sunday
Sunday School:
9:00AM
E-mail: gslc@ccaonline.com
Immanuel Lutheran Church ELCA
1409 Pulaski St., Lincoln
217-732-6777
Pastor Dan Wissmann
Worship:
9:00AM Sunday
Zion Lutheran Church
Lutheran Church-Missouri Synod
205 Pulaski St., Lincoln
217-732-3946
Pastor Mark Carnahan
Worship:
8:00 & 10:30AM Sunday
Radio, WLLM-AM 1370:
8AM Sunday
TV, Cable Channel 15:
10:00AM Sunday
5:00PM Monday
First United Methodist Church
302 Broadway St., Lincoln
217-732-2204
Pastor: Jame Hahs
Worship:
8:30AM Traditional
11AM Contemporary
Sunday School:
9:45 AM
website: www.gbgm-umc.org/
lincoln1stumc/index.html
To inquire about listing your congregation's worship information, please e-mail us at ldn@lincolndailynews.com or call us at (217) 732-7443.
---
---
'Les Miserables' --
an experience of grace
[MARCH 19, 2003] The Open Door class at Lincoln Christian Church presents a series of lectures on grace, law and life in the marvelous musical "Les Miserables." John Castelein will lead in nine sessions in which the music, the story and the grace will come alive.
There will be readings from Victor Hugo's novel, film clips from the movie, careful study of the lyrics, guided discussions and singalongs of many of the songs performed at Royal Albert Hall in London in 1995.
This series starts March 23 and extends till May 25 (with no class on April 6). The series takes place during the Bible school hour, 9:45-10:45 a.m., in the Fellowship Center at the church. Child care and teaching is provided and everyone is welcome.
On the kickoff Sunday, March 23, all members and guests of the Open Door who want to come are invited to a potluck in the church basement immediately following second service.
---
Wednesday services
[MARCH 18, 2003] Good Shepherd Lutheran Church of Lincoln, 1140 N. State, is having Lenten services at 7 p.m. on Wednesdays, March 19 and 26 and April 2 and 9. Fellowship and refreshments follow the services.
A Maundy Thursday service with Communion will be at 7 p.m. April 17, and a Good Friday Tenebrae service will be at 7 p.m. April 18.
On Easter Sunday, April 20, there will be an 8 a.m. service with Communion. An Easter breakfast served by the youth group will follow.
The regular weekly services are on Sundays at 10 a.m., following Sunday school at 9 a.m. The public is invited to all services.