Poor shooting at the foul line and from 3-point range were the big reasons the Lynx lost Wednesday night. LC connected on only eight-of-21 free-throw attempts in the contest, and the outside shooting was just slightly over 18 percent (four-of-22).
Lincoln College had a 53-45 rebounding edge, including 24 offensive rebounds. Terrance Chapman led the Lynx with 12 rebounds. Michael Fowler contributed six assists for coach B.J. McCullum.
The Lynx had four players in double figures, with Chapman netting 16 to lead the way. Jamaal Thompson finished with 14 points, while Derik Hollyfield and James Roberson both had 11.
Cecil Community College was led by Victor Akinyanju with 13 points.
Cecil finished the game shooting 42 percent from the field, while Lincoln College shot just 38 percent. The winners made 10-of-17 free throws for 59 percent, while LC finished at 38 percent from the foul line.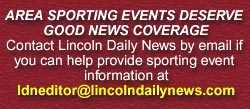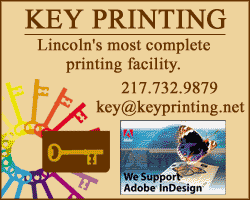 Lincoln College (70) -- Josh Clark 2-7-0-0-5, Michael Fowler 2-7-0-1-4, Rueben Trotter 2-3-0-0-4, Loyd Bowen 0-0-0-0-0, Amir Major 2-7-1-3-5, Jamaal Thompson 7-16-0-2-14, James Roberson 4-9-2-5-11, Terrance Chapman 7-16-2-6-16, Derik Hollyfield 3-11-3-4-11, Rian Lazzerini 0-0-0-0-0. Totals 29-76-8-21-70. Three-point goals: Clark, Roberson, Hollyfield 2.
Cecil Community College (72) -- Victory Akinyanju 6-11-1-2, 13, Briant Taylor 2-8-1-2-6, Chris Chadwick 4-13-3-4-12, Ron Harris 3-8-2-3-9, Clarence Dorsett 2-3-0-0-6, Craig Winder 4-6-2-2-12, JaFaar Johnson 1-1-0-0-2, Jareem Dowling 2-6-1-4-5, Ater Guelly 0-3-0-0-0, Cory Hudson 3-6-0-0-7. Totals 27-65-10-17-72. Three-point goals: Taylor, Chadwick, Harris, Dorsett 2, Winder 2, Hudson.
[Bill Martinie, Lincoln College
sports information director]
[MARCH 6, 2003] The Lincoln PONY Association will have its annual spring sign-up this year beginning March 9 and running until March 29. Sign-up sheets can be obtained at the front desk of the Lincoln Rec Center. On Saturday, March 29, representatives of Lincoln PONY will be on hand to assist with signups.
Lincoln PONY ball is for both boys baseball and girls softball, ages 8 through 14.
Additional information can be obtained at the Lincoln PONY website and at http://www.pony.org/.