At Manito
Illini Central 001 001 0 - 2-4-5
Midwest Central 016 020 0 - 9-11-0
Cunningham (L, 5-2), Birch (4) and Travis Scott; Young (W) and Fornoff
Hitting stars - Illini Central - Travis Scott (2 hits)
Record - Illini Central 13-6
At Hartsburg
Delavan 000 00 - 0-1-4
Hartsburg-Emden 005 23 - 10-11-0
Called because of 10-run rule.
Wildenradt (L), Wallace (3) and McCoy; Blaen Fletcher (W, 4-2) and Matt Gleason
Home run - Hartem - Kyle Hoerbert (solo in fifth)
Hitting stars - Hartem - Matt Gleason (2 hits, 3 RBIs), Ryan Anderson (2 hits), Cory Leesman (2 hits)
Records - Hartem 12-6 overall, 2-3 in Tomahawk Conference
At Glasford
Mount Pulaski 000 010 1 - 2-8-0
Illini Bluffs 000 000 0 - 0-5-1
Josh Blaum (W, 4-3) and Cameron McClellan; McClure (L, 2-2) and W. Diefendorf
Hitting stars - Mount Pulaski - Craig Erlenbush (two hits, RBI), Zach Moore, Time Milner (two hits)
Records - Mount Pulaski 16-5, Illini Bluffs 10-6
Corn Belt Conference Tournament
At Bloomington
Championship
Prairie Central 000 200 01 - 3-6-2
Olympia 002 000 00 - 2-6-0
Dylan Ward (W, 7-1) and Aaron Ifft. Tyler Thornton (L, 7-1) and Rush Olson
Olympia (17-9) - Two hits - Dusty Hayes, Thornton. RBI - Thornton. Pitching - Thornton ( 8 innings, 6 hits, 3 runs, 3 earned runs, 2 walks, 12 strikeouts)
At Emden
Delavan 100 500 0 - 6-8-0
Hartsburg-Emden 110 020 0 - 4-7-4
Wildenradt (W) and Dunlap; Nikki Chapman (L, 7-7) and Alyssa Moehring
Hitting stars - Hartem - Molly Klokkenga (3 hits)
Records - Delavan 1-3 in Tomahawk Conference; Hartem 11-10, 2-3
At Monticello
Olympia 000 000 0 - 0-4-1
Monticello 004 010 x - 5-7-0
Jessie Shay (L, 20-2), Lindsay Watkins (5) and Amber Lessen; Molly Lawhead (W) and Baxter
Hitting star - Olympia - Erin Canopy (3B)
Record - Olympia 27-2
Girls
Central State Eight Conference Meet
At Springfield
6. Lincoln 36 1/2
Long jump - 4. Paulus (L), 16-6
High jump - 5. Courtwright (L), 4-10
Triple jump - 6. Whalen (L), 32-5
Pole vault - 5. Whalen (L), 7-0
400 relay - 3. Lincoln, 50.9
800 relay - 6. Lincoln, 1:55.2
800 medley relay - 5. Lincoln, 1:57.4
1,600 relay - 6. Lincoln, 4:30.4
3,200 relay - 6. Lincoln, 11:48.2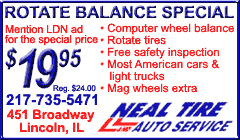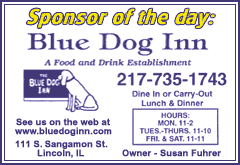 Cubs-Cards series No. 1 a draw
By Jeff Mayfield
[MAY 12, 2003] The first Cards-Cubs series ended in a push. The Redbirds set the tone by winning the first game 6-3. However, the Cubbies came back in dramatic fashion to take the second game 3-2 on a walk-off homer by Alex Gonzalez. Then on Sunday, with St. Louis leading 11-9 in a pitching duel and defensive struggle, the rains came and washed the Cards' victory away. But that's NOT the bad news.
While Chicago was flailing with the Brewers and the Cards were collapsing in Cincinnati, the Houston Astros as well as the Reds moved right back into the race. So, instead of Chicago and St. Louis pulling away from the pack, they've let the pack right back into the race, which is something that this amateur reporter thinks that both teams will regret.
The Cubs now start a brutal two-week road trip. They will need to go about .500 if they have serious title intentions.
A-Gon Mr. Clutch?
We believe that A-Gon's long tater was his third of the year in like fashion. What's up with this guy in the clutch situations? And why not save some of these heroics for the Reds and especially the Astros?
A tip of the cap…
To former Cub Rafael Palmeiro, who became just the 19th player in baseball history to reach the No. 500 home run plateau! He may reach the 3,000 career hits mark too. So, why all the negativity and the hate towards Raffy? All these sports shows say he doesn't deserve the Hall of Fame. In my book, if someone reaches baseball's magic numbers -- and 500 homers and 3,000 hits are surely some of those numbers with mystic -- they deserve to be in the Hall!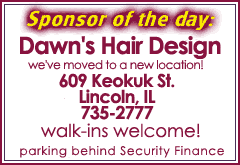 When it rains … it pours
Feeling like St. Louis didn't have enough injuries, Eli Marrero went down with a severely sprained ankle in the rain-postponed game on Sunday. Before that incident J.D. Drew was pulled from the contest with a stiff back. He will see the chiropractor today and expects to be ready for Tuesday night's home tilt with the Reds.
Time to make some hay
If we're reading the calendar correctly, the Cards play 20 of their next 26 in the friendly confines of Busch Stadium. Winning 15 or more of those could go a long way in giving the Birds a chance to fight it out among the leaders all summer. However, if the injuries continue to mount and they continue to find no answers from the pen, they may be able to scratch their playoff invitations by the All-Star break.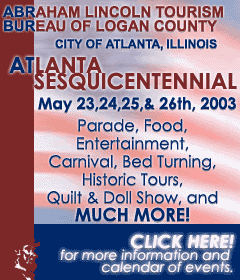 Lakers win one for Phil
The Los Angeles Lakers won one for their coach and the Sacramento Kings won one for themselves as A.I. put his 76ers on his back and all three teams evened their playoff marks to 2-2. In the last remaining series, the Nets have the Celtics on life support as Boston trails New Jersey 3-0. It will be interesting to see who, if anyone, can win some road games and maybe steal a game or a series.
Coach Alexander turns thoughts to next season
While his soon-to-be-graduated Railers ink college deals, Lincoln Railer coach Neil Alexander has already turned the page to next season. In an early morning interview, the LDN has learned that the Railer summer schedule is already set. The highlight of the vacation months will be the annual trip south for the HUGE tournament that Lincoln always fares well in. Through the years this tourney has been in Tennessee or Kentucky, but this year the event moves to Evansville, Ind.
Coach "Al" also reports that it is his feeling that the CS8 will be very competitive next season. He says that many have already ruled the Railers out with the loss of nine seniors. Not so fast, my friend, at least for the Lincoln coach. He thinks the Railers will be gritty and fight their way to success. This is one reporter who's not going to argue with 12-13 years of success! Good luck, Railers!