Features, Animals for Adoption, Out and About, Calendar
Travel News Elsewhere (fresh daily from the Web)
Home and Garden News Elsewhere (fresh daily from the Web)
'Heart healthy' cooking classes offered
[MAY 17, 2003] Learn how to cook foods that are lower in fat and sodium in the "Heart Healthy Eating" series sponsored by University of Illinois Extension, Logan County. If you have heart disease, including high blood pressure or high cholesterol, you know choosing and preparing foods can be a real challenge.
The program objective is to increase participants' knowledge of risk factors for heart disease, dietary factors and their relationship to heart disease, and to review how individuals can affect their own heart health. Ways to alter foods to reduce fat and salt will be discussed in the classes.
"Those attending will learn how to cook with low-fat products, herbs and spices and using less salt," explains Jananne Finck, nutrition and wellness educator with University of Illinois Extension. Finck is a registered dietitian at the Springfield Extension Center.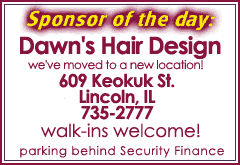 "Everyone will get recipes to help them plan healthy meals at home," adds John Fulton, unit leader for Logan Extension. Cost is $10 per person for the two sessions. A minimum of 15 participants is needed, and preregistration is needed by Thursday, June 12. There will be two sessions, June 17 and 18, from 6 to 8:30 p.m. at the Logan County Extension office, 980 N. Postville Drive.
For more details about this program or if you need reasonable accommodations to participate in this program, please call (217) 732-8289. Registrations will be taken at the same number.
[News release]
---
Animal Control open Saturdays
[APRIL 18, 2003] Beginning April 28, Logan County Animal Control is experimenting for 60 days with Saturday hours. The new hours are 8:30 a.m.-4:30 p.m. on weekdays and 10 a.m.-2 p.m. Saturdays. Only registration, payment of fines and animal pickup can be accomplished on Saturday. Adoptions must take place during the week.
---
At Logan County Animal Control —
DOGS
Big to little, most of these dogs will make wonderful lifelong companions when you take them home and provide solid, steady training, grooming and general care. Get educated about what you choose. If you give them the time and care they need, you will be rewarded with much more than you gave them. They are entertaining, fun, comforting, and will lift you up for days on end.

Be prepared to take the necessary time when you bring home a puppy, kitten, dog, cat or any other pet, and you will be blessed.

[Logan County Animal Control is thankful for pet supplies donated by individuals and Wal-Mart.]


[Hi! I'm Mike! I'm a 2- to 3-year-old male looking for a family. My favorite activities include watching my breath and licking your face.]


[This is Jeff. Jeff is a 1- to 2-year-old mixed breed looking for a good home.]


[Just look at those faces! These 9-week cuties love to roll and tumble and play.
But don't let their small size fool you. They are boxer-collie mixes, so they'll get quite a bit bigger!]

Want your ad to be seen all over Logan County?

Advertise with

Lincoln Daily News!

Call (217) 732-7443
or e-mail
ads@lincolndailynews.com

Our staff offers more than 25 years of experience in the automotive industry.

Greyhound Lube

At the corner of Woodlawn and Business 55

No Appointments Necessary

Lincolndailynews.com

is the place to advertise


Call (217) 732-7443
or e-mail
ads@lincolndailynews.com

Ten reasons to adopt a shelter dog

1. I'll bring out your playful side!

2. I'll lend an ear to your troubles.

3. I'll keep you fit and trim.

4. We'll look out for each other.

5. We'll sniff out fun together!

6. I'll keep you right on schedule.

7. I'll love you with all my heart.

8. We'll have a tail-waggin' good time!

9. We'll snuggle on a quiet evening.

10. We'll be best friends always.

---

CATS

[Logan County Animal Control is thankful for pet supplies donated by individuals and Wal-Mart.]

In the cat section there are a number of wonderful cats to choose from
in a variety of colors and sizes.

Farm cats available for free!


[This big boy is Sam.
Sam's a little pushy, so no small kids, please.]

[This fine looking girl is Snake. She's just a kitten, and she's ready to slither her way into your heart.]

[Snowball and Sunshine, a beautiful girl-boy pair, can't wait to bring joy and warmth into your home.]

---

These animals and more are available to good homes from the Logan County Animal Control at 1515 N. Kickapoo, phone 735-3232.

Fees for animal adoption: dogs, $60/male, $65/female; cats, $35/male, $44/female. The fees include neutering and spaying.

Logan County Animal Control's hours of operation:

Sunday – closed

Monday – 8 a.m. - 5 p.m.

Tuesday – 8 a.m. - 5 p.m.

Wednesday – 8 a.m. - 5 p.m.

Thursday – 8 a.m. - 5 p.m.

Friday – 8 a.m. - 3 p.m.

Saturday – closed

NOTE: Beginning April 28, hours will be 8:30 a.m.-4:30 p.m. on weekdays
and 10 a.m.-2 p.m. Saturdays.

Vickie Loafman, animal control warden

Maurice Tierney, deputy animal control warden

Tammy Langley, part-time assistant
---

---
News | Sports | Business | Rural Review | Teaching & Learning | Home and Family | Tourism | Obituaries
Community | Perspectives | Law & Courts | Leisure Time | Spiritual Life | Health & Fitness | Teen Scene
Calendar | Letters to the Editor