Speaking of Oscars, BOTH teams appear to be taking lots of acting classes. I know managers and pitching coaches always think that they're getting squeezed on the calls, but if you REALLY want something to complain about, look at the strike zone that Atlanta pitchers have gotten the last 10 years! I think even I could through a few strikes if you're gonna give me six inches on either side of the plate.
Also, if I were a manager I think I would be a lot more concerned about horrible base running and guys missing their cutoff men! As good as today's players are, sometimes the fundamentals that many of us were taught as kids just aren't there. How can that be tolerated by today's managers and front-office people? I just don't understand it. Especially when you've got pitchers on both teams going out there and busting their butts for six, seven or eight innings, and then to have a game thrown away because of an error… and not just any error, but mental errors… That's a killer!
Last live "FANdamonium"
…for the next couple of months is tonight. Greg and I will be discussing some of these issues as well as:
Greg ripped Tomko and Simontacchi the last two weeks on our show, and they've both fared well… We want to get Greg's take on that.
Even if the Cubs lose on Monday and go only 1-3, I STILL think they will be OK. They are so much more competitive with Dusty Baker at the helm, they seem to be in every game… and I've been saying all along that I think they will be there for the long haul. I think Greg will agree with us on that.
The Cubs are now 4-22 since 2000 in St. Louis… How will Greg explain that?
Lots of talk coming out of Chicago regarding the Cubs picking up a third baseman. The names I keep hearing are Aaron Boone out of Cincinnati and Mike Lowell out of Florida. We'll see what Greg's take is on that, or if the Cubs should even make a move at all. I don't even want to tell Greg what former Cubbie Bill Mueller is hitting over in Boston…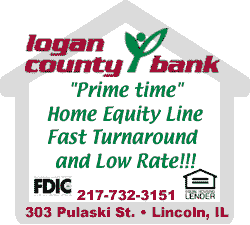 Greg may have some questions for me too. Like what is up with the Cardinal bullpen? Will J.D. Drew get shipped or will he continue to battle injuries? What in the world is going on with Rick Ankiel? Should the Birds ship him, convert him to an outfielder or just continue to be patient with him and hope that the magic returns? What's up with the slumping bats of Jim Edmonds and Tino Martinez? And is Vina staying or going? And who knows what other stuff Greg will be masterminding before our last spring episode? Catch us at 6 tonight right here on the LDN live link, on CITV 5 or on FIX 96.3 FM radio or call us at (217) 735-3306.
And we will both lament what is happening to the Chicago White Sox.
CONGRATULATIONS to C-EL, Hartsburg-Emden and Carroll Catholic
…for their outstanding showing at last weekend's IESA 7A state track meets! Chester-East Lincoln girls took home a second place trophy, while Carroll finished sixth. The Hartem boys also brought home a second-place trophy. Congratulations to all of these students for representing Logan County so well!
Railers keep up winning record
The Lincoln Railers baseball team has fought off cold conditions, rain and untimely hitting to stay on the winning side of the ledger of late. After missing several good opportunities to take a game from Jacksonville last week and settling for a tie, Lincoln was able to split with Olympia on Saturday. Jason Fitzpatrick struck out five and limited last year's Class A state champions to one run on two hits in a 1-0 shutout. Olympia won the nightcap 6-5. The Railsplitters moved their record to 14-13-1.
Have a great week, everybody!
Moser and his Redbird staff will host three camps this summer, with a pair of day camps and one team camp.
The first day camp runs June 16-19 and is for boys entering grades 1-12. The second day camp is open to boys entering grades 1-8 and is scheduled for July 15-18. The day camps are designed for commuters only and focus on the basic fundamentals of dribbling, passing, shooting, rebounding, defense and game play.
The cost for either day camp is $170. Each camper receives a basketball and a T-shirt.
The team camp, which caters to high school and junior high teams with boys entering grades 6-12, will be June 20-22. The camp format is round-robin and tournament team play.
The cost for the team camp is $170 for commuters and $205 for resident campers. Each will receive a camp T-shirt.
For more information about the basketball camps, call the Redbird men's basketball office at (309) 438-8681 or click here for an application form.
[Click here to download the Adobe Acrobat reader for the PDF file.]
[Todd Kober, director of media relations,
Illinois State University]