Council approves requests, hears letters and reports, appoints new deputy clerk
[MAY 20, 2003] On Monday evening, May 19, at 7:30 the Lincoln City Council met at City Hall. Mayor Elizabeth Davis opened the meeting. All of Lincoln's city aldermen were in attendance.
Several petitions for new sidewalks were approved, and a petition by the American Legion and others for flashing red lights at Broadway and McLean Street on May 24 for the Memorial Day poppy campaign was approved.
Several letters of commendation were read. A letter was read from the Midstate company commending Juanita Josserand, who has retired, on her many quality years of service. A letter was read from the first-grade class of Carroll Catholic School thanking the city council and Street Superintendent Donnie Osborne for their support on Arbor Day. A letter from the Salvation Army of Lincoln was read updating the city council on progress in constructing a transitional shelter. The Salvation Army thanked the council for their support.
Mayor Davis reported on the Save a Life Foundation, which helps support emergency medical services and Save a Life for Kids and helps to provide training for citizen preparedness. The mayor asked for a resolution declaring the week of May 18-24 as Save a Life Week. The resolution was adopted.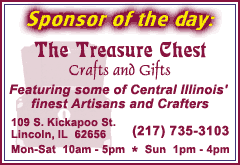 A resolution for the 2003 motor fuel tax general maintenance was also presented and approved.
Mayor Davis also discussed the issue of disabled parking in Lincoln. The mayor made it clear that the city was following the law regarding disabled parking. The law, which went into effect on Jan. 1, requires that the city provide parking spaces for disabled people. Mayor Davis indicated that the city has been doing this; however, she wants to remind people that they need to display their placards indicating disability, or if they are unable to display their placards, they need to have a special license plate for the disabled. Without either a properly displayed placard or license plate, the city does not know if a vehicle is driven by a disabled person. Failure to display the placard or license plate makes it difficult for the city to enforce the law and could result in a $100 citation to the driver of the vehicle.
The city treasurer, Lester D. Plotner, presented a summary of Lincoln's fiscal status for 2002-2003. Treasurer Plotner began his summary by saying: "The city of Lincoln has passed through a lean and discouraging year of declining revenues that provide monies for the operation of city business. Yet, we look forward with optimism to the future as our struggling federal and Illinois economy begins its slow recovery." Much of Lincoln's revenue fell last year as did that of the state and the nation. There are a few areas where Lincoln brought in close to the same revenues as last year; however, these are minor in comparison to the downward turn in the city's revenue. Treasurer Plotner encouraged the aldermen to read and study his entire report. Other people interested in the report can also study it.
[Financial report to be posted.]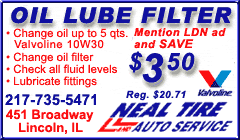 Cindy McLaughlin gave a report on Main Street Lincoln. She indicated that the bricks had been laid for the "Eat and Meet" downtown, which will be a very enjoyable and exciting place. She indicated that Main Street has given away $10,000 of the $20,000 they had available to support a new downtown business. They still have half of the money available to support establishing new businesses downtown.
McLaughlin also reminded the council that Dog Daze is coming up on June 21. This was a fun-filled event last year that presented people with an opportunity to show off their dogs and at the same time gave Lincoln an opportunity to show off its downtown.
Main Street has also contacted over 30 Illinois wineries and is planning an Art of Wine event for the Lincoln Sesquicentennial.
Some other things that McLaughlin reported on concerned Looking for Lincoln. Two new sites in Lincoln that are associated with our 16th president will be highlighted by new signs. The sites are the Nathan Park Law Office and the Sherman Street house and lot that were owned by Abraham Lincoln.
Looking for Lincoln has a video that shows the many Lincoln area points of interest that are associated with President Lincoln and the city. The video recently received an award, and a New York-based group interested in Abraham Lincoln is considering nominating it for more awards.
The city council addressed new business, which included giving approval for the mayor to sign a letter of intent for the city's participation in Illinois Department of Transportation improvements at Lincoln Parkway and Fifth Street. These would be radius improvements costing $100,000, with the city's share being $5,000.
The council adjourned to a closed executive session for the purpose of appointing a new deputy city clerk to replace Melanie Riggs. Riggs is now serving as city clerk. She takes the place of Juanita Josserand, who has just retired. After the session Mayor Davis informed Lincoln Daily News that the deputy clerk's position will be filled by Susan Gehlbach.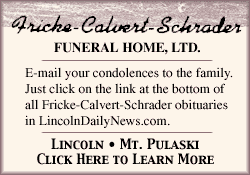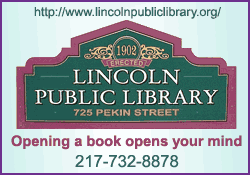 [Don Todd]