Program
Concert Band
"The Star-Spangled Banner," arranged by Jack Stamp
Jazz Band
"Stolen Moments," Nelson, arranged by Taylor
Soloists: Lindsay Struebing, piano, and Michael Kasa, trombone
"Spain," Corea, arranged by Jennings
Soloists: Greg Gandenberger, saxophone, and Joel Andreasen, trumpet
Advanced Choir
"Uptight (Everything's Alright)," Wonder, Moy and Cosby
"City Called Heaven," Poelinitz
Soloists: Betsy Buttell, Doug Rohrer
Beginning Choir
"I'll Be There," Gordy, Davis, Hutch and West
Accompanist: Laura Rayman
Soloist: Ruth Ohmart
"My Girl / My Guy," Robinson and White, arranged by Lojeski
"ABC," Mizell, Perren, Richards and Gordy, arranged by Emerson
Soloists: Nate King, Rachel Kasa, Nicole Tripplett, Katie Muck, Rachel Hahn, Lindsey Boerma and Ashley Moore.
Girls Ensemble
"Respect," Redding, arranged by Emerson
Soloist: Betsy Buttell
Boys Ensemble
"On Stage with The Temptations," arranged by Billingsley
Combined choirs
"Forever Motown," arranged by Emerson
Soloists: Doug Rohrer, Mallory Coons, Tom Swanson, Erica O'Neill and Patrick Perry
"Softly As I Leave You," Shaper / Da Vita
Director: Peterson-Quinn
Accompanist: Micheal Kasa
Choreographers: Heather Bean, Betsy Buttell, Holly Swinda, Ms. Quinn
Concert Band
"Big Four Concert March," Karl L. King, arranged by Swearing
"Festivo," Vaclav Nelhybel
"MacArthur Park," Jimmy Webb
"Loch Lomond," Frank Ticheli
Director: David Swaar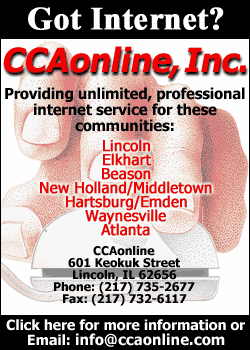 Musicians

Beginning Choir

(* denotes Show Choir)

Peter Barmes, Marjie Striplin, Nicole Tripplett*, Laura Rayman, Kasey Sinkhorn, Heather Fisher, Lindsey Boema*, Rachel Hahn*, Ashley Moore, Rachel Kasa* Julie Sanders, Luke Hanger, Diamond Rodger, Brian Willmert* Amanda Davenport, Katie Muck, Jared Davison, Ruth Ohmart, Jillian Dowell, Jennifer Everson, Sarah Edwards, Nate King, Budd Estep*, Holly Phollips, Brie Klinefelter-Ernst

Advanced Choir

(* denotes Show Choir)

Elizabeth Brown, Betsy Buttell*, Mallory Coons, Zach Danosky, Brandon Davs, Samantha Hudelson*, Holly Swinda, Ty Sank*, Michael Kasa, Cynda Klinman, Megan Malerich, Brian Welter, Melonie Merritt, Josh Sebeny*, Doug Rohrer*, Erica O'Neill, Amanda Perry*, Patrick Perry*, Chris Phillippe, Holly Spickard, Tom Swanson*, Brady Gerdits*, Faye Allison, Sarah Satterfield

Concert Band

(* denotes senior; + denotes Jazz Band )

Piccolo: Lydia Moehring*

Flute: Audrey Beach, Jessica Campbell*, Emily Henrichsmeyer, Victoria Jones, Kari Last, Laura Moehring, Abrigail Sasse*, Sarah Satterfield, Christy Warburton*

Clarinet: Amanda Baker, Sarah Edwards, Joe Gillen, Amber Hickey, Rachel Kasa, Alison Kessinger, Jillian Kimberlin, Abbey Matson, Kar McFadden*, Joelle Oliver, Emily Patrick, Chrissy Schick, Lindsay Stuebing*+, Tracy Turner, Jessica Whalen, Emilie Young

Alto clarinet: Jennifer Cook

Bass clarinet: Mallory Coons*, Dana Landess, Hannah Michalsen, Holly Phillips

Alto sax: Candice Elkins, Greg Gandenberger+, Kirsten Gandenberger*, Nate Kessinger, Whitney Kincheloe, Seth Laurence, Mary Mittelsteadt*+, Doug Rohrer, Cara Slack, Rachel Tibbs, Aaron Uphoff

Tenor sax: Elizabeth Brooks*, Amy Butts*, Joey Papuga+, Dea Welsh*+, Charis Windham*+

Baritone sax: Brady Gerdts, Daniel Papuga*

French horn: Megan Malerich, Kristin Meyer

Trumpet: Joel Andreasen*+, Lindesy Boerma, Brennen Boss, Justin Bruns*, James Cosby+, Haydn Gerdts, Erin Mason+, Chris McGlasson, Jeremy Moore, Charlie Otto, Kasey Pepperell, Ty Sank*, Noah Schrader+, Jimmy Stone, Adam Voyles*, Jennifer Whalen*+, Brian Willmert, Zach Landers

Baritone: Rachel Halm, Nate King

Trombone: Aaron Brown+, John Dallas, Andrew Fulton, Michael Kasa+, Deborah Martincic*, David Mauhar, Bridget Ryan, Collin Voyles*+

Basses: Josh Turley*, AJ Wunderlin+

Bass guitar: Holly Phillips

Percussion: Peter Barmes, Betsy Buttell*, Chris Cabit, Kyle Edwards, Chris Gosda*+, Nathan Hoyt, Eric Knutilla, Peter Lamb, Patrick Petty, Tyler Riggs, Dennis Robinson, Brad Whiteman, Nathan Whiteman+
Formerly affiliated with Trawick of New York, which has a copyright on the name "Community Concerts," the association is now booking through Allied Concert Services of Minnetonka, Minn., and has therefore dropped the word "community" from its name. The vote to change booking services came in October. Association president Harley Petri of Elkhart said the board of directors met with Allied president David Folin beginning last summer, liked what they heard and decided to give his company a try.
Folin was present Tuesday night to preview the season's lineup. This year all performances are on weekends, with three shows on Friday night and one on Saturday.
Headlining the series is Red, Hot...& Blue!, a musical revue featuring eight performers acclaimed as the "hardest working cast in Branson." They sing and dance their way from ragtime to rock 'n' roll. In Branson, Mo., the show has been consistently awarded Best A.M. Show, Best Costumes and Best Vocal & Dance Group.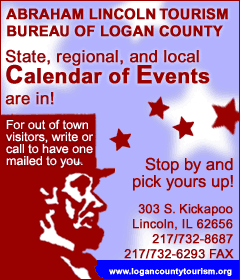 Red, Hot...& Blue opened on July 4, 1996. Since then the show has been featured on Holland-America Cruise Lines and Princess Cruise Lines and has made several national tours. The high-energy revue comes to Lincoln March 12, 2004.
Fans of Garrison Keillor's "Prairie Home Companion" may remember Butch Thompson, a jazz pianist who performed on the radio show in the '80s and '90s. On April 23, 2004, he will team up with Duke Heitger on trumpet and Jimmy Mazzy on banjo and vocals to form Butch Thompson's Big Three. The trio of seasoned musicians traces the history of jazz from its origins in New Orleans to the ragtime of Scott Joplin, the blues of Chicago's south side and the jazz of the Roaring '20s.
Thompson, who plays both piano and clarinet, also sits in as a music critic. In Minneapolis-St. Paul he writes a newspaper column and has a radio show on jazz.
Leading off the Lincoln Land Concert season on Sept. 20 is a young male a cappella quartet called Marcoux Corners. Specializing in close harmony, the group covers five decades of music, beginning with the doo-wop style of the '50s. The vocalists mix humor with their harmonizing and feature fresh arrangements and programs tailored to the audience. Marcoux Corners has been hailed as "one of the best up and coming groups in the country" by an ambassador to the Contemporary A Cappella Society of America.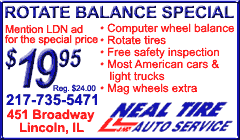 Rounding out the season is Cowboy Envy, a trio of women musicians who perform in the style of the Sons of the Pioneers. Their show is "not country western; it's cowboy," Folin confirmed. Cited for Best Harmony by the Western Music Association in 2000 and 2001, band members bolster their sound with guitar and punctuate it with humorous tales of the Old West. An accordianist accompanies far in the background. The Atlanta Journal-Constitution reported, "Cowboy Envy galloped onto the scene with yips and yodels and harmonies to die for."
A new feature of concert series membership this year is a reciprocal arrangement with associations in Pekin and Pontiac. Included in a Lincoln Land season membership is the option to attend any of the four concerts presented in Pekin and the three in Pontiac. For convenience, all three schedules will be printed on the Lincoln Land ticket. Petri said, "I'm really excited about the reciprocal agreement," which has been accomplished without a rise in price. Membership cost is steady at $35 for the basic adult season ticket.
There is, however, a new upper-level sponsorship category this year. For $300 an Angel membership provides two tickets per performance plus four compact discs by season artists. Angels will be issued four coupons which they can cash in for CDs of their choice. In the case of Red, Hot...& Blue, a video may be substituted for the CD.
Campaign secretary Judy Awe said two Angels have already signed on. Other levels of support are Benefactor ($150, includes two memberships), Sponsor ($80), Patron ($45), Adult ($35), Student ($15) and Family ($75). All memberships are season tickets. No individual tickets are sold.
The membership drive for the 2003-04 season began Tuesday night. Anyone interested in purchasing a membership can call Awe at 732-4758 or membership chairman Mary Thomas George at 735-3241 (evening).
Allied Concert Association has been in business for over 50 years. Since 1966 the Folin family has owned and operated the company. "If a woman answers the phone, it's my sister-in-law," David Folin said. "If it's a man, it's either my father, my brother or me."
The Lincoln Land Association has been bringing performing artists to local audiences since 1958. "You are important," Folin told membership workers on Tuesday night. "Think how many years your organization has brought culture to your community."