Bomke: LDC to reopen Jan. 1, 2004
[MAY 23, 2003] SPRINGFIELD -- Funding to reopen the Lincoln Developmental Center was not specifically included in portions of the budget passed by the Illinois Senate May 22, but Sen. Larry Bomke, R-Springfield, is confident the governor will live up to his word.
"This is a promise the governor made not only to me, but to the parents of LDC residents and to the community that has long depended on those jobs," Bomke said. "I spoke with the governor's office again today [Thursday], and they assured me he intends to live up to his word where LDC is concerned. I also spoke with budget experts in my own caucus, and even if a trailer bill does not follow, there is some flexibility within the DHS budget that would allow us to reopen by Jan. 1."
The governor's office indicated to Bomke the facility would reopen by Jan. 1, 2004, at an estimated cost of $3 million to $5 million in capital funding and $5 million in operational support.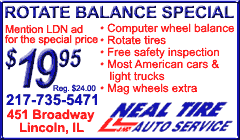 The Senate also approved education funding for grades K-12. Bomke said overall the 50th District fares well under the bill, but he wants to governor to also live up to his word that no school will receive less funding.
Two school districts, Greenview and Lincoln High School, are estimated at a slightly lower funding level than for fiscal 2003.
"Not only did the governor make this commitment to me, but he has said publicly that no school district would receive less funding," said Bomke.
Bomke supported the bill because his other schools districts fared well, but he called on the governor and the Democratic legislators who crafted this plan to live up to the promises made to all school districts in Illinois.
[News release]