The Hall was fuller than it normally is for a scrimmage!
If you thought tickets were hard to come by in the past, the lines at the ticket windows suggest that if Illinois wins a few games, Illini hoops might be a tough ticket.
You can't believe the diversity of ages gathered for the Orange-Blue contest, from newborns to those close to their reward.
We STILL don't "get it" like Kansas, Memphis, Arkansas, Duke, Kentucky and UCLA do!
IF Deron Williams plays like he did Saturday, the Illini could be a force. He dominated the action on both sides of the floor.
Dee Brown wasn't hitting his shots, but you know he will.
James Augustine was his typical solid self.
Luther Head FINALLY looks like he's healthy, and his quickness put a smile on my face.
Roger Powell is still athletic as ever and could emerge this season.
We can't help but root wildly for Nick Smith. He wants to play about every minute and is so hard on himself. He is his own worst critic.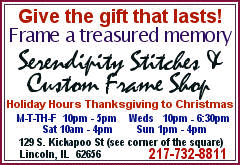 Jack Ingram showed why he's been the most talked-about player in camp so far.
Aaron Spears has bulked up, but his lack of foot quickness concerns us.
Jerrance Howard is a good senior to provide leadership for this ballclub.
Brian Randle led the freshmen contingent. His athleticism and his cool, calm demeanor could make him a huge factor.
Warren Carter also proved that he belongs on this roster. He can do lots of things that will get your attention.
Richard McBride was not uncomfortable on the floor either -- just didn't get a chance to show all the things that he can do.
We probably haven't mentioned everyone, but you get the picture.
Team gleanings would go something like this:
Team defense looks good at this point.
Lots of good footwork in not allowing any easy buckets.
Very active hands in the passing lanes, forcing lots of ball reversals.
Relentless wave of players attacking the glass for rebounds.
Surprisingly good chemistry at this point.
You will really like the speed at which the Illini are now playing. They can pressure all over the court and bring waves at you. They will be fun to watch.
We realize that this team has not even played a game yet, but these are some of the concerns heading into the season:
Defense looks good so far, but will it be physical enough to do battle in the Big Ten's circle of men?
And will the rebounding be there to limit opponents to one shot per possession while at the same time giving us some offensive boards to give us even more chances while we're learning the motion offense?
Will our perimeter shooting be good enough to bring the defense to the arc, enabling us even more spacing to run the motion? We hope we don't miss Cook and Harrington more than we think we will!
Free-throw shooting with this team will be as important a factor as it has ever been for the Illini. Self liked to use the Tarkanian method and just get up on an opponent and put them away. Learning the very difficult new offense could lead to a lot of tighter games, especially early. Knocking down those charity shots, especially in the last six to eight minutes of a ballgame, may determine how good this edition of the Illini can be.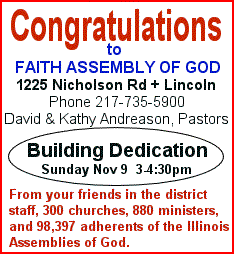 We talked about the good chemistry so far, but with so many good players out there, will there be enough basketballs to go around? Think anyone would volunteer to redshirt?
There are things about the motion offense that we love. We especially love scoring in early offense or on primary or secondary breaks. However, the motion offense is difficult to learn and can be very frustrating at times. We're hoping that our guys really gel with it and it opens up things we've only dreamed about.
All in all, this opening scrimmage was as good as we've felt at this point in the proceedings in a long time. And with the loss of Self, Cook and Harrington, just to name three, we're feeling a lot better about things than we ever thought possible.
On the ISU front, Gregg Alexander popped in 14 points in the annual Red-White game Thursday at Redbird Arena. The annual opening screen test saw Alexander setting the pace for the Red team along with teammates Matt Miller, Kevin Troc, Najeeb Echols, Greg Dilligard, Dana Ford, Ronnie Carlwell and Kyle Flowers; while senior Vince Greene led the White team, comprised of Neil Plank, Marcus Arnold, Trey Guidry, Chris Burras, Kenneth Hill, Michael Sams and recent walk-on Micah Kirstein.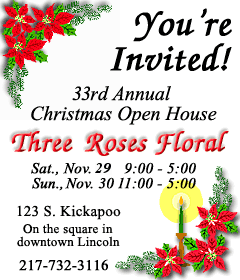 The scrimmage gave first-year head coach Porter Moser opportunity to see how his Birds will react to gamelike conditions.
The Lincoln College hoops units also got under way this past weekend. The men lost a couple of close ones and the women got a W.
Lincoln Christian College teams will get started this coming weekend, with the men traveling to Cincinnati and the women on the road in Florida. Why didn't we ever think of that?
CONGRATULATIONS to the Lady Railer volleyball team on another outstanding season!
Also, congrats to the Hartem and to the Mount Pulaski ladies who won their regionals and advance to sectional play on Tuesday!
Speaking of volleyball, don't forget that the Angels of Lincoln Christian College will be hosting the national tournament here in beautiful Lincoln, Ill.! That's right. The National Christian College Athletic Association's national elite eight (actually 10) come to Lincoln on Wednesday. Games will run most of the afternoon and evenings on Thursday, Friday and Saturday.
This is a great family opportunity and a chance to see some great volleyball to boot! Call 732-3168 and ask for the Laughlin Center to get game tickets or a full-session pass. How many times does a national tourney come to Lincoln?
"FANdamonium" returns tonight at 6. We're guessing that Greg Taylor will have a lot to say about the Bears' win over San Diego. He'll also want to check in on his early Illini projections. This edition will be packed with the stuff you like to talk about, so we'll see you tonight!
That's it for us. Enjoy this weather, and have a great week, everybody!
[LDN staff]