Beulah Graham

Send a link to a friend
Archived June 3, 2005
MOUNT PULASKI -- Beulah E. Graham, 96, formerly of Springfield, died Thursday, June 2, 2005, at 11:15 p.m. at Vonderlieth Living Center.
Private services will be at a later date.
There is no visitation.
Fricke-Calvert-Schrader Funeral Home in Mount Pulaski handled arrangements.
Mrs. Graham was employed by Sears and Illinois Income Tax and owned the Knit Shop in Havana.
She was born April 12, 1909, in Breckinridge to Alonzo and Lema Haney Wilson. She married Paul Fentstermaker in 1929. She later married Montford Graham, in August 1952, in Springfield. He died in November of 1977.
She is survived by one daughter, LeVonneLe Stratton of Sherman; six grandchildren; eight great-grandchildren; and one brother, Ray Wilson of Winter Haven, Fla.
She was also preceded in death by one son and one sister.
She was of the Christian faith.
Click here to send a note of condolence to the family of Beulah Graham.
---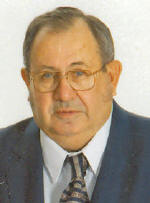 Noble Webster Sr.

Send a link to a friend
Archived June 2, 2005
LINCOLN -- Noble J. Webster Sr., 73, of Lincoln died Tuesday, May 31, 2005, at 8 p.m. at Maple Ridge Care Centre.
Visitation will be from 5 to 7 p.m. Friday at Fricke-Calvert-Schrader Funeral Home in Lincoln. His funeral will be at 10 a.m. Saturday at the funeral home, with the Rev. Clyde Shreve officiating.
Burial will be in Zion Cemetery.
Mr. Webster retired in 1995 from Ball Incon, where he was a mold cleaner.
He was born Jan. 19, 1932, in English, Ind., to John and Ollie Glea Mullen Webster. He married Ina "Louise" Lockard in Lincoln on April 4, 1957.
He is survived by his wife, of Lincoln; three sons, Noble J. (and Lora) Webster Jr., Zachary Kyle Webster and Corey James Webster, all of Lincoln; one daughter, Kathy (and Art) Hopwood of Lincoln; two grandchildren; two great-grandchildren; one brother, Ottis Webster of Mooresville, Ind.; and two sisters, Mary (and Calvin) Crowell of Lincoln and Maudie (and George) Jackson of Minook.
He was preceded in death by his parents; one daughter, Gayla Webster; and one grandson, Charlie Hopwood.
He was a member of Lincoln Southern Baptist Church.
Memorials may be given to the family.
Click here to send a note of condolence to the Webster family.