Main Street Lincoln announces new program manager

Send a link to a friend
[MARCH 16, 2005] Main Street Lincoln announces the hiring of Wanda Lee Rohlfs of Lincoln as the new program manager. "We are so excited to have Wanda accepting this position," said David Lanterman board president. "She is a perfect fit!"
As a former business teacher and current guidance counselor, she will be retiring from Lincoln Community High School this year. During her tenure at the high school, she has been involved in many school and community activities.

"I want to utilize my experiences and talents to promote Lincoln and the downtown area," Rohlfs said. "I have given to the children of community a great many years, and now it is time to give back to the community as a whole."

Serving as chair of the Government/Education Committee of the Lincoln/Logan Chamber of Commerce for six years provided a basis for her interest in applying for the Main Street Lincoln position. Economic development, historic preservation, and downtown growth and enhancement made this a hub years ago.

Mrs. Rohlfs grew up in the Lincoln area and has a deep interest in and attachment to the community -- full of talented, hardworking people who have core values that benefit the development of the city.

[to top of second column in this article]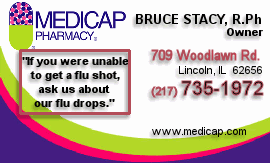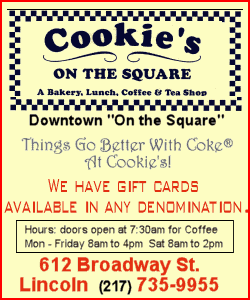 Rohlfs earned an undergraduate degree in business education and administration, a masterís degree in human development counseling, certification in educational administration, and has 37 years of experience working with vocational education. This background gives her a strong tie to a diverse population in the community of Lincoln.
She is married to Gene Rohlfs and has two daughters, Denise (and husband Jim) Watt of Champaign and Mercedes (and husband Sean) Leonard of Chicago. She has a granddaughter, Devin, and a grandson, Dawson. She has been a resident of Logan County all of her life and has lived in Lincoln for 38 years. Her husband is a small-business owner. They are members of Immanuel Lutheran Church, where she is Sunday school superintendent.
[Main Street Lincoln news release]
Life Sentence, No Parole

If we tried to invent the cruelest punishment for dogs, we probably couldn't come up with anything worse than "solitary confinement" on a chain or in a kennel.

Dogs are pack animals who crave the companionship of others. Scratches behind the ears, games of fetch, or even just walks around the block mean the world to them. Curling up at your feet while you watch TV is their idea of heaven.

Many dogs left to fend for themselves at the end of a chain fall prey to attacks by other animals or cruel people, and many others are injured or hanged or choke as a result of getting entangled or caught in their tether.

If you have a backyard dog, please, bring him or her inside. They don't want much--just you.

A public service announcement from Lincoln Daily News and helpinganimals.com
Main Street Lincoln
Wanda Lee Rohlfs, program manager
229 Kickapoo St.
Lincoln, IL 62656
Phone: (217) 732-2929
Fax: (217) 735-9205
E-mail: manager@mainstreetlincoln.com