Kids get two lessons out of the annual ag fair coordinated by the Logan County Farm Bureau:
Why they go to school
How the agriculture all around them affects their daily lives
For the past five years fourth-grade students from all over Logan County have attended the fair. The first years it was at the Logan County Fairgrounds. Weather was not very cooperative many of those times. The past two years in the Laughlin Center have worked out much better.
Two two-hour sessions are conducted to accommodate all the students. The day flies by for both presenters and students during the interactive sessions. Farmers and high school students explain equipment use, animal nutrition, and animal and crop production here in Logan County.
Soybeans, corn, dairy, hogs and machinery were featured at five interactive stations.
Outside, broad smiles could be seen through high-up tractor cabs. Short blasts of horns followed by peals of giggles could be heard. It happens every year -- once one kid finds the horn, it hardly stops honking, a farmer chuckled.
Students could step inside a trailer and pet a Holstein calf that will one day be a milking cow. Farmer Steve Irwin (not the crocodile man) and Lincoln FFA member Matt Schreiner, both of Beason, explained that the cow would be milked twice a day when she is grown, providing about 15 gallons a day -- white, not chocolate milk.
Inside, a penned mother sheep stomped her foot, warding off any threat to her young lamb as it lay beside her.
The students learned about soy, corn, pork and dairy products by visiting various stations. Emphasis was placed on the importance of education and its application to farming.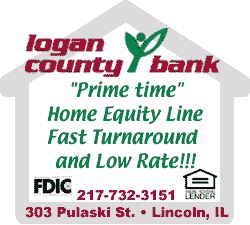 Vicki Huelskoetter ran the hog station, where students filled "feed bags" with candies representing corn, vitamins, minerals and protein required to grow healthy hogs. Huelskoetter drafted her sister, Kay Stroud, who said she was happy to be asked.
The two women grew up on a farm, but Huelskoetter is the only one who remains in farming.
More than 250 students and 20 teachers participated in this year's Ag Ed Day, held on Tuesday.
Each year the committee tries to change the fair a little and asks teachers for their evaluation. Responses this year were that they missed the sheep shearing that has been done in years past but that the fair was better than in previous years.
Members of the Logan County Farm Bureau board and women's committee who planned the event included Jim Drew, Karen Pedicord, Mary Lou Klokkenga, Lynn Paulus and Vickie Huelskoetter. About 20 FFA members from Hartsburg-Emden, Mount Pulaski and Lincoln helped set up, clean up and conduct the sessions.
Adults will celebrate Logan County agriculture on Wednesday at a breakfast hosted by the Lincoln/Logan County Chamber of Commerce. ["Farmers' Almanac humor to be featured at ag breakfast"] This event will also be at the Laughlin Center. The highlight will be the announcement of seven ag career scholarships.
For more information on agriculture, see http://www.agday.org/.