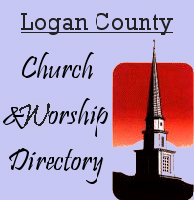 Holy Family Parish


316 S. Logan
217-732-4019
Pastor:
Rev. R. Anthony Lee
Liturgy schedule:
Sat. 5:00PM
Sun. 7:30AM, 9:30AM
& 10:30AM
Website:
www.holyfamilylincoln.com
E-mail: info@holyfamilylincoln.com
Lincoln Christian Church


204 N. McLean
217-732-7618
Preaching minister:
John Castelein
Worship:
8:30AM & 11:00AM
Website: www.lincolnchristianchurch.org
Prairieland Christian Church


P.O. Box 108, 1st St. Hartsburg, IL 62643
217-642-0415
Minister:
Chad Ragsdale
Sunday School: 9:30AM
Worship: 10:30AM
Trinity Episcopal Church


402 Pekin St., Lincoln
217-732-7609
Pastor: James Cravens
Worship:
7:30 & 9:45AM Sunday
9:00AM Wednesday
Kingdom Life Ministries


2500 Woodlawn Road
217-732-1466
Pastor: Joe Bennett
Worship:
10AM & 6:30PM Sunday
---
Lincoln Bible Church


2316 N. Kickapoo St., Lincoln
217-735-5959
Pastor: Don Hoover, phone 217-735-4641
Worship: 10AM Sunday
Sunday School: 9AM
Prayer meeting: 6:30PM
Kids in Christ's Service (1st-6th): 7PM Tuesday
Teen Club (7th-12th):
7PM Wednesday
Overcomers in Christ:
7PM Wednesday
Good Shepherd Lutheran Church Association of Free Lutheran Congregations


1140 N. State St., Lincoln
217-735-9320
Pastor Blair Kasfeldt
Worship:
10AM Sunday
Sunday School:
9AM
E-mail: gslc@ccaonline.com
---
Immanuel Lutheran Church ELCA


1409 Pulaski St., Lincoln
217-732-6777
Pastor Dan Wissmann
Worship:
9:00AM Sunday
Sunday School:
10:15AM
First United Methodist Church


302 Broadway St., Lincoln
217-732-2204
Pastor: Jame Hahs
Worship:
8:30 & 11AM Sunday
Sunday School:
9:45 AM
Website: www.gbgm-umc.org/
lincoln1stumc/index.html
To inquire about listing your congregation's worship information, please e-mail us at ldn@lincolndailynews.com or call us at (217) 732-7443.

Youth group to conduct Mother's Day service

Send a link to a friend

[MAY 4, 2005] Y

oung people at St. John United Church of Christ will conduct the entire Mother's Day service, including a three-part sermon and a double prelude performed by an eight-piece band. The service will be at 10:30 a.m. May 8 at the church at Seventh and Maple streets.

Brittany Kincheloe and Cameron Kurtz, both of Lincoln, and Andrew Goetsch of Williamsville will deliver the sermon, entitled "We Are Family."

Band members include Orry Ingram and Ethan Tabor of Lincoln, Michael Schneider of Hartsburg, Andrew and Matthew Goetsch of Williamsville, and Megan, Michelle and Seth Johnson of Latham. In addition to the band, a trumpet trio consisting of Schneider, Ingram and Matthew Goetsch will perform "Love Lifted Me" during the offertory. Schneider is also the pianist for hymns during the service, and Megan Johnson will play the postlude.

Also involved in leading the worship service are Ashley Paulus, Lincoln, call to worship; Michelle Johnson, children's sermon; Nathan Aue of Lincoln, call to prayer; Megan Johnson, Matthew Goetsch, Orry Ingram and Morgan Kincheloe, scriptures; Silas Tockey of Lincoln, offertory prayer and benediction; and Brittany Kincheloe, announcements.

Greeters for the day are Tim Schneider and Erin Semple, both of Hartsburg, and Matthew Goetsch, Ashley Paulus and Seth Johnson. Ushers are Nathan Bastert of Williamsville and Nathan Aue, Orry Ingram, Ethan Tabor and Malachi Tockey, all of Lincoln. Tockey is also the bell ringer for the day, and Aue will tape the service for shut-ins.

Young people involved in the service are members of the St. John youth group. Church organist Laura Lee of Mount Pulaski directs the band and arranged the trumpet trio.

[News release]
---
Send your church announcements and articles to ldneditor@lincolndailynews.com.